For Immediate Release
Sarah Madden for TIEC
Mill Spring, NC – May 30, 2021 – Erynn Ballard (CAN) claimed first-place results left and right throughout Tryon Spring 4 CSI 2* competition, capping a successful week with a win in the $25,000 Tryon Resort Sunday Classic after also notching wins in Wednesday's $6,000 Power & Speed Stake CSI *, Thursday's $37,000 Horseware Ireland Welcome Stake CSI 2*, and Friday's $6,000 Speed Stake CSI 2*. Saturday evening, Ballard piloted Classic Penny to reserve in the $73,000 Tryon Resort Grand Prix CSI 2*, making Sunday's win her fourth of the week and fifth podium placing. Last to go in the jump-off, Ballard stopped the jump-off track in a time of 33.74 with Ceitasi, the 2010 Westphalian mare (Caretello B x Cavalier) owned by Ilan Ferder. In reserve, Kristen VanderVeen (USA) and Bull Run's Divine Fortune, the 2009 Dutch Warmblood mare (Padinus x Caruso 279) owned by Bull Run Jumpers Six LLC, posted a time of 34.335 seconds, while Hector Florentino (DOM) rode Santiago Lambre's D'Artagnan to third place on a time of 35.429. Ballard also earned fourth aboard Corner Pocket Z, The Z Group's 2012 Zangersheide gelding (Cornet Obolensky x Lux Z), stopping the timers in 35.524 seconds.
Ballard recapped her incredible week of wins with a strong finish aboard her "old friend," Ceitasi, who was perfectly slated to go last in the jump-off, she shared:
"I knew I had my ringer last, with Ceitasi. Actually, the order was made for me perfectly. Insider [BH] is eight, and this was his third national Grand Prix, with a solid one [rail] down. He finished in the top ten, which I'm quite proud of. My own horse Vince [Corner Pocket] had a nice clear. I got to ride him first in the jump-off, and then Ceitasi is an old friend. I've ridden her more times than most of the horses in the barn, and I've shown her all over the place. She has all the experience, so it was kind of nice to have her go last and feel quite comfortable."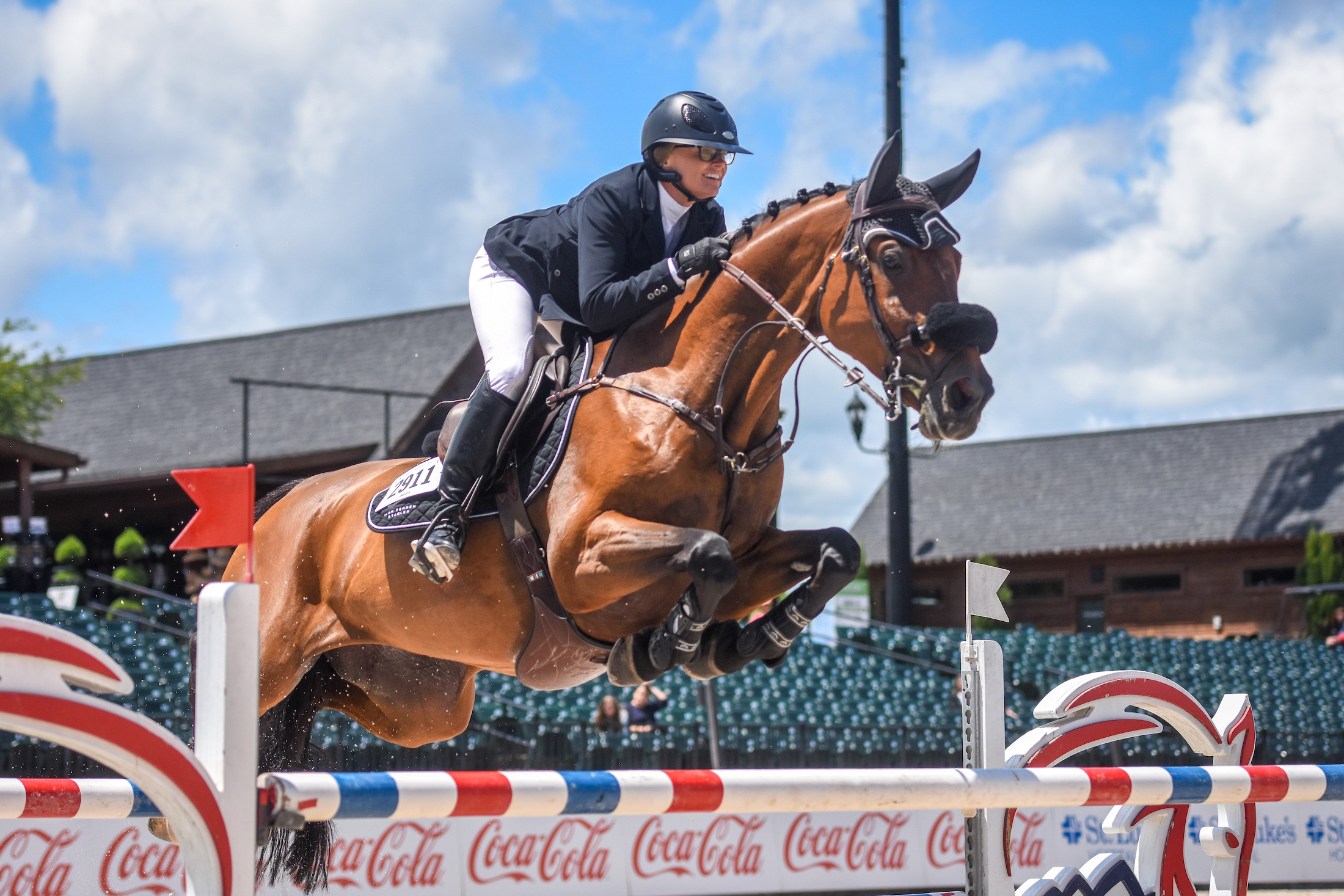 Erynn Ballard and Ceitasi
©Madison Ibach, TIEC
It also never hurts to walk in the ring with three wins and one podium finish under your belt, Ballard admitted. "Also, when you have weeks like this, it's very easy to be confident. It's a lot easier to be confident when you're riding off of wins than when you're not. We have to remember that it doesn't happen all the time!"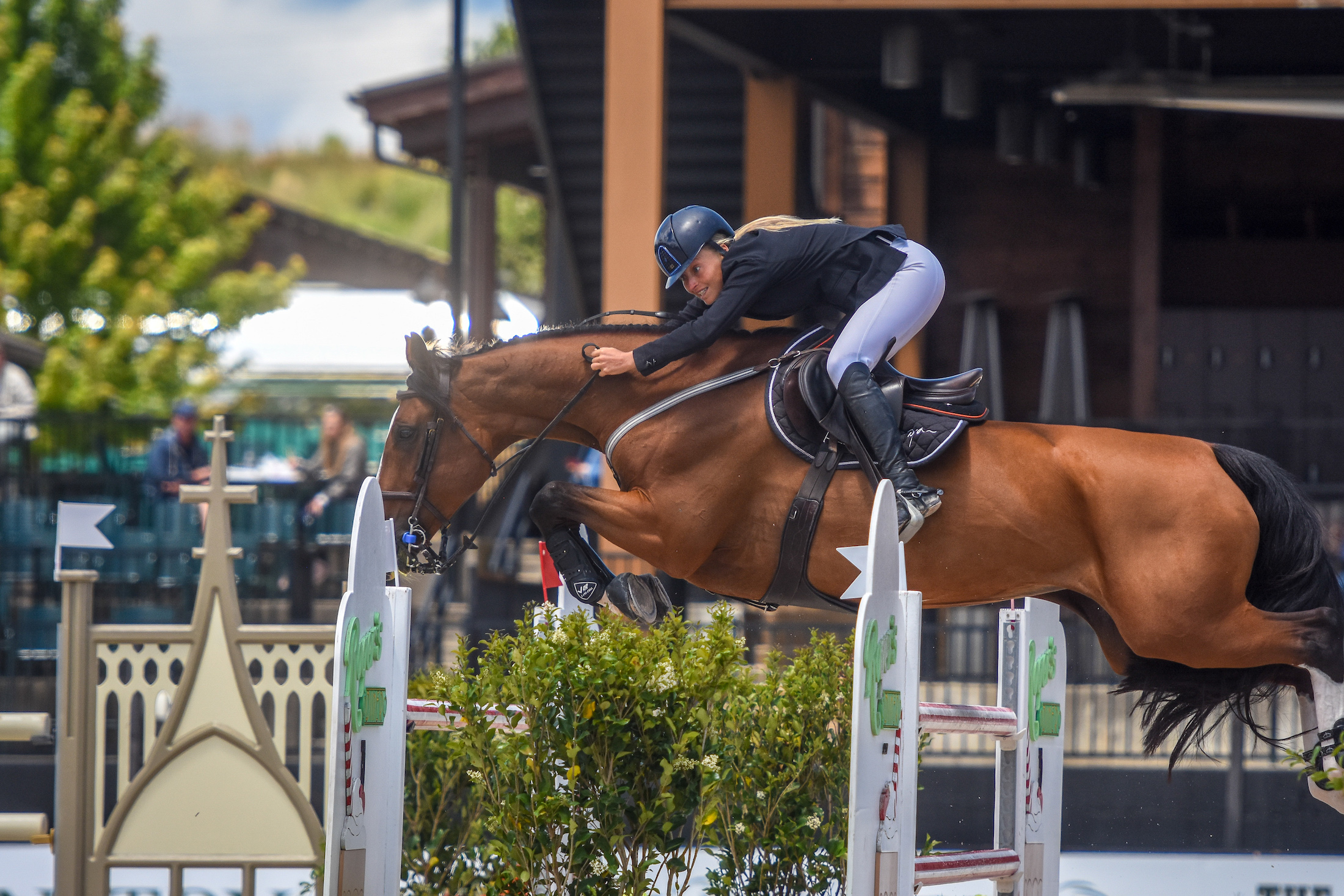 Kristen VanderVeen and Bull Run's Divine Fortune
©Madison Ibach, TIEC
Ballard's advantage with Ceitasi came not from tightening a turn or reducing the number of strides between fences, she revealed, but from the extremely fast nature of the short-strided mare. "I thought that I was quite fast on Corner Pocket in the jump-off. I didn't do six in the last line, which for a big moving horse, that kept him out of the top three," she analyzed.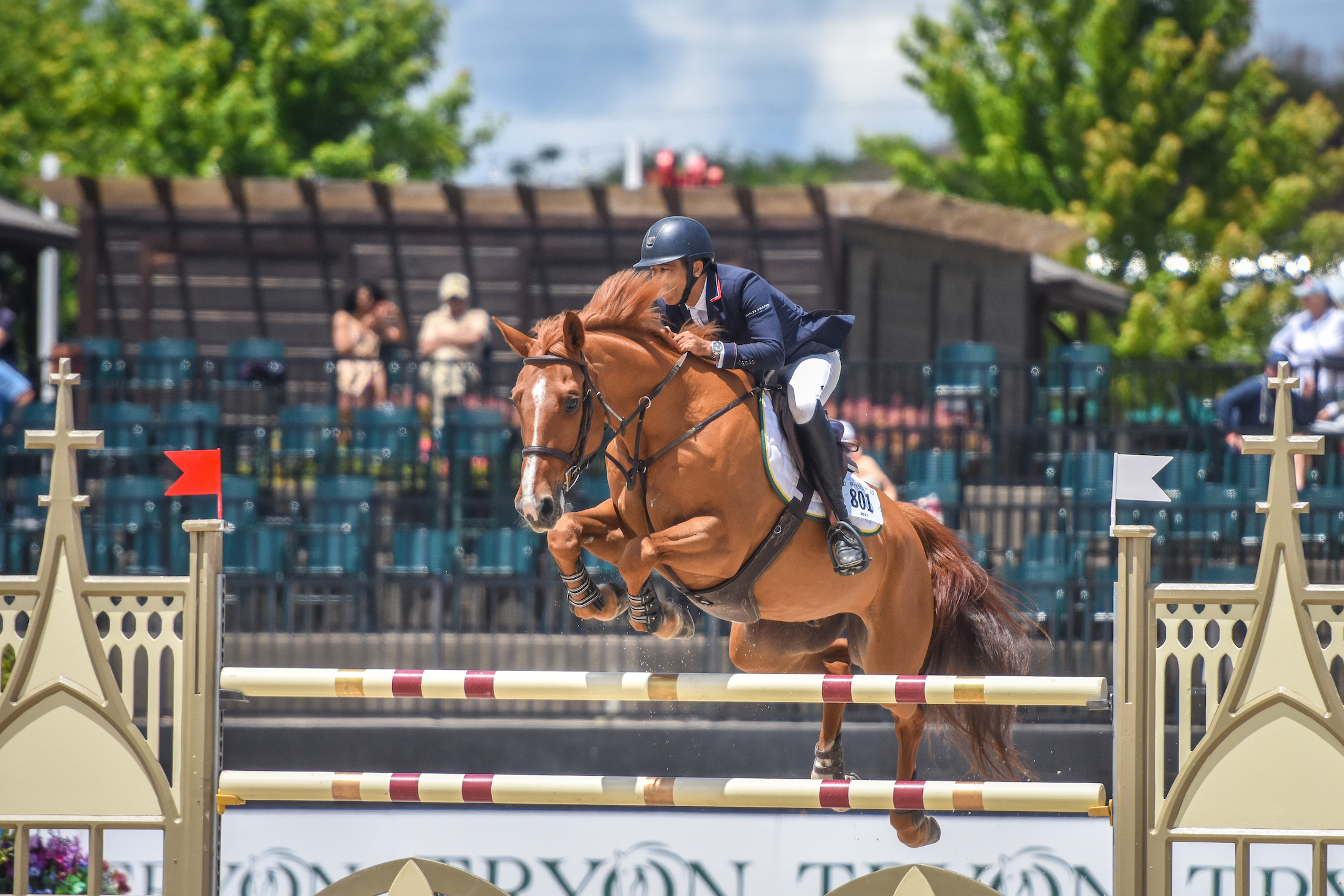 Hector Florentino and D'Artagnan
©Madison Ibach, TIEC
"I actually did seven strides on Ceitasi, because she's the opposite: she's fast-moving, but shorter across the ground. The seven suited her – when she adds strides, she takes no time, so the seven was still safer. She's just so fast – they don't come that fast! She doesn't need to do fewer strides, and she doesn't need to turn tighter [to win] because she's just that fast."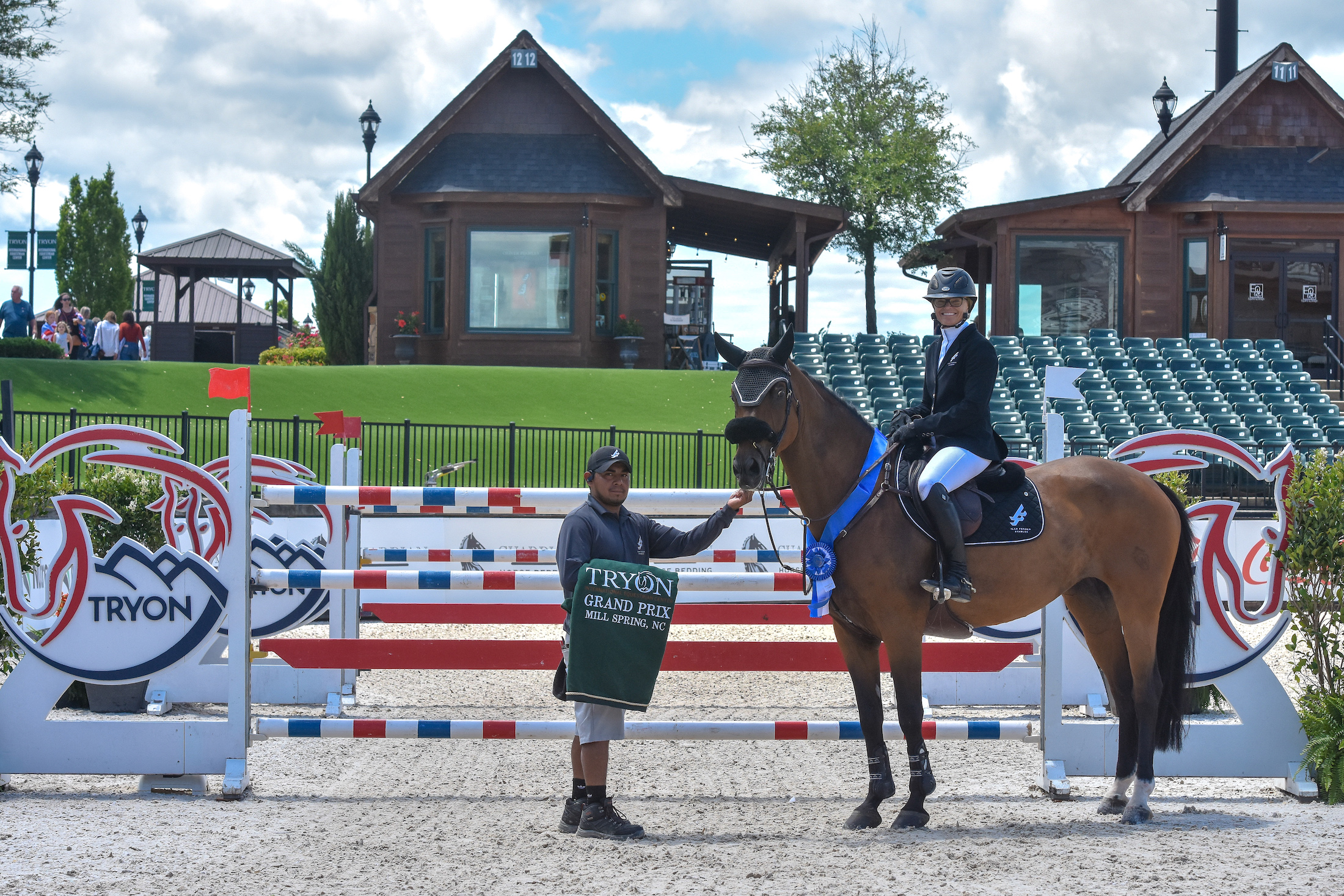 Erynn Ballard and Ceitasi in their presentation ceremony.
©Madison Ibach, TIEC
Ballard will be seen chasing more podium placings throughout the remainder of the tryon Spring Series, but will pick and choose her mounts for the next weeks, she concluded. "This week we came out strong with every horse in every division, and now for two more weeks we will split them up and pick and choose. My best horse right now is Gakhir, and he will come out and do both weeks. I'm certainly very lucky that I have so many horses that we can pick and choose, and that we have a winner at every level."
Erynn Ballard and Really Electra Xango Keep Their Spark to Win $6,000 Speed Stake CSI 2*
May 28, 2021 – Erynn Ballard (CAN) rode Really Electra Xango, the 2012 Brazilian Sport Horse mare (Indoctro x Lucky Electra Xango) owned by Ilan Ferder, to a second consecutive international jumping win in Friday's $6,000 Speed Stake CSI 2*, continuing to solidify a new partnership. The duo cleared the Nick Granat (USA) set course in 56.66 seconds. Lillie Keenan (USA) and Diadarco van Evendael Z, the 2009 Zangersheide gelding (Diamant de Semilly x Darco) owned by Chansonette Farm LLC, cleared the course in a time of 57.92 for reserve, while Natalie Dean (USA) collected third aboard Maestro Vica V/D Ark, the 2012 Belgian Warmblood stallion (Lordanos x Heartbreaker), with a time of 58.2 seconds.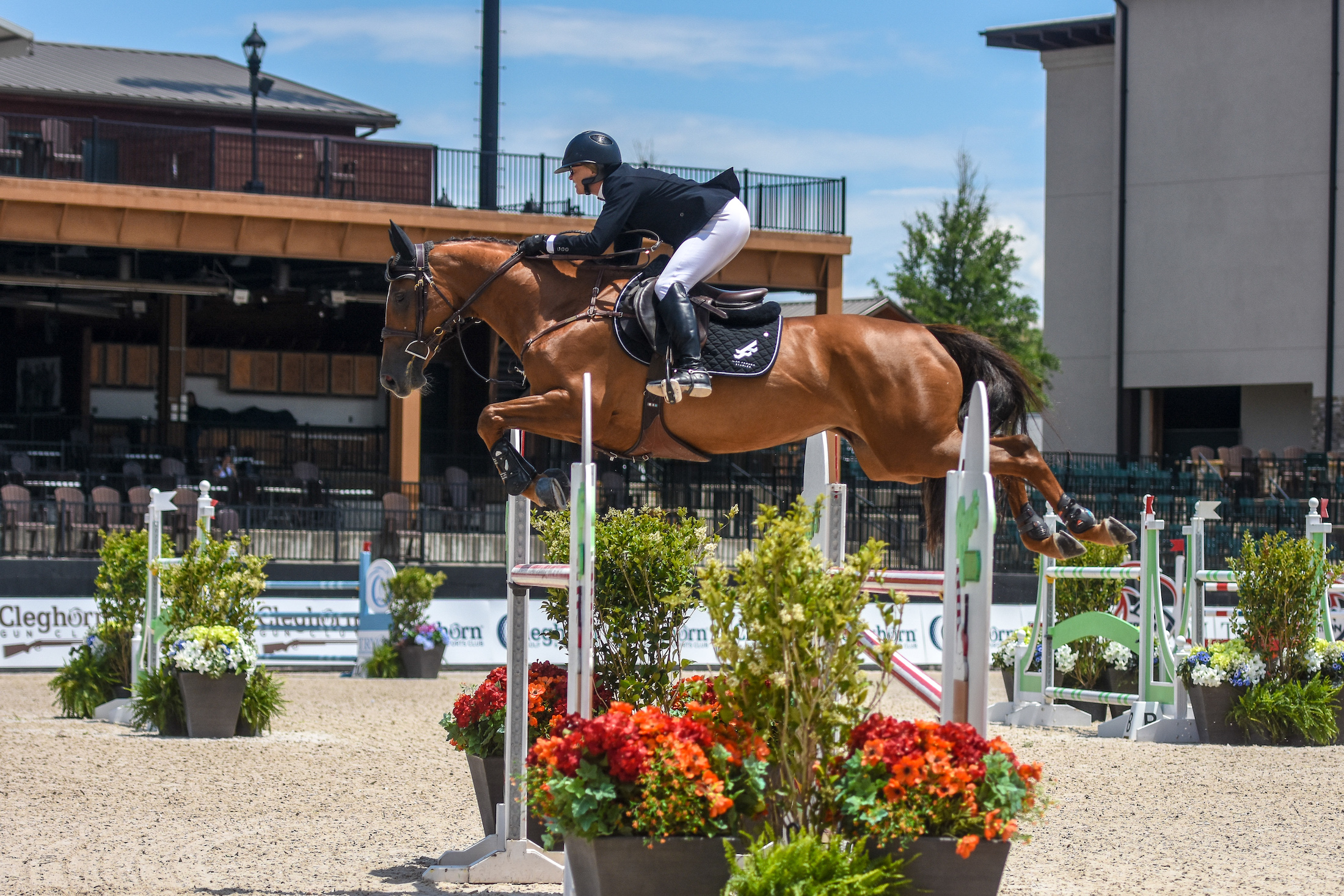 Erynn Ballard and Really Electra Xango
©Madison Ibach, TIEC
Hunter Highlights:
Elle Boyd (Camden, SC) and Baby Blue owned by Finally Farm, Inc were declared champions in the Small Pony Hunter Division. Reserve champion was claimed by Xia Tabanou (Rosehill, TX) and her own Quicksilver Bells.
The 1.30m Developing Jumper Series 6 Yr Old Young Jumper Division saw Victoria Colvin (Loxahatchee, FL) and Perla Pas de Calais named champion for Karen Bruce with a tie for reserve champion awarded to Derek Chang (Pacific Palisades, CA) and his own Chupadis and also Elizabeth Madden (Cazenovia, NY) with Abigail Wexner's Kickstart II.
In the Young Hunter 5 & Under 2'9" Division, Eliza Hay (Johns Island, SC) guided Corleone Z to be heralded champion honors for Melissa Weir. Reserve champion went to Hays Investment Corp's Reddington with Hunter Holloway, who landed first place in Saturday's $73,000 Tryon Resort Grand Prix CSI 2*.
Jumper Highlights:
In the Ken Feagin Truck & Trailer 1.10m Low Adult-Amateur Jumper Division, Susan Herberich (Matthews, NC) and Ginny Gale's Eversong earned champion honors while Mary-Martha Dugan (North Richland Hills, TX) rode her own Ernata to collect reserve champion.
Lola Head (Houston, TX) was awarded the tri-color ribbon for her performance aboard her own Arcange de l'Arc in the St. Luke's Hospital 1.20m Low Junior Jumper Division while Mackenzie Carreras (Chandler, AZ) piloted Sun Song to reserve champion for Portfolio Horses, LLC.
The 1.40 High Junior/Amateur Jumper Division awarded the champion title to Christina Webb (Raleigh, NC) and FVF Sailor Man for Fox View Farm. The reserve champion resulted in a tie between Alexia Rule (Marietta, GA) and her own APG Everlasting Love as well as Charlise Casas (Kennilworth, IL) aboard Mustique VZ for Always Faithful Equine LLC.
To view full division results from Tryon Spring 4, click here. 
To view full results from the $25,000 Tryon Resort Sunday Classic, click here. 
To view full results from the $6,000 Speed Stake, click here. 
The Tryon Spring Series continues with two more weeks of international Jumping competition alongside Hunter and Equitation divisions. Competition is open to the public for spectators and information can be found at www.Tryon.com/thisweek. Competitor info and schedules are available at www.Tryon.com/compete. 

Photos ©TIEC. These photos may only be used once in relation to this press release. Competitors can view and purchase photos from the Tryon Spring Series as well as request photos for Tryon Spring 4 at Tryon.com/photos. With questions, email media@tryon.com.