For Immediate Release
Sarah Madden and Allie Hay for TIEC
Mill Spring, NC – June 20, 2021 – The final day of Perrigo Tryon Summer Dressage CPEDI 3* competition hosted Freestyle tests in Tryon Stadium, capping three days of international competition and the final U.S. Olympic Observation Event before the naming of the Adequan® U.S. Para Dressage Olympic Team. Most notably, Roxanne "Roxie" Trunnell produced a second consecutive personal best and new world record for Para Dressage, bringing home a score of 89.522%.
Trunnell and Dolton, the 2012 Hanoverian gelding (Danone x Lady x Londonderry) owned by Karin Flint and Flintwoode Farms LLC, had just shattered their own previously-held world record score of 83.334% with an 84.702% in Saturday night's team test for Grade I, but blew the competition – and the Ground Jury – away with her Freestyle performance Sunday morning. Scoring 89.522%, Trunnell and Dolton claimed the weekend's championship title as well as the world record score. Syd Collier and All In One, the 2009 Hanoverian gelding (Abanos x Dauphina x Dauphin) owned by Going for Gold LLC and Katie Robicheaux, gave strong performances of their own, scoring 74.145% to claim second in Freestyle competition. In third, Deborah Stanitski and her own Skovlunds de Nice, the 2006 Danish Warmblood mare (De Noir 3 x Miss Kiki x Diamond), collected a score of 65.845%.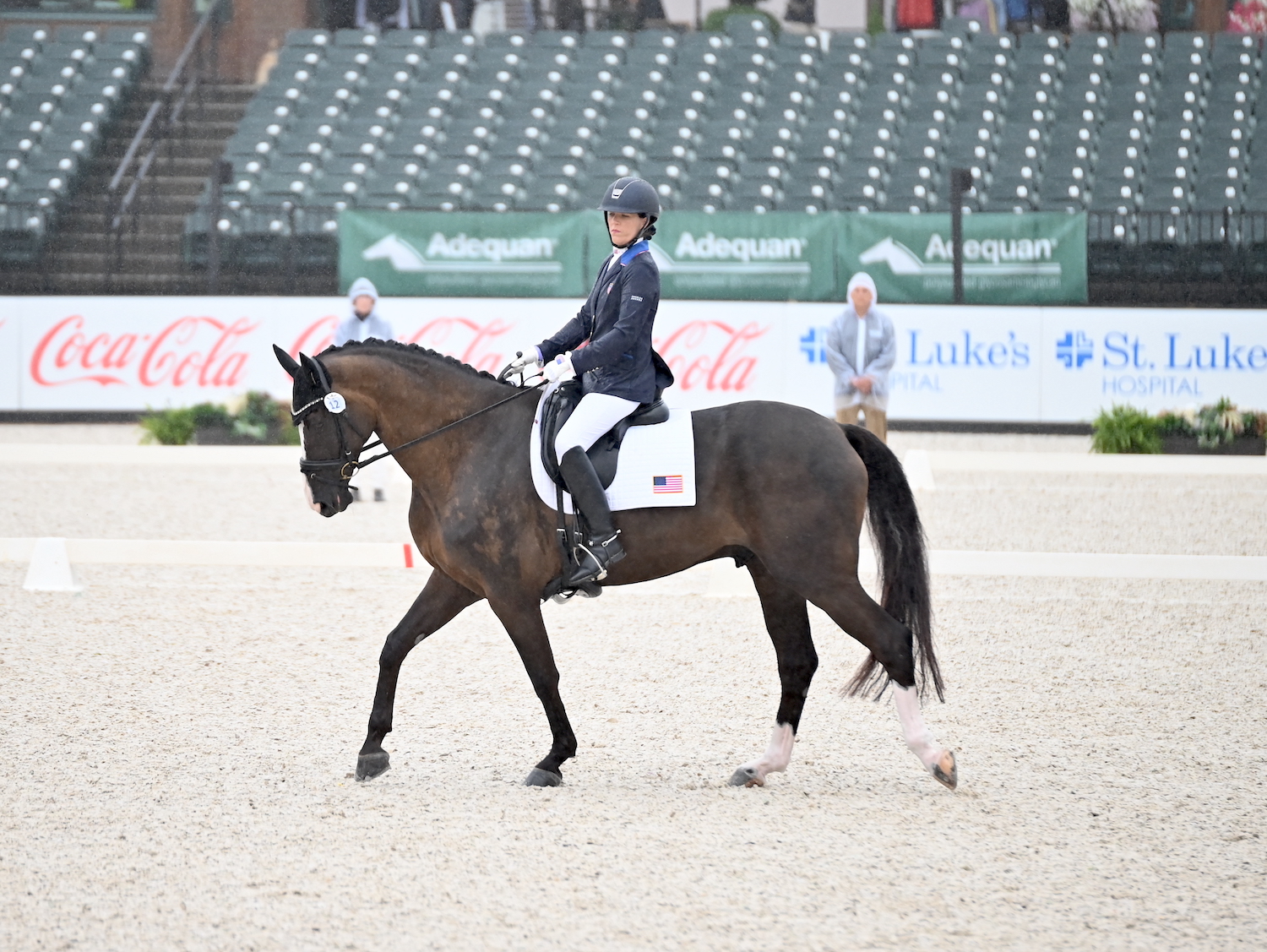 Roxie Trunnell and Dolton
©Lindsay McCall, USPEA
"He kept getting better and better every day!" Trunnell recapped. "It feels really good [to have earned two world records in a row]. His [Dolton's] mom is really happy with him!" Coming into Tryon Stadium Sunday morning with a personal best in her pocket, Trunnell shared that she prepared by "just keeping it calm, and hanging out with [my dog] Yoda in my tack room. We've been working really hard on his Freestyle. I felt pretty good about it!"
Chef d'équipe Michel Assouline was overcome by the performances produced by the Adequan® U.S. Para Dressage Team, and shed tears after Trunnell's stunning performance in the rain in Tryon Stadium.
"I think we have a horse-and-rider combination that is taking us to a different timeline… a Twilight Zone is the phrase [I keep coming to]! She's leading the team into other dimensions where we haven't been before! And the world is watching us. It's an absolutely wonderful feeling," he emphasized. "She beat the London 2012 record now, which is absolutely fabulous."
Adequan® U.S. Para Dressage Team
©Linsday McCall, USPEA
Assouline is thrilled with the team as a whole, noting that each rider's plans to build their performances throughout the weekend were executed smoothly and to good results. "I'm very pleased [with the team]. They all wanted to start very conservatively so as to not start with any hiccups or failures, and we are trying to increase everything [carefully] and not peak too early. Our goal was to do that, and the mission was accomplished."
Kate Shoemaker and Solitaer 40 improved all weekend in Grade IV competition, producing a 77.375% in their Freestyle performance to earn Reserve Champion in Perrigo CPEDI 3* competition. Shoemaker and the 2007 Hanoverian stallion (Sandro Hit x Dynastie x De Niro) owned by Kate, Craig, and Deena Shoemaker rode a brand new Freestyle test, and she was thrilled to hit all her markers in her first outing: "I feel so, so proud of my horse. We were riding a brand new Freestyle with brand new music. It was our first time going through it and we hit our markers. That comes down to Sully being so rideable for me today, and the music also just felt so good. It made it easy to ride to, and I loved it!"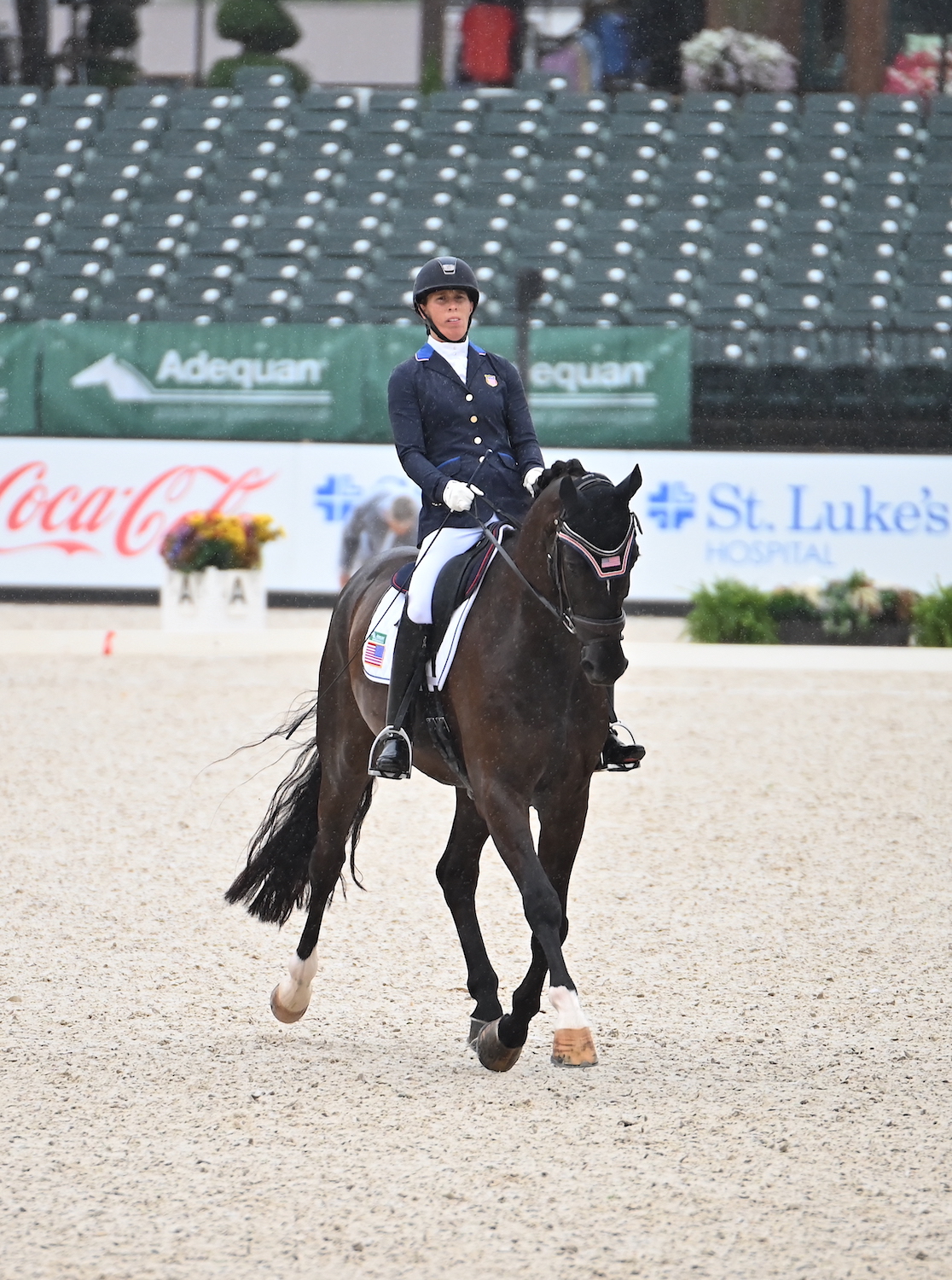 Kate Shoemaker and Solitaer 40
©Lindsay McCall, USPEA
Though waiting for the Olympic Team to be announced is now what feels like an eternity away, Shoemaker is proud of her weekend's performances and grateful for the support of the entire Para Dressage community, she emphasized.
"There were a lot of people and a lot of work that went into getting here this weekend. It may look like one partnership in the arena, but of course, we all know there are trainers, grooms, and countless people that are behind us," she continued. "I'm just so appreciative, especially to Perrigo, Adequan, and Tryon who made this show possible. We have to wait for the team to be announced, because of course, the selectors need to make the best decision for the team going forward into Tokyo. We really hope that we're what they're looking for, so that we have the opportunity to show what we can do in the Paralympics."
Rebecca Hart (USA) collected her third win of the week in Grade III competition, topping the day aboard El Corona Texel, the 2009 Dutch Warmblood gelding (Wynton x Urieta Texel x Goodtimes) owned by Rowan O'Riley, on a score of 76.934%. In second, Charlotte Merle-Smith (USA) and her own Guata, the 2011 Dutch Warmblood mare (Vivaldi x Zuata x Haarlem), earned a 72.311%, while Ignacio Trevino Fuerte (MEX) rode to third place and a score of 62.822% with Delegada X, the 2002 PRE mare (Airoso XXVI x Lusitana x Farruco XIII) owned by Beatrice De Lavalette.
Rebeccca Hart and El Corona Texel
©Lindsay McCall, USPEA
Continuing her fortunate weekend, Hart rode her mount, El Corona Texel, to a new Freestyle test choreographed by Marlene Whitaker. Despite it being the debut of this new test, she and her mount performed to a top score. "We actually hit all of our marks the way I wanted to, so that was nice!" Hart exclaimed.
Fortune 500, Hart's second mount throughout this weekend's competition, did not compete in the Freestyle portion of competition. Hart wanted to show El Corona Texel not only because he is a more familiar mount, but because "he's just so much fun," she said, elated. She was ecstatic to be able to carry their energy from the warmup ring, through the tunnel, and into the arena. "That was a really nice feeling to have him with me in the ring and have him listen. When I challenged him a little bit, he rose to the occasion."
Hart emphasized her gratitude for the officials, volunteers, and staff who are assisting with this weekend's competition. "It's so special to have a venue that can kind of replicate the situations we will have in Tokyo and all the people that are doing long days in the rain and the heat make this so special." After a successful weekend, she will be awaiting U.S. team decisions in hopes of competing in Tokyo.
Local athlete from Spartanburg, SC, Emma Jameson (USA), made her debut in Grade III under the lights in Tryon Stadium Friday night in CPEDI 1* competition with Cortesana LA, the 2007 PRE mare (Kabileno XV x Insolencia x Insolente) owned by Misha Marshall. The duo earned a personal best score of 61.071% in their first ride under the lights.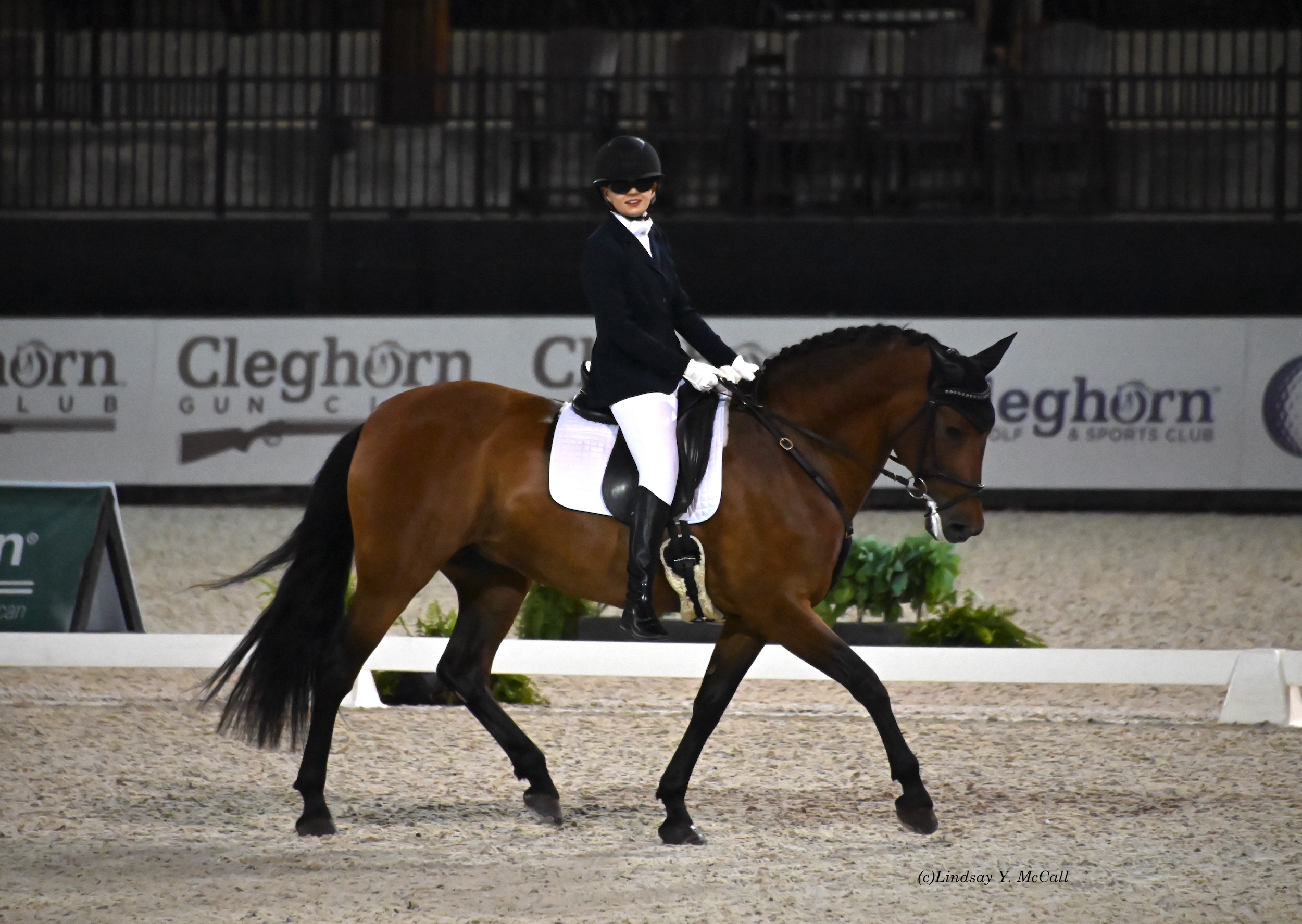 Emma Jameson and Cortesana LA
©Lindsay McCall, USPEA
"It was absolutely incredible!" Jameson reported of her experience riding the Para Novice Test B Grade III CPEDI 1*. "Cortesana LA was absolutely amazing. I couldn't ask for a better dance partner than her. I had never shown under the lights, so it was a new experience for me and I can't wait to do it again. It was incredible."
Having previously competed at the Grade IV level, Jameson reclassified this weekend and is exploring her relationship with "Tessie" in a new way, she revealed. "We're really working on our partnership, especially in Grade III because I just got reclassified a few days ago at Grade III. We're looking at those tests and trying to figure out how to incorporate those movements and make sure that my right leg can support those movements as well."
Next on Jameson's competition bucket list is to move up to the CPEDI 3* level, before one day being named to the U.S. Paralympic Team, she shared. "This week has been a dream come true. I love coming here and watching people like Roxanne Trunnell, Becca Hart and Kate Shoemaker, because I've watched them since the World Equestrian Games in 2018. Watching them and what they can do is what made me really fall in love with Dressage and Para Dressage. It made me realize that I could do that, too, now. It's an amazing feeling to have. Moving forward, our plans are to move up to the CPEDI 3*. One day, I hope to be named to that Paralympic Team!"
Jameson concluded that she had many people in the Carolinas region to thank, including the therapeutic riding programs that have kept her in the saddle since she was just two years old. "I want to give a huge thank you to not only Ashley Parsons, my trainer, and Misha Marshall, Cortesana LA's owner, but to HALTER, which is a therapeutic riding program in Spartanburg, South Carolina," she concluded. "I got started there when I was two years old. I want to thank TROT, another therapeutic riding program in North Carolina, that took me on as well and helped me advance to this level. It's been a huge experience. I don't think when we got started with therapeutic riding that we ever imagined it would lead to riding on an international stage. It's been an absolute dream come true!"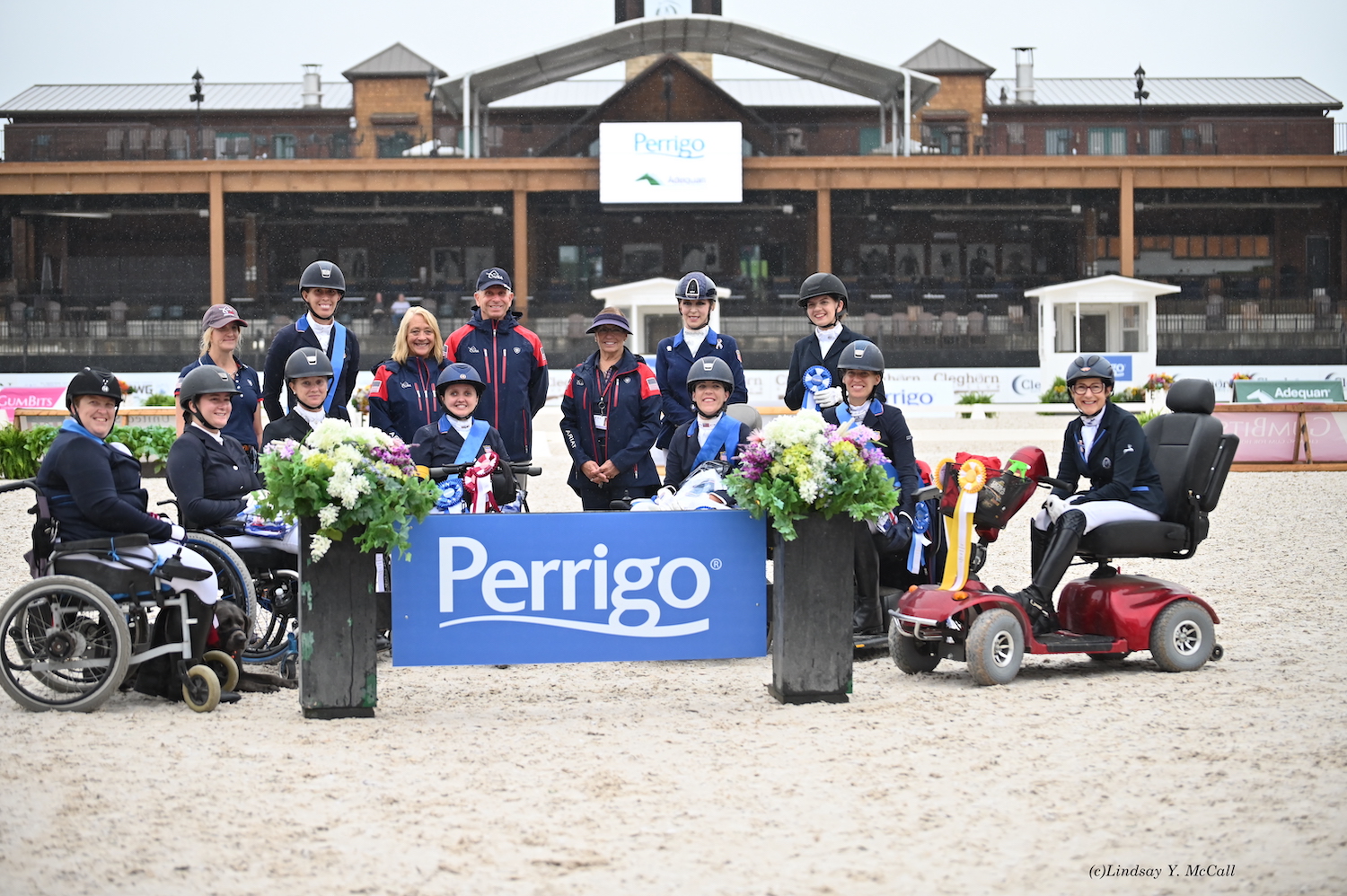 USA Para Dressage athletes
©Lindsay McCall, USPEA
Grade V saw Cynthia Screnci (USA) and Sir Chipoli, the 2007 Dutch Warmblood gelding (Sir Donnerhall x Vivaluciene TKS x Carabas) co-owned by Chris Von Martels and Select Equine International, earn another win, scoring 73.242% in their Freestyle test. Cayla Van Der Walt (RSA) claimed reserve with Daturo II, the the 2006 Andalusian gelding (Mirlito XI x Datura x Pestillo) owned in partnership with Christine Heathman.
Grade II resulted in another win for Beatrice De Lavalette (USA), who received a score of 73.845% with Clarc, the 2007 Dutch Warmblood gelding (Dreamcatcher x Miss Sinclair) owned by Elizabeth and Nicolas De Lavalette. Laurietta Oakleaf (USA) and Comte du Baccara C, the 2007 Dutch Warmblood gelding (Johnson TN x Baccara x H Ulrich) owned by Laurietta Oakleaf and Tammi Nowicki, combined for a score of 66.278% and second place.
Read more results and interviews from Perrigo CPEDI 3* competition here. 
Photos ©Lindsay McCall, USPEA. These photos may only be used once in relation to this press release. With questions, contact media@tryon.com.