For Immediate Release
Allie Hay for TIEC
Mill Spring, NC – June 27, 2021 – Competition was tight in the $25,000 Roger's Diner Grand Prix with the top three riders finishing within tenths of a second of each other at Tryon International Equestrian Center and Resort (TIEC) to close out Tryon Summer 2 competition. Darragh Kerins (Wellington, FL) rode to a blue ribbon finish aboard NRG Farm LLC's Delight M-G C De Leuze, winning with a jump-off time of 42.489 seconds. Clearing the timers in 42.911 seconds and taking a second place ribbon was owner/rider Jacqueline Ruyle (Houston, TX) on Cyramo Z, a 2011 Zangersheide mare (Clarimo x Cyprus). Chasen Boggio (Canton, GA) piloted his own Co Pilot, a Westphalian gelding (Coney Obellnsty x Pauline), to third, finishing just behind Ruyle with a time of 42.985 seconds.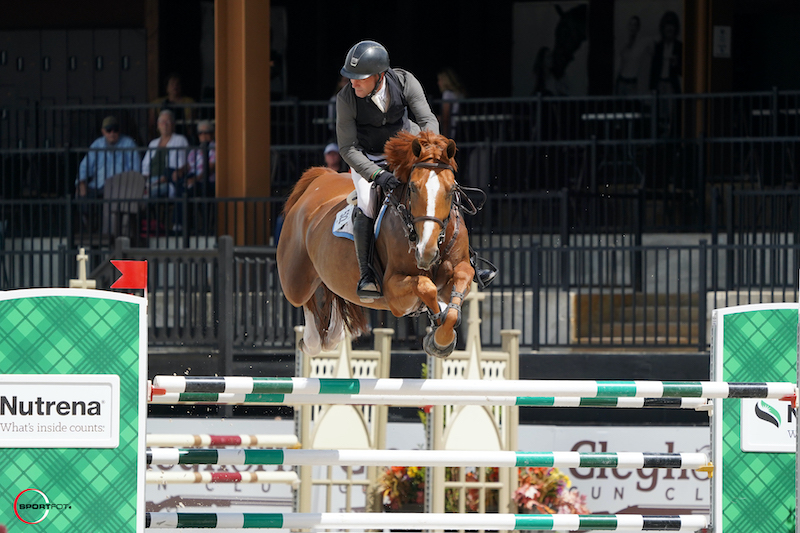 Darragh Kerins and Delight M-G C De Leuze
©Sportfot
Kerins and his 2009 Belgian Warmblood mare (Armitage x Vox Dei M-G C De Leuze) have been chomping at the bit for a win in the Grand Prix at TIEC, placing second in last week's class. "She's such an extravagant jumper. She gives 100% every time," Kerins said enthusiastically. With Delight M-G C De Leuze giving her best effort to nail the jump-off course, Kerins ended the weekend with a win.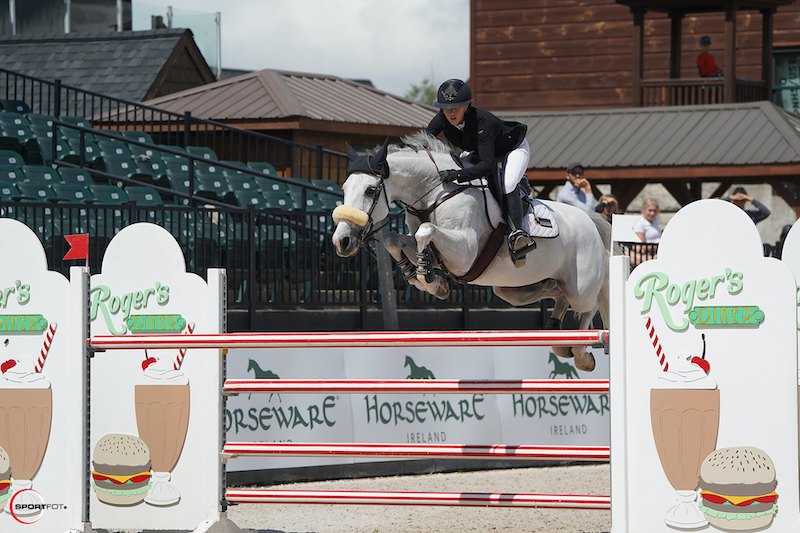 Jacqueline Ruyle and Cyramo Z
©Sportfot
Twenty-five horse-and-rider pairs made their way through the first round of the Jason Shelley-designed course. Of those 25, eight qualified for the jump off. Shelley's short course tested the eight riders with tight rollbacks and challenging lines. After his win, Kerins noted, "I thought the course was good! Jason did a great job. It was quite technical and careful. In the jump off he gave us lots of lines to really challenge us. The inside turn was just luck of the draw! I saw the others go and just had to take chances and luckily it worked out for me."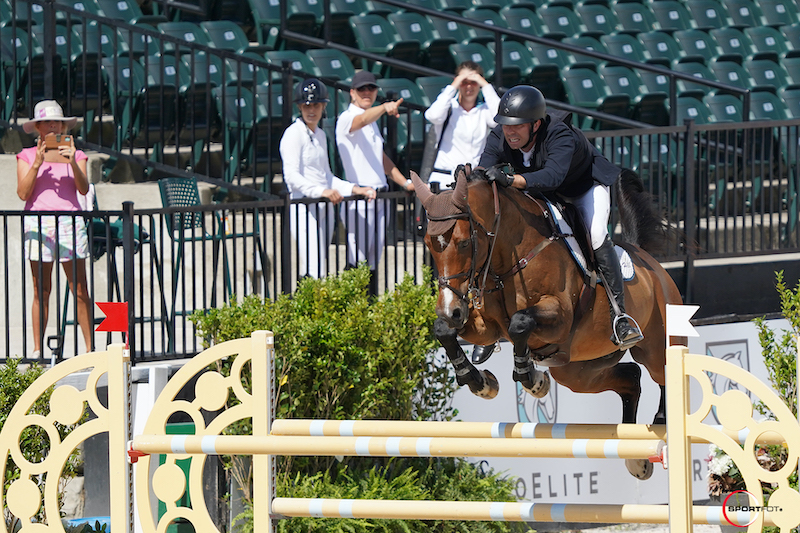 Chasen Boggio and Co Pilot
©Sportfot
The weekend has been a successful one for Kerins' entire family, he noted after they joined him in the presentation ceremony to celebrate the win. Daughter Khloe had a clean sweep of the .80m Jumper II Division, earning first in every class. Kerins' son, Daniel, took home third place in the $400 Medium Junior/Amateur Jumper 1.30m class and competed alongside his father in the Grand Prix.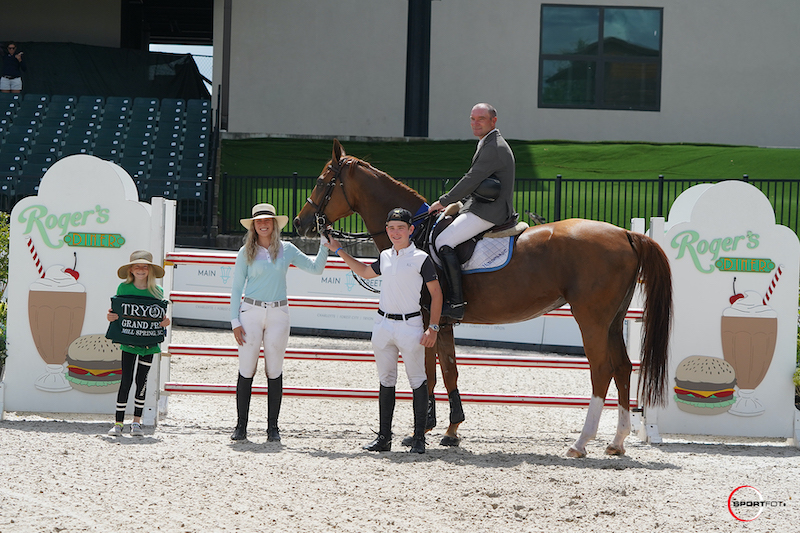 Darragh Kerins and Delight M-G C De Leuze in their awards presentation
©Sportfot
The Kerins family will continue competing at TIEC for the rest of the summer and will be back to compete in the fall as well. With a smile on his face, Kerins remarked, "It's like home away from home and we're looking forward to the rest of the summer! We had a great time at the PBR rodeo the past couple of nights and this win is a great way to top off the weekend."
Juan Ortiz and Cognac Quinze Unstoppable in $5,000 Horseware Ireland Welcome Stake
Emily Carpenter for TIEC
June 25, 2021 – Tryon Summer 2's introductory $5,000 Horseware Ireland Welcome Stake resulted in Juan Ortiz (Loxahatchee, FL) claiming the victory with Cognac Quinze (Mylord Carthago x Osier Du Maury), the 2012 Selle Francais gelding owned by Blue Trim LLC. The pair sped to make an impressive jump-off time of 36.909 seconds. David O'Brien (Lexington, KY) secured second place aboard the Starlight Farms 1 LLC entry, Shadowfax 111 (Der Senaat 111 x Tangelo Van De Zuuthoeve), the 2012 Belgian Warmblood gelding. The pair was right on the heels of Ortiz, accomplishing a jump-off time of 37.099 seconds. Third place honors went to Samantha Rice (Wellington, FL) upon Ringwood Zebo (Califax x Ringwood Audacity). Rice and the 2009 Irish Sport Horse gelding owned by NRG Farm LLC stopped the clocks with a jump-off time of 37.637 seconds.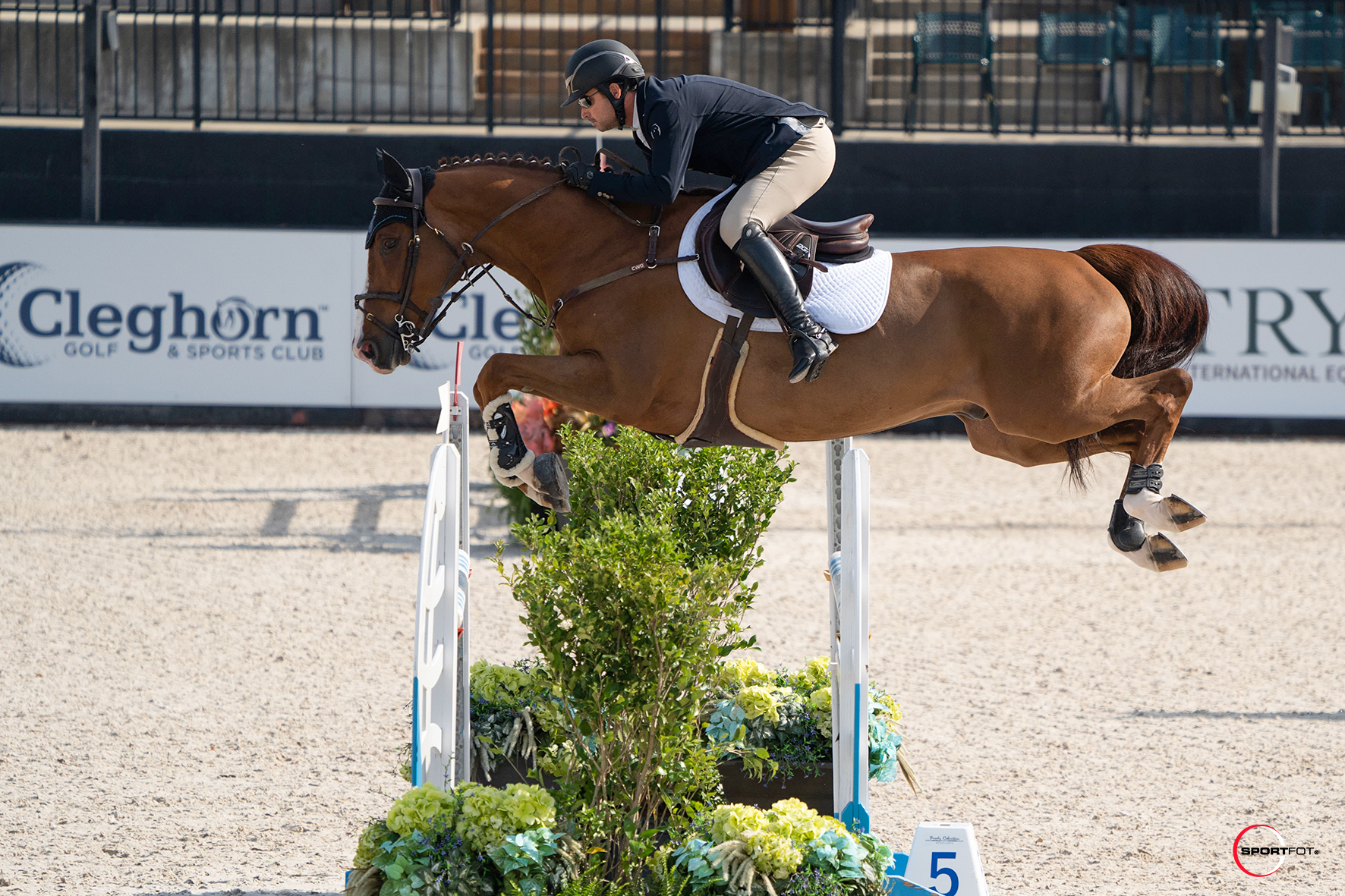 Juan Ortiz and Cognac Quinze
©Sportfot
Ortiz was very pleased with Cognac Quinze's performance in the Horseware Ireland Welcome Stake, as it was the nine-year-old horse's first notable win. Ortiz praised his horse's performance, saying, "We got him a couple years ago from McClain [Ward] to develop, and he's developing to be a very promising young horse that is going to do something [big]. He keeps doing well and answering the questions correctly, so we're very happy with the way he's turning out. He's very competitive, too."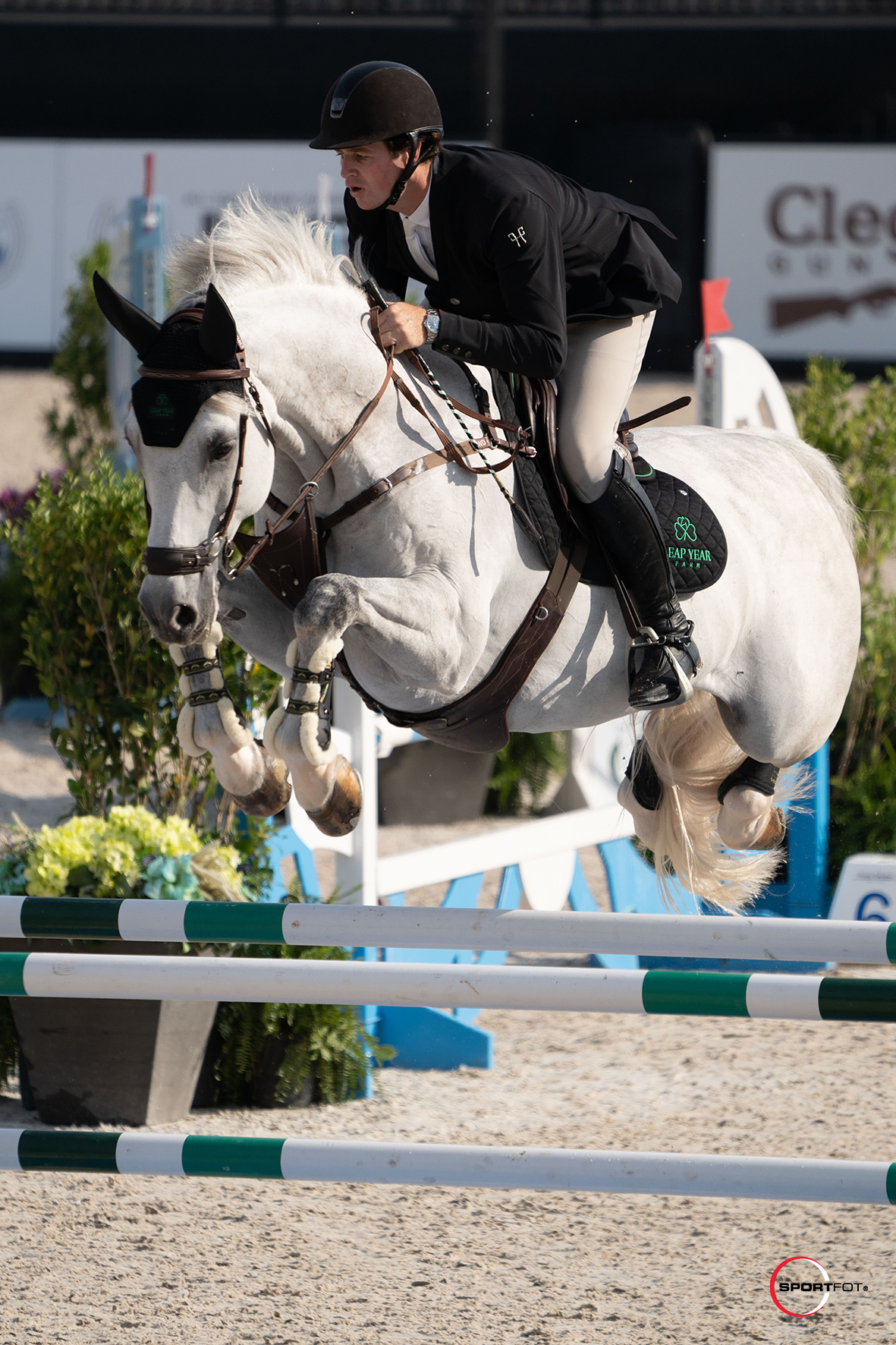 David O'Brien and Shadowfax 111
©Sportfot
"My friend Todd Minikus said to me one day, 'If you practice being a loser, you'll be a loser your whole life.' Since I'm trying to develop a proper horse, I tried to practice a winning round and it paid off!" Ortiz relayed. "Sometimes you have one down, and that's part of the sport, but today it paid off!"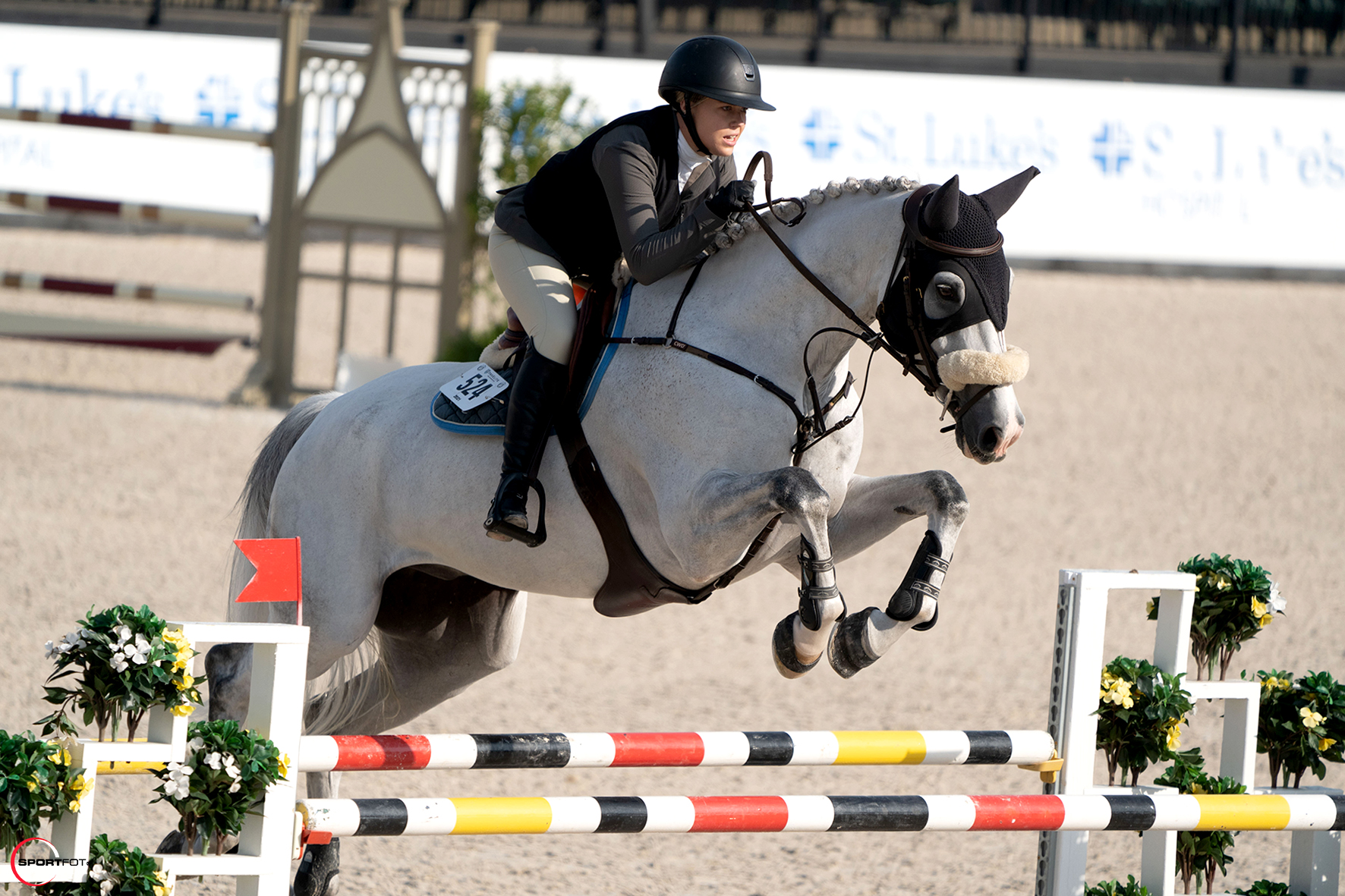 Samantha Rice and Ringwood Zebo
©Sportfot
TIEC has become home for Ortiz and his family, and he concluded by expressing his gratitude for the facility and all that it has to offer:
"Tryon is my home! My mailing address and my house that I own is in Wellington, but Tryon is my home! Come April, I move here and I don't leave until the season is done. This is a place where my family likes to hang out. This is the place where my kids love to run around. We have all our friends together. We love the event, we love the show, and we love the way they treat us! I'll stay here until the end of the season!"
Jodokus and Meredith Gallagher Take the Win in $2,500 USHJA National Hunter Derby
Allie Hay for TIEC
June 26, 2021 – Meredith Gallagher (Haines City, FL) rode Dr. Annette and Neil Friend's Jodokus to a combined score of 174 to take the first place award in the $2,500 USHJA National Hunter Derby during Saturday's competition of Tryon Summer 2. Fabian Herrera (Charlotte, NC) followed Gallagher in the victory gallop earning a score of 170 aboard his own Accelerator, a 2012 Warmblood gelding (Accelerator x Bazylia), for a second place finish. Tommi Clark (Tryon, NC) finished with a third and fourth place win aboard Stephen Borders' horses Excel, a 2012 Holsteiner mare (Cachas x Hyazinthe I), and Executive Privilege, a 2011 Warmblood gelding (Clinton x Unknown).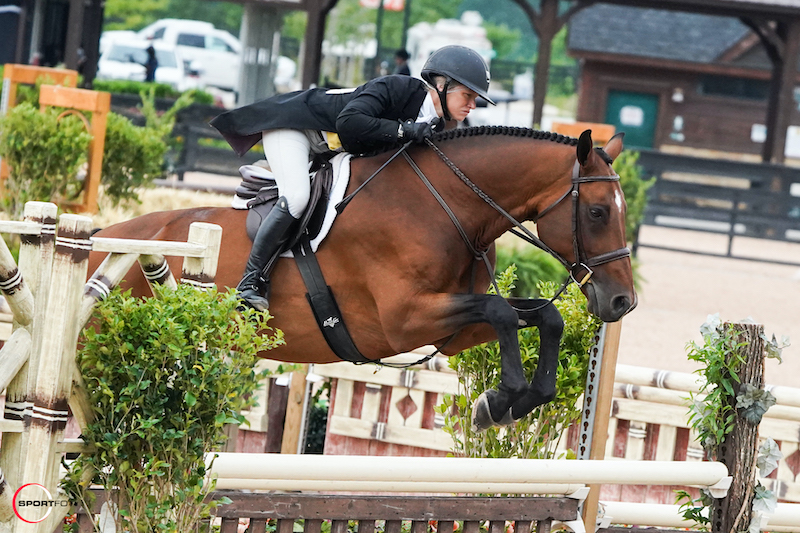 Meredith Gallagher and Jodokus
©Sportfot
The Dean Rheinheimer (Sheridan, IN) course challenged 28 horse-and-rider combinations, with the top 12 earning a minimum score of 78.5 to qualify for the handy round. Gallagher wowed the crowd by scoring a 90 in the technical second round to earn the blue ribbon. Gallagher acknowledged that Jodokus is a mere six years old, and Saturday's competition was only his third derby.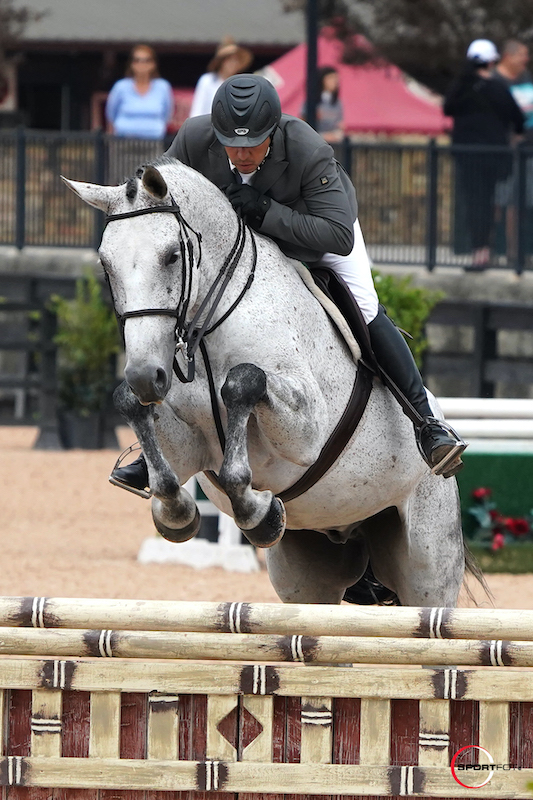 Fabian Herrera and Accelerator
©Sportfot
Because of this, she was slightly conservative going into a handy and didn't want to make any mistakes with the young horse. "I was, honestly, going through the turns thinking, 'I need to be handier than this!'" Gallagher admitted, "When he jumped the oxer and landed right, I thought "Okay, here goes!" We spun back to the trot fence, took a little risk, and it paid off! He just loped down to the last jump really well."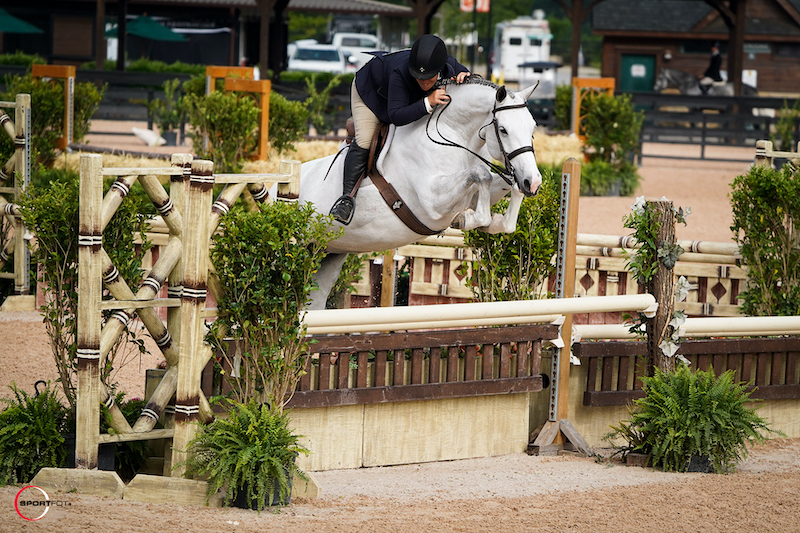 Tommi Clark and Excel
©Sportfot
Gallagher and her "baby unicorn" will continue to compete at TIEC for the month of July. Gallagher boasted about her joyous win and happy memories at TIEC saying, "Really, there's no place I'd rather be! I like the countryside. There's plenty of things to do with the kids and the customers. The horse show grounds are nice, everything is well put together, and the shows run really well. I love it here!"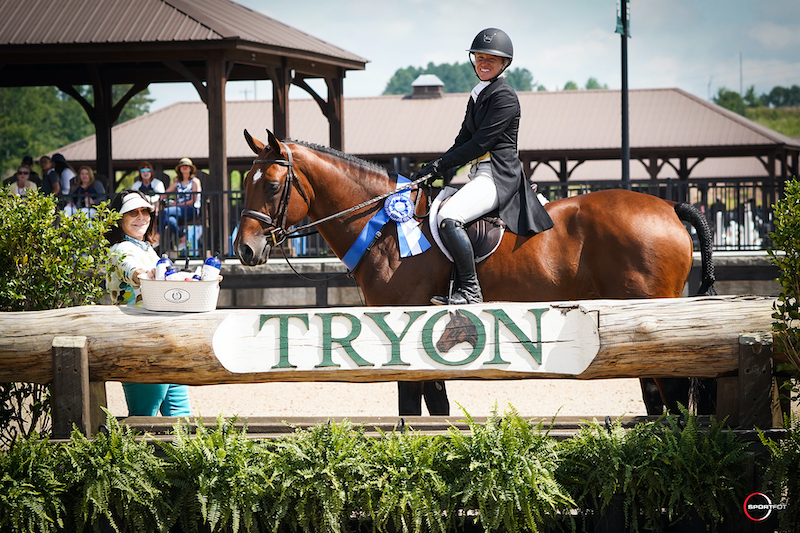 Meredith Gallagher and Jodokus in their awards presentation
©Sportfot
Hunter Highlights:
Remember, owned by Carriage Hill Farms LLC and ridden by Meredith Gallagher (Haines City, FL) rode their way to champion of the Baby Green Hunter 2'6" Division. Ferragamo's Finn and owner/rider Kelly Boltz (Dunwoody, GA) earned reserve honors.
Christina Hutton's Stonehenge, ridden by Carson Chunn (Wake Forest, NC), earned champion honors of the Children's Hunter Pony division. Lucille Cubbage (Aiken, SC) aboard Raven Gropp's Clarendon's First Glance rode to reserve champion honors.
Jumper Highlights:
The St. Luke's Hospital 1.20 Low Junior/Amatuer Jumper Division resulted in Caia Watridge (St. Augustine, FL) taking first place honors aboard Iselle Van Orshof. The reserve championship was awarded to Hannah Kliendinst (Fort Worth, TX) riding MTM Brando.
The Sport Horse Essentials 1.10 Children's/Adult Jumper Division was dominated by Stephanie King (St. Augustine, FL) and her mount, Kalle. Kassidy Rapplean (Wellington, FL) claimed reserve with Landanima. 
Equitation Highlights:
Madison Statiano (Lakeland, FL) placed first in the Hamel Foundation NHS 3'3" Medal aboard Cetidem, owned by FL Sport Horse. Kitty Walters (Germantown, TN) took home second place riding her own App For That.
Jane Melling (Lenox, MI) earned first place aboard her own Oberon in the Tryon Children's Medal 2'6″ class. Katiemae Sweeney (Waxhaw, NC) won the red second place ribbon riding Andrea Guzinski's Seamless.
For full division results from Tryon Summer 2, click here.
For full results from the $25,000 Roger's Diner Grand Prix, click here.
For full results from the $5,000 Horseware Ireland Welcome Stake, click here.
For full results from the $2,500 USHJA National Hunter Derby, click here.
The Tryon Summer Series continues with Tryon Summer 3 hosted June 30 – July 4 at TIEC. Live streaming for highlight classes is available at www.Tryon.com/streaming, and competitions are open to the public. 
Photos ©Sportfot. These photos may only be used once in relation to this press release. Tryon Summer Series competitors can request photos and review galleries at www.Tryon.com/photos. 
Tags:
Accelerator
,
Chasen Boggio
,
Co Pilot
,
Cogna Quinze
,
Cyramo Z
,
Darragh Kerins
,
David O'Brien
,
Delight M-G C de Leuze
,
Fabian Herrera
,
Horseware Ireland
,
Jacqueline Ruyle
,
Juan Ortiz
,
Meredith Gallagher
,
Ringwood Zebo
,
Roger's Diner
,
Samantha Rice
,
Shadowfax 111
,
Tommi Clark
,
Tryon Summer 2
,
Tryon Summer Series
,
USHJA National Hunter Derby