For Immediate Release
Sarah Madden for TIEC
Mill Spring, NC – July 18, 2021 – Conor Swail (Wellington, FL) and Koss Van Heiste claimed a win in the $25,000 Tryon Resort Sunday Classic at Tryon International Equestrian Center & Resort (TIEC) after clearing the jump off in 35.49 seconds, also grabbing reserve with Count Me In on a time of 36.2 seconds. It was a winning week for Swail, who dominated Saturday evening's $73,000 Cleghorn Gun Club Grand Prix CSI 2* aboard Vital Chance de la Roque, as well as Friday's $6,000 Speed Stake CSI 2* with Theo 160. Though Swail and Vital Chance de la Roque didn't win the $37,000 Horseware Ireland Welcome Stake CSI 2* Thursday, they did collect reserve honors to set themselves up for a win under the lights in Tryon Stadium.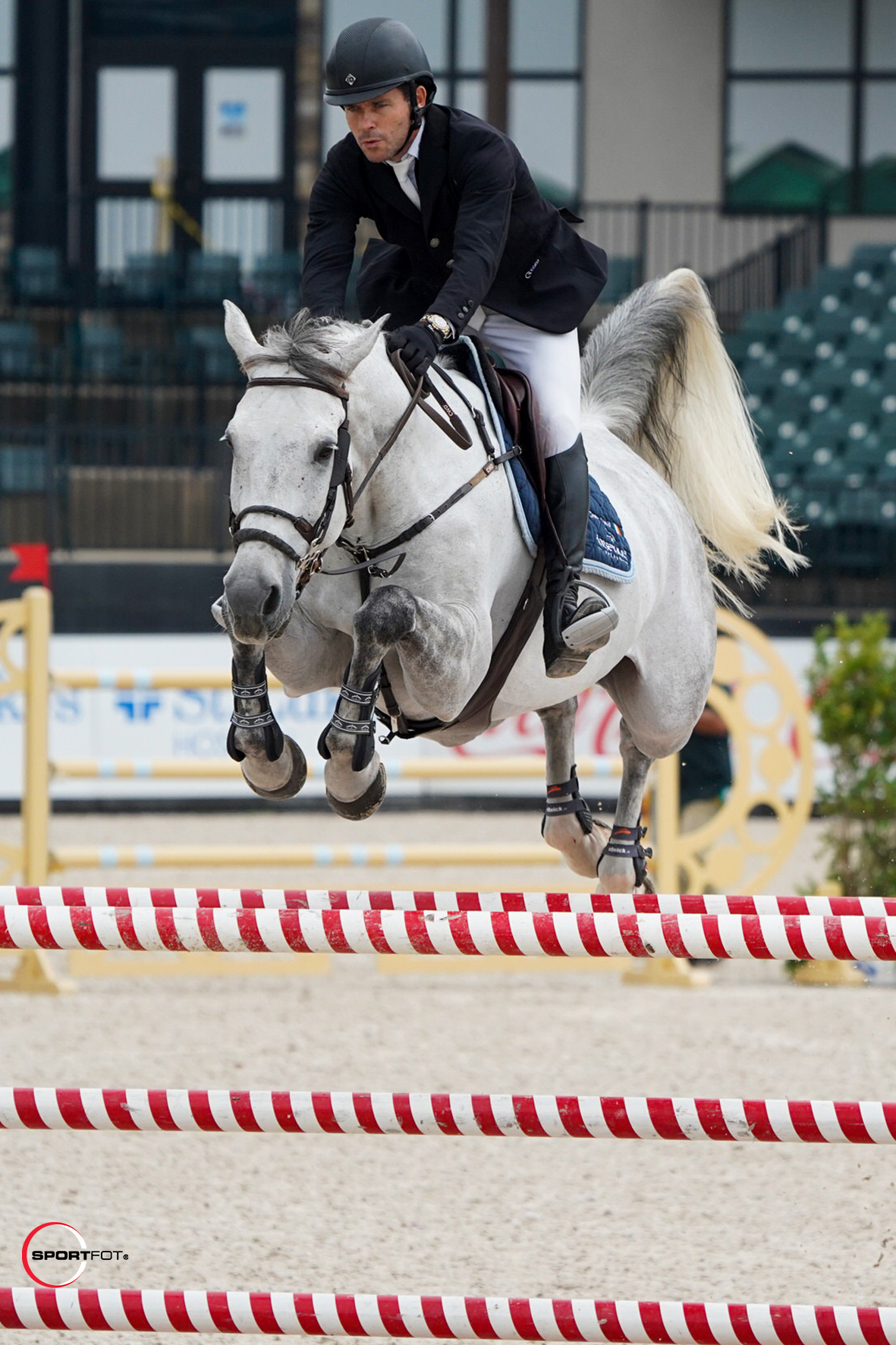 Conor Swail and Koss Van Heiste
©Sportfot
Sunday's $25,000 Tryon Resort Sunday Classic one-two finish was icing on the cake for Swail after a victorious week, and he walked into the ring aboard Count Me In, the 2007 Hanoverian gelding (Count Grannus x Sherlock Holmes), with only himself to beat. The Guilherme Jorge course design tested 24 entries in the first round, with only one pair challenging Swail's two jump-off mounts: Harold Chopping (Southern Pines, NC) and Geronimo SCF, the 2011 Dutch Warmblood gelding (Veron x Mary Louise) owned by Diane Halpin, who earned third place on a time of 37.093.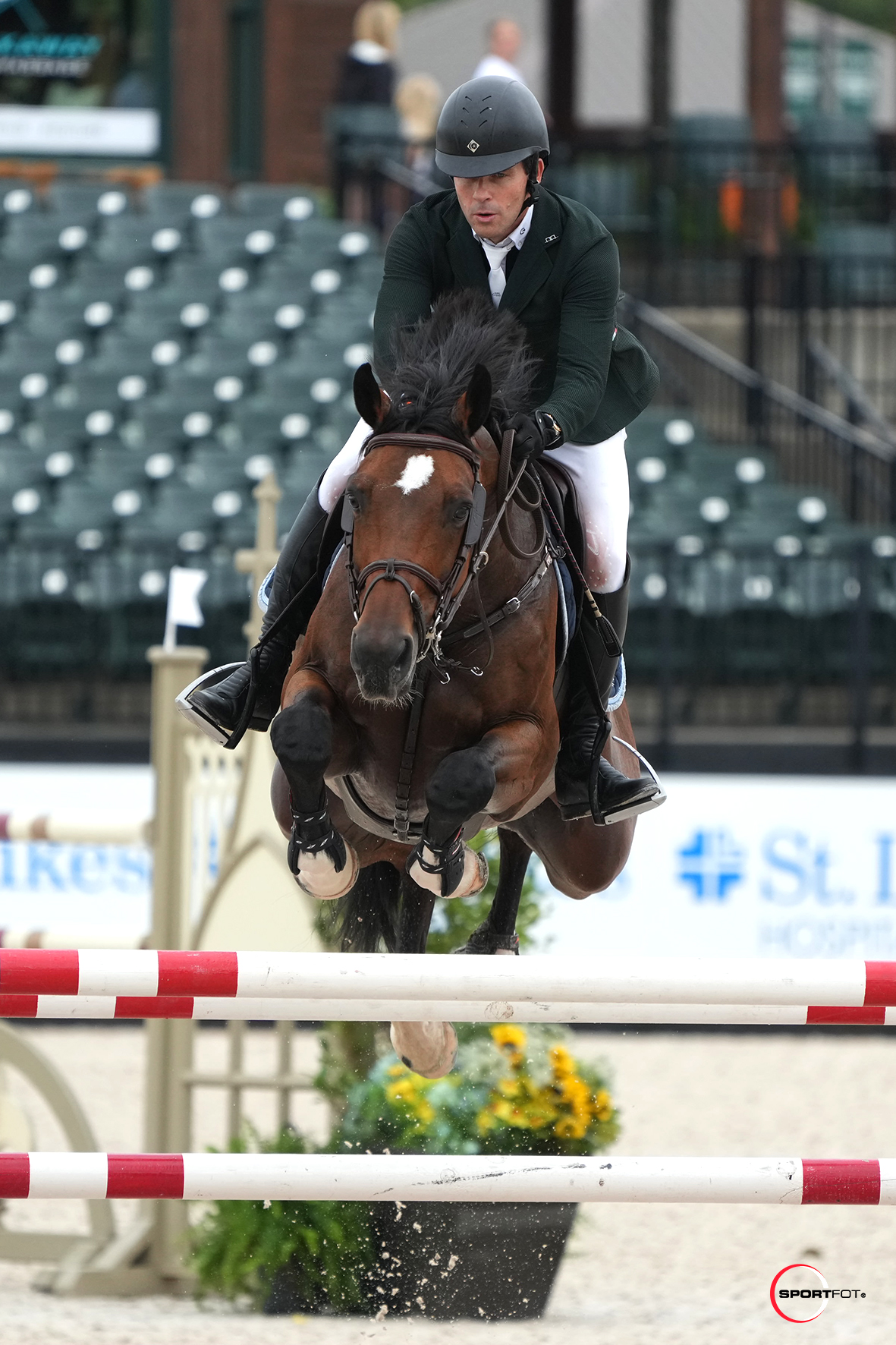 Conor Swail and Count Me In
©Sportfot
Swail was first to test the jump-off track with Koss Van Heiste, the 2010 Belgian Warmblood gelding (Breemeersen Adorado x Contact Van de Heffinck) owned by Eadaoin Aine Ni Choileain, an experienced and longtime ride of his. They could have had an even faster round than their winning time, Swail admitted: "It wasn't the round I wanted, to be honest. I wanted to be a little quicker than that! I gave Harold a little window there." After Chopping finished his clear round with the leaderboard unchanged, however, Swail was free to ride Count Me In, a mount he's been riding for only a few weeks, to a clear round and second place.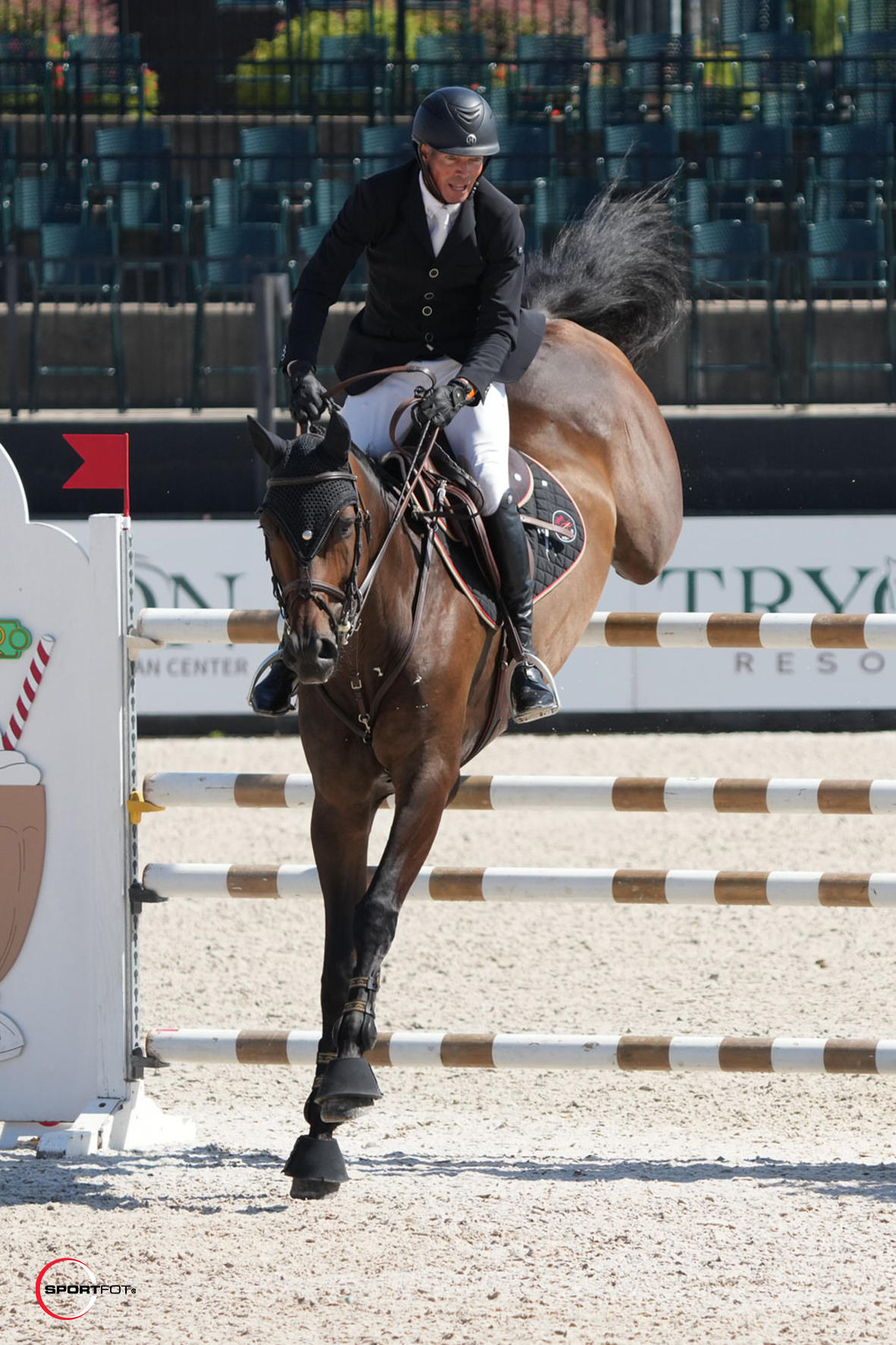 Harold Chopping and Geronimo SCF
©Sportfot
"It's nice when you're going [into the ring] last and you know that you've won the class anyway," Swail admitted. "He's a new horse to me, so I just didn't over-ride him too much, and I had a nice round on him. We're just getting to know each other a little better, and trying to build a good relationship and trust each other. That's the first bigger class I've done on him, so I'm very pleased with him."
For Swail, his recent winning streak is just one reason to love competing at TIEC, he detailed: "I have a very good group of horses and I feel like they're all just starting to peak at the right time. Every week I jump them here in Tryon, I feel like they are growing in confidence and they're getting better and better.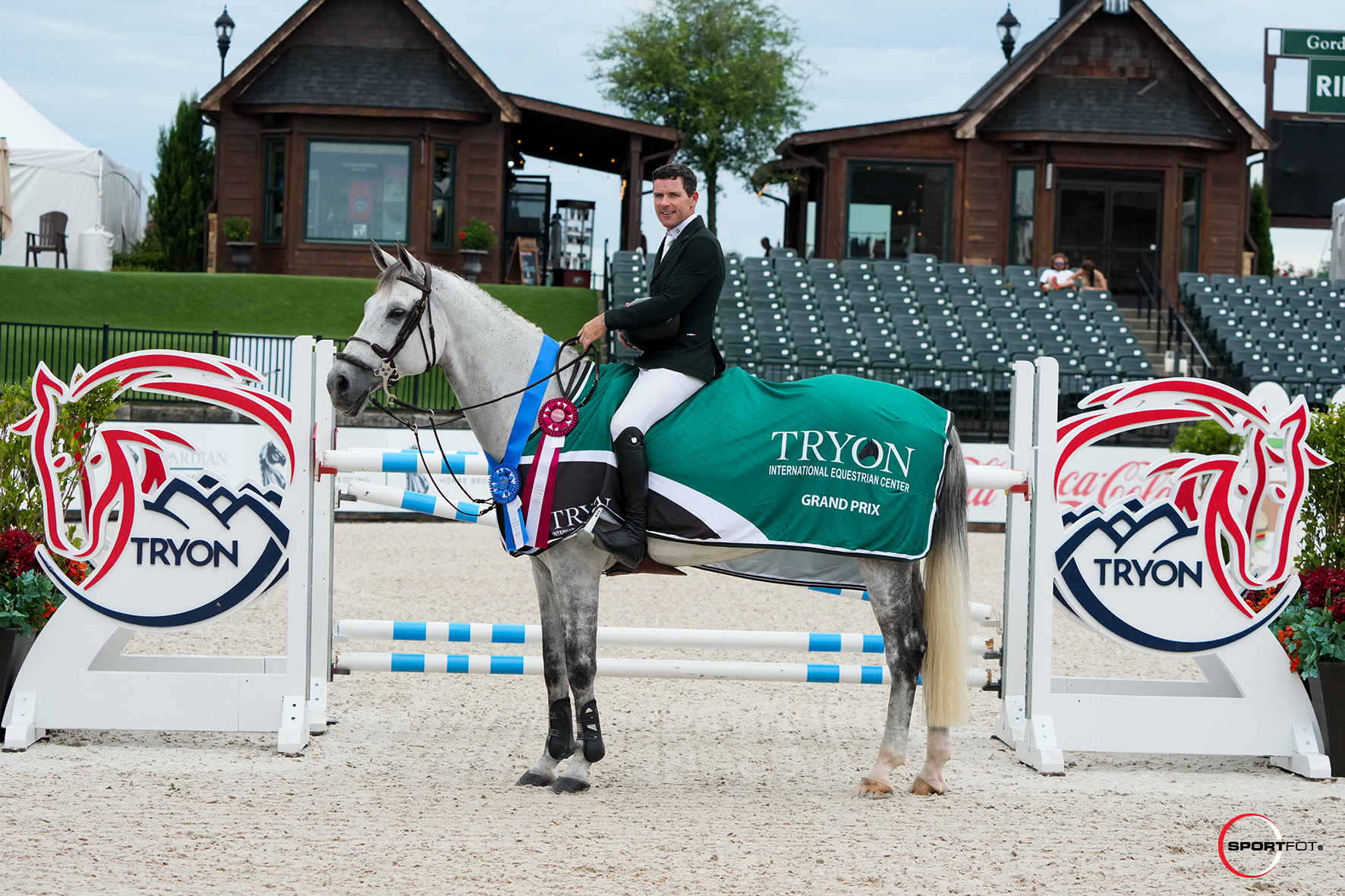 Conor Swail and Koss Van Heiste in their presentation ceremony.
©Sportfot
"When we go in the ring, we are trying to educate them to do all of the right things, do them well, and do them as easily and comfortably as possible," Swail explained of his goals as a rider. "I feel that this is a great facility to do that, where there's great flatting areas. Down in the back you have the cross-country course, which is really nice for them also. The facility is wonderful to be able to produce your horse here."
Otherwise, Swail concluded that the venue has always been a good one for him and that sometimes, everything just comes together. "It was a good finish to an unbelievable week for me. I like it here, and the horses seem to like it here," he said. "You have some shows that you have good luck and other shows you don't have as much luck, and TIEC seems to be one of those lucky shows for me. I've won a 5* Grand Prix here, I've won a 3*, and a 2*. It's been good to me… long may it continue!"
Brooke Kemper Bests $10,000 USHJA National Hunter Derby
Emily Carpenter for TIEC
July 16, 2021 – Brooke Kemper (Keswick, VA) aboard La Vida Loca secured a win during Tryon Summer 5 $10,000 USHJA National Hunter Derby with a combined score of 176. Wrapping up in second place was Abigail Grace Kelley (Lone Tree, CO) with her own Cayman A.L., the 2009 Danish Warmblood gelding (Chelly S Z x Alicia), earning a total score of 173. Third place honors were awarded to Daniel Geitner (Aiken, SC) along with Paul Revere, the 2014 Hanoverian gelding (Casiro I x Chanya) owned by Ella Hudson, with a combined score of 168.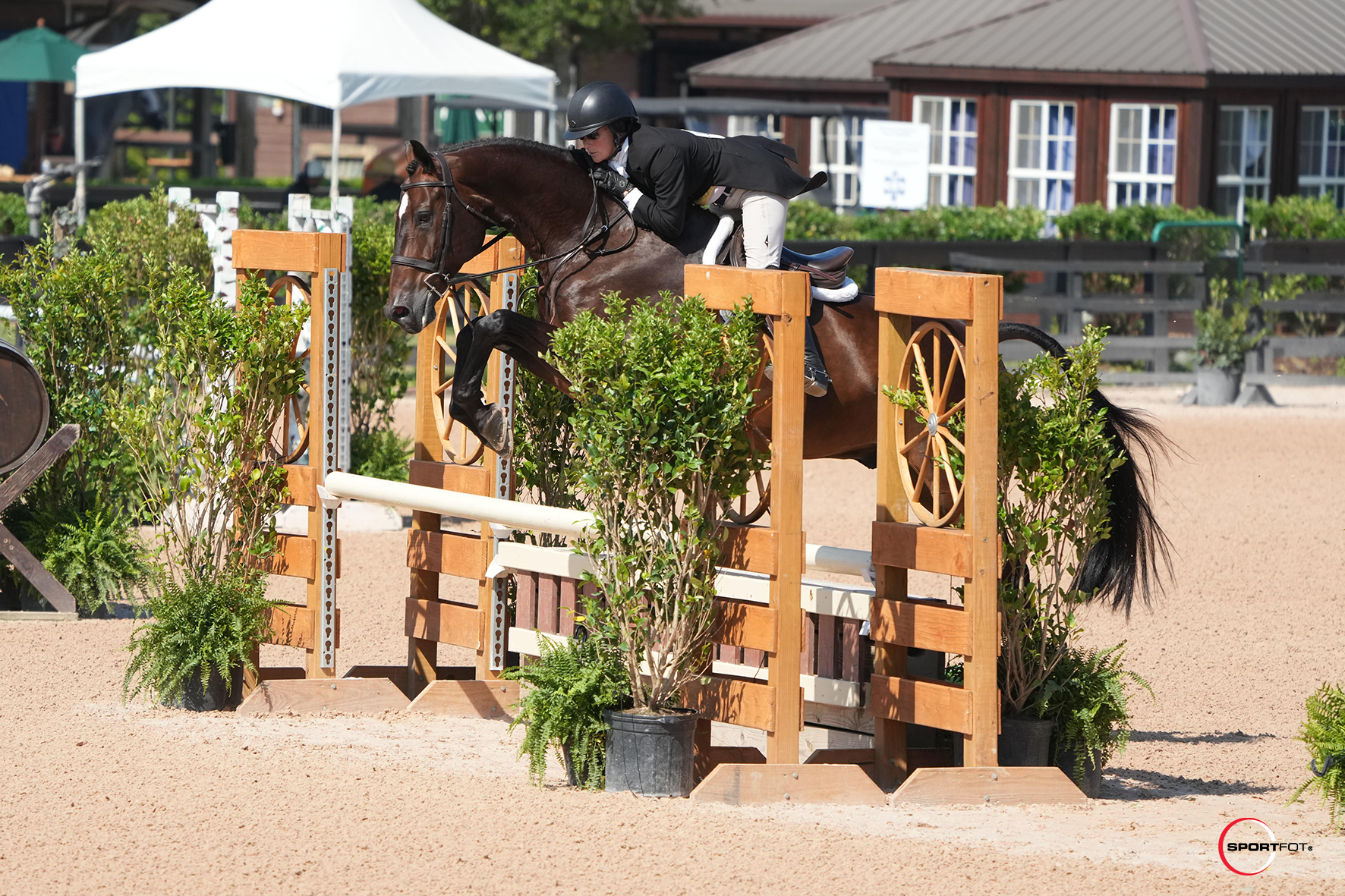 Brooke Kemper and La Vida Loca
©Sportfot
Kemper praised the reliable mount, La Vida Loca, the 2011 Hanoverian gelding (Levisson x El Bandita), owned by Emily Cyrway. "He has been in my barn for about two years. We bought him for a client, Emily Cyrway, and she competes with him in the Amatuer-Owner Hunters."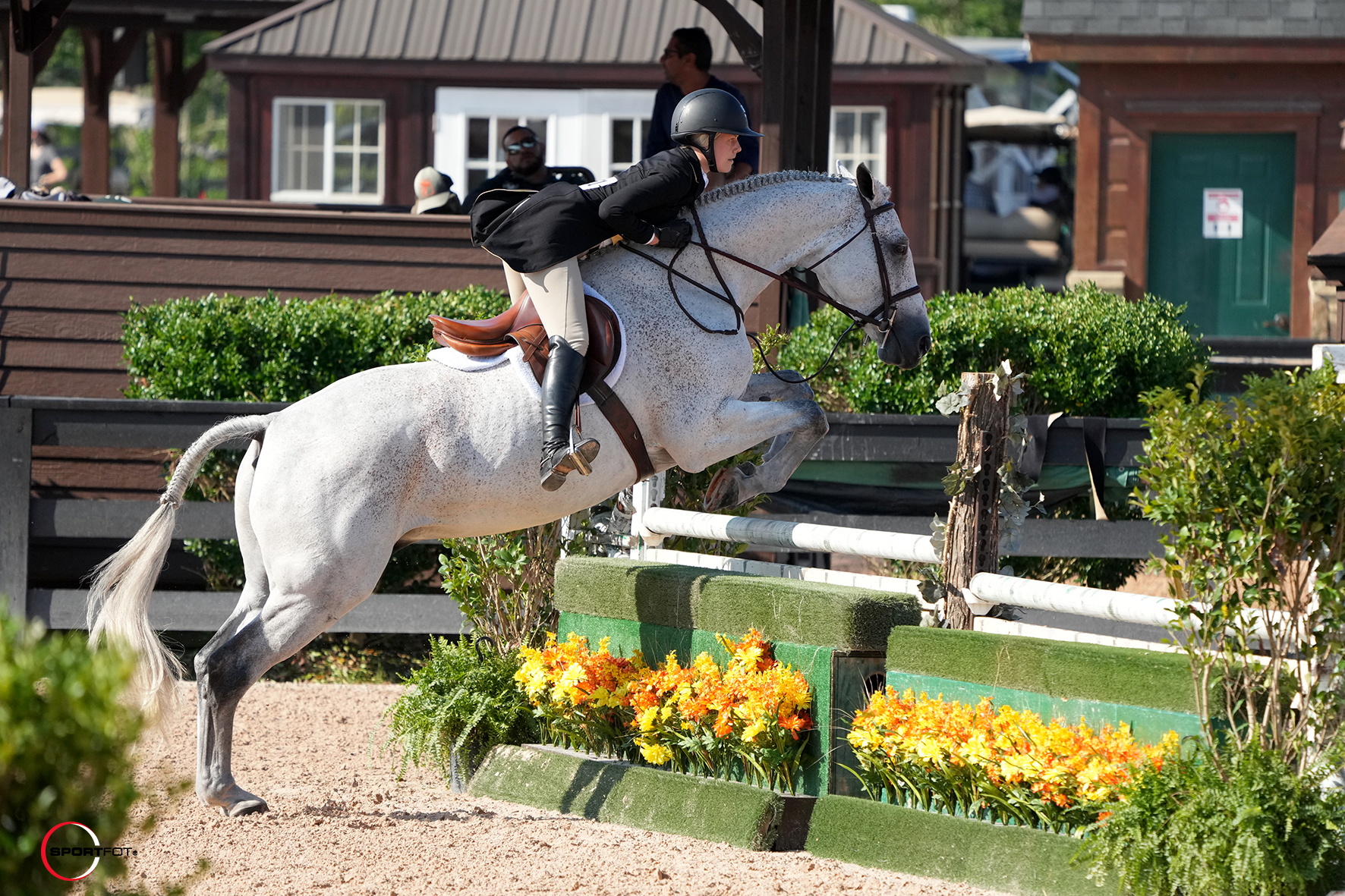 Abigail Grace Kelley and Cayman A.L.
©Sportfot
The Lewis Pack (Mill Spring, NC) designed course showcased the talents of 37 entries in the first round, with the top 12 pairs returning for the handy test. Kemper shared, "The first round was really nice and inviting. The second round gave an opportunity to show how brave and willing your horse is, with jumping out of the ring," she added. "Lucky for me, my horse is really good about things like that. He just cantered right down and jumped right on out!"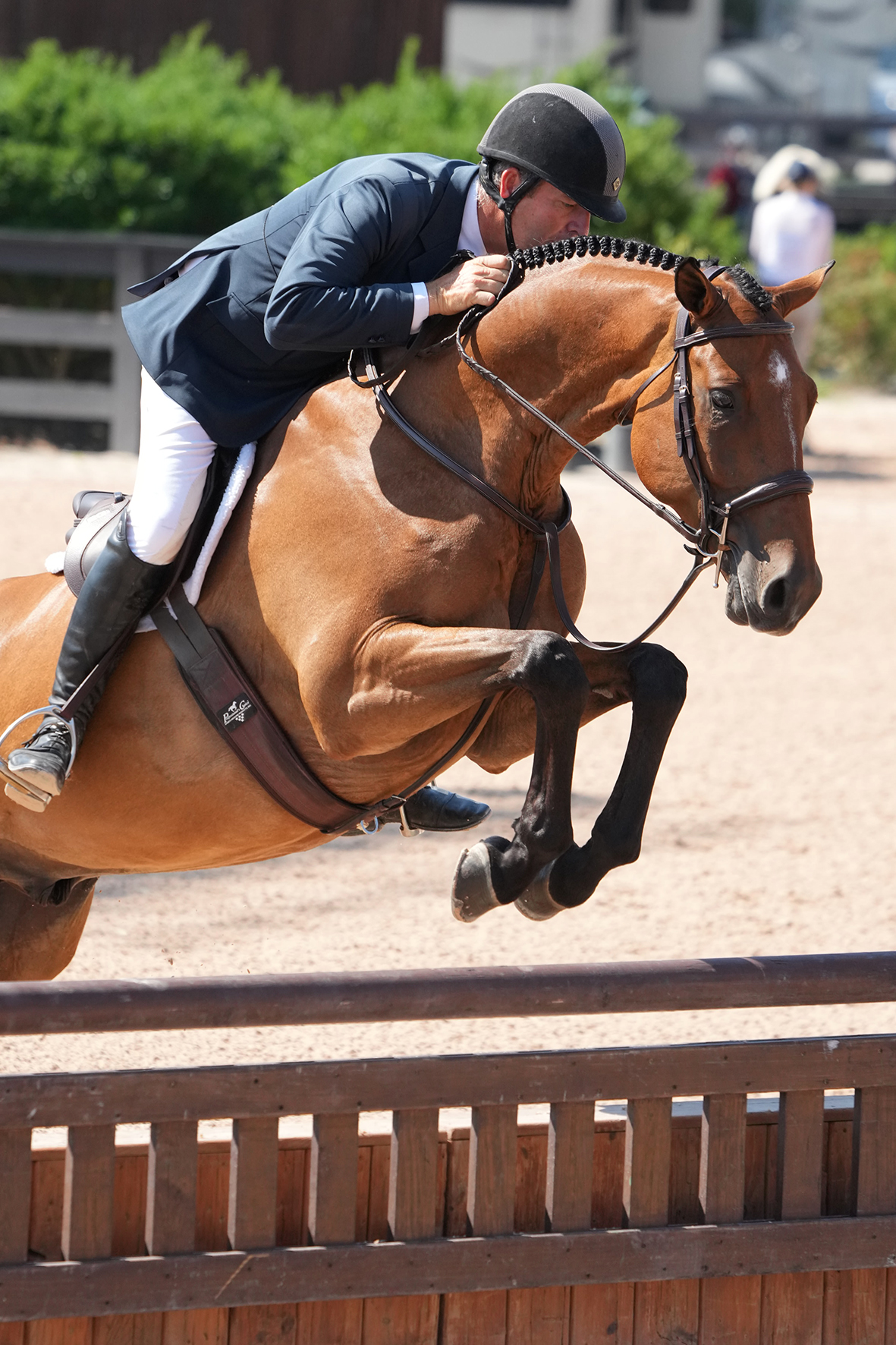 Daniel Geitner and Paul Revere
©Sportfot
Kemper aimed to display her mount's capabilities in both rounds of competition. "My plan was to just try to be smooth and let his natural jumping ability show, and also to show that he is brave and willing."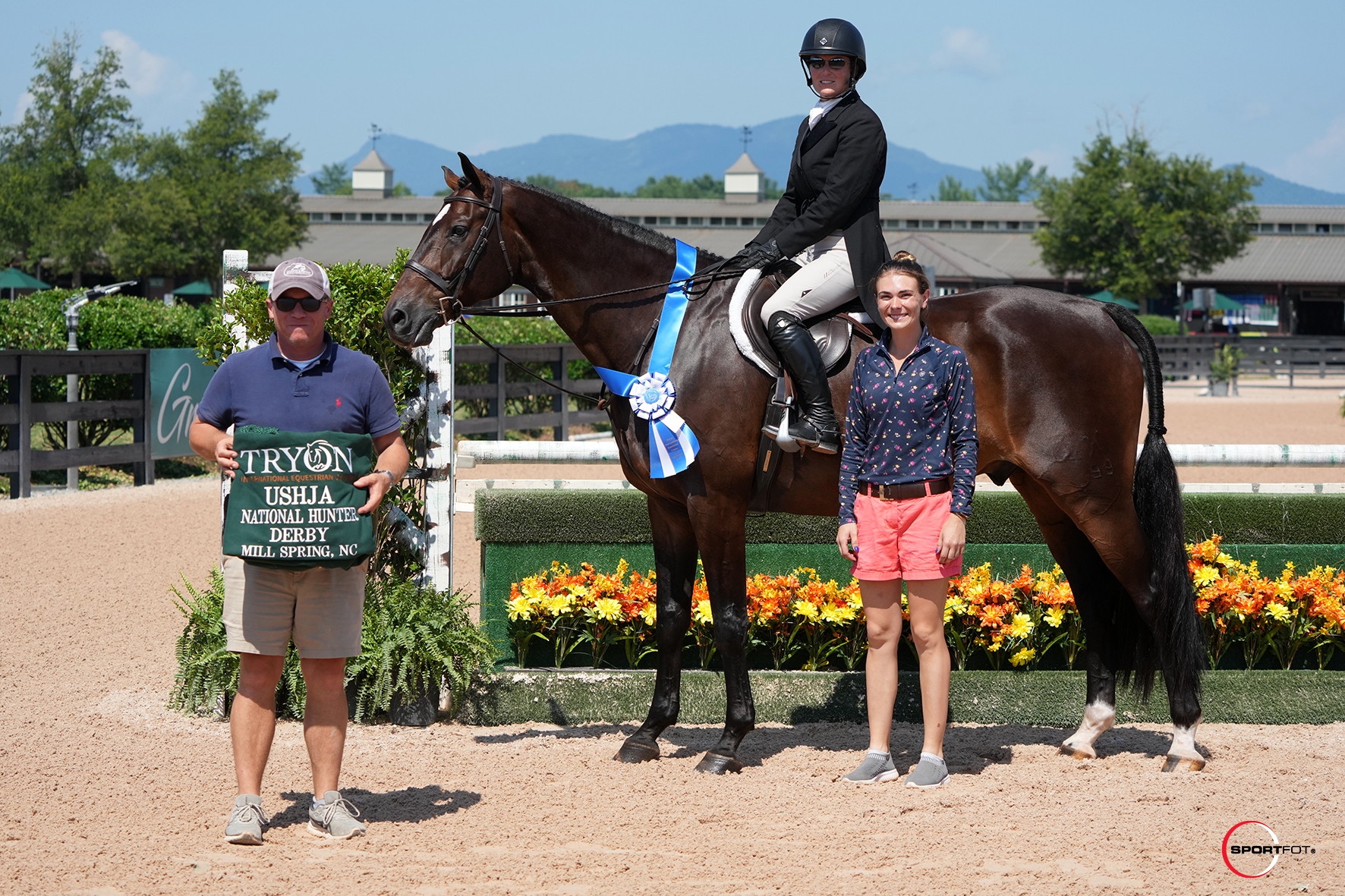 Brooke Kemper and La Vida Loca in their presentation ceremony alongside TIEC Competition Manager JP Godard.
©Sportfot
La Vida Loca will remain at TIEC throughout Tryon Summer 6, aimed at competing in the 3'9" Green Hunter Division and potentially the $2,500 USHJA National Hunter Derby. Kemper concluded, "We love showing at Tryon. The facility is great. There are classes for all of our clients from short stirrups and ponies to the international jumpers. We love coming here; it's always a great experience for us."
Conor Swail and Theo 160 Swing $6,000 Speed Stake CSI 2* Win
Emily Carpenter for TIEC
July 16, 2021 – Conor Swail (IRL) began his Tryon Summer 5 victory streak with a win aboard Theo 160, the 2012 Holsteiner gelding (Christian 25 x Calando IV) owned by Team Phillippaerts, in the $6,000 Speed Stake CSI 2*. The pair navigated the course set by Guilherme Jorge (BRA) in a brisk time of 72.46 seconds. Earning second place was Hilary Mcnerny (USA) aboard her own 2007 Dutch Warmblood gelding (Namelus R x V. Zarah 17), Captain Cooper, with a time of 78.12 seconds. Third place recognition was awarded to Eve Jobs (USA) and her own Venue D'fees Des Hazalles, the 2005 Belgian Warmblood mare (President x Reine Fee Des Hazalles), with a time of 81.94 seconds.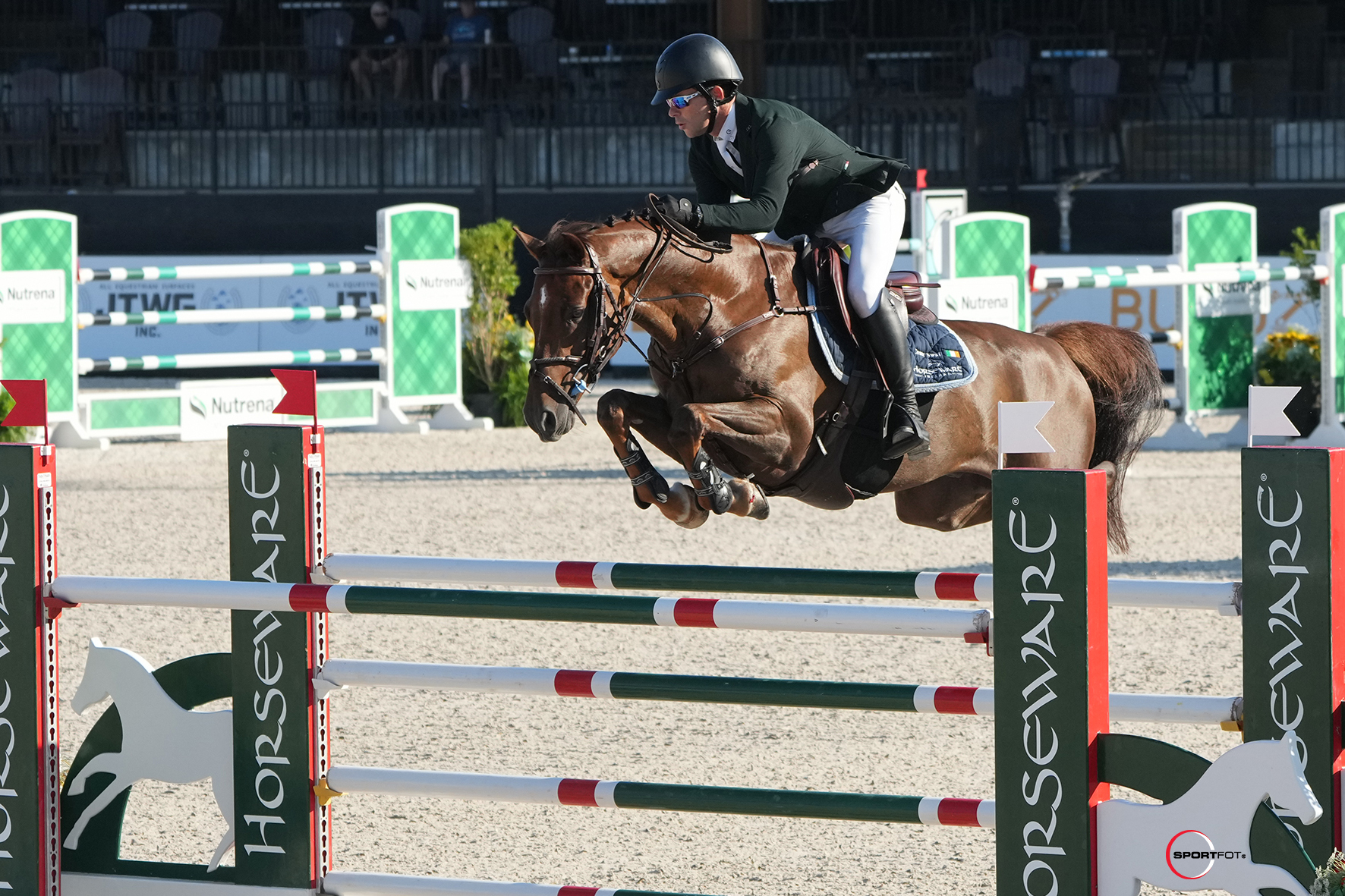 Conor Swail and Theo 160
©Sportfot
Hunter Highlights:
The 15-17 Children's Hunter Division was championed by Claire Drahzal (Weddington, NC) piloting her own Zanzibar. Reserve champion was rewarded to Anna Gustafson (Charlotte, NC) along with Dhirector owned by Dr. Mitzi Treske.
Champion honors of the Coca-Cola® 3'6" Performance Hunter Division went to Jordan Gilchrist (Flower Mound, TX) aboard her own Carige. Capturing reserve champion was Pat Vogtle (Hillsborough, NC) and Victor owned by Carelyn Monroe.
Equitation Highlights:
The Adult Equitation Division awarded Mackensie Bowles (Stauton, VA) with her own Innosense. Reserve champion was earned by Ella Bostwick (Wellington, FL) piloting Kinsale Heart of Gold owned by Carelyn Monroe.
First place honors of the 2'3" 11 and Under Equitation class was awarded to Airlie Corder (Wilmington, NC) with her own, Whisper "2" Me. The red rosette was earned by Frances Kelly (Charlotte, NC) riding her own mount Along Came A Spider.
Jumper Highlights:
The ProElite 1.10m Children's Jumper Division recognized Emma Ledin (Chapel Hill, NC) with her own Wrozbita as champions. Reserve champion honors were awarded to Sophia Ayers (Alpharetta, GA) aboard her own For Fashion.
Lori Osterstock (Ocala, FL) and her own King Solomon were champions of the Take2 1.0m Thoroughbred Jumper Division. Reserve champion was taken home by Sophia Caban (Jarrettsville, MD) along with her own Saraguay.
For full division results from Tryon Summer 5, click here. 
For full results from the $25,000 Tryon Resort Sunday Classic, click here.
For full results from the $10,000 USHJA National Hunter Derby, click here. 
For full results from the $6,000 Speed Stake CSI 2*, click here. 
Tryon Summer Series competition concludes with Tryon Summer 6, hosted July 20-25 at TIEC and featuring Hunter AA/Jumper Level 6 and CSI 3* competition. The week also hosts the Markel/USHJA Zone 3&4 Platinum Jumper and Team Jumper Championships, with competition open to the public. Live streaming is available for highlight competitions at www.Tryon.com/streaming. To learn more about the remaining 2021 competition season at TIEC, visit www.Tryon.com/compete. 
Photos ©Sportfot. These photos may only be used once in relation to this press release. Tryon Summer Series competitors can request photos and review galleries at www.Tryon.com/photos.