For Immediate Release
Sarah Madden for TIEC
Mill Spring, NC – April 25, 2021 – A strong Canadian presence in the FEI Grand Prix Freestyle CDI 4* in Tryon Stadium on Sunday resulted in a win for Chris von Martels (CAN) and Eclips, earning a 79.095%. Narrowly behind with a 79.025%, Lindsay Kellock (CAN) and Sebastien, the 2006 Rheinlander gelding (Sandro Hit x Feine Dame Good Hope's x Fidermark) Kellock owns with Enterprise Farm Equestrian LLC, claimed reserve. Julio Mendoza Loor (ECU) danced to third and a score of 73.115% with Rosali, the 2005 Danish Warmblood mare (Blue Hors Romanov x Mosegårdens Ratina x Ragazzo) owned by Aileen Daly.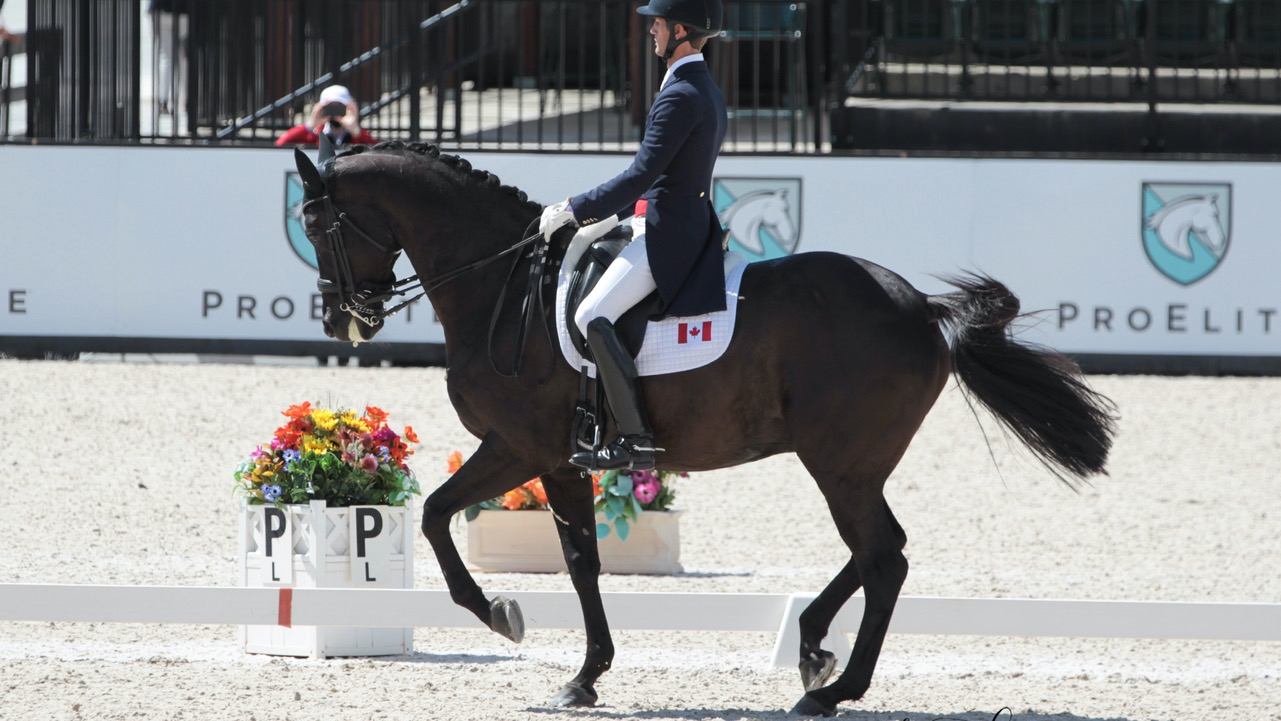 Chris von Martels and Eclips
©Sharon Packer
Von Martels and the 2009 Dutch Warmblood gelding (Apache x Kebora x Olympic Ferro) owned in partnership with Barbara Soederhuizen were aiming for a fun experience rather than a pressure-filled ride, which paid off after a strong weekend of competition under their belts. "He's amazing. He's my dream horse, and today we just went in with a fun expectation and to try to solve a few little rideability things that I've felt in the Grand Prix.
"I tried a few things with a different approach and that worked out for me," von Martels recapped. "He's great… he is always a horse that gives 200%, and I really believe in him. Today he showed everybody that he can do it."
After placing third in the FEI Grand Prix CDI 4* on Friday, their Freestyle performance culminated in a win for Eclips, whom von Martels described as a showoff: "One of the reasons I chose to come here was because it is a real international atmosphere. Our horses do get used to competing just in the one arena at [the Global Dressage Festival], which definitely has a lot of pros, but they also need to of course see different places. My horse proved he is fine, and actually I think he enjoys a big venue like this. He's a little bit of a showoff horse, so he likes to have some atmosphere around him."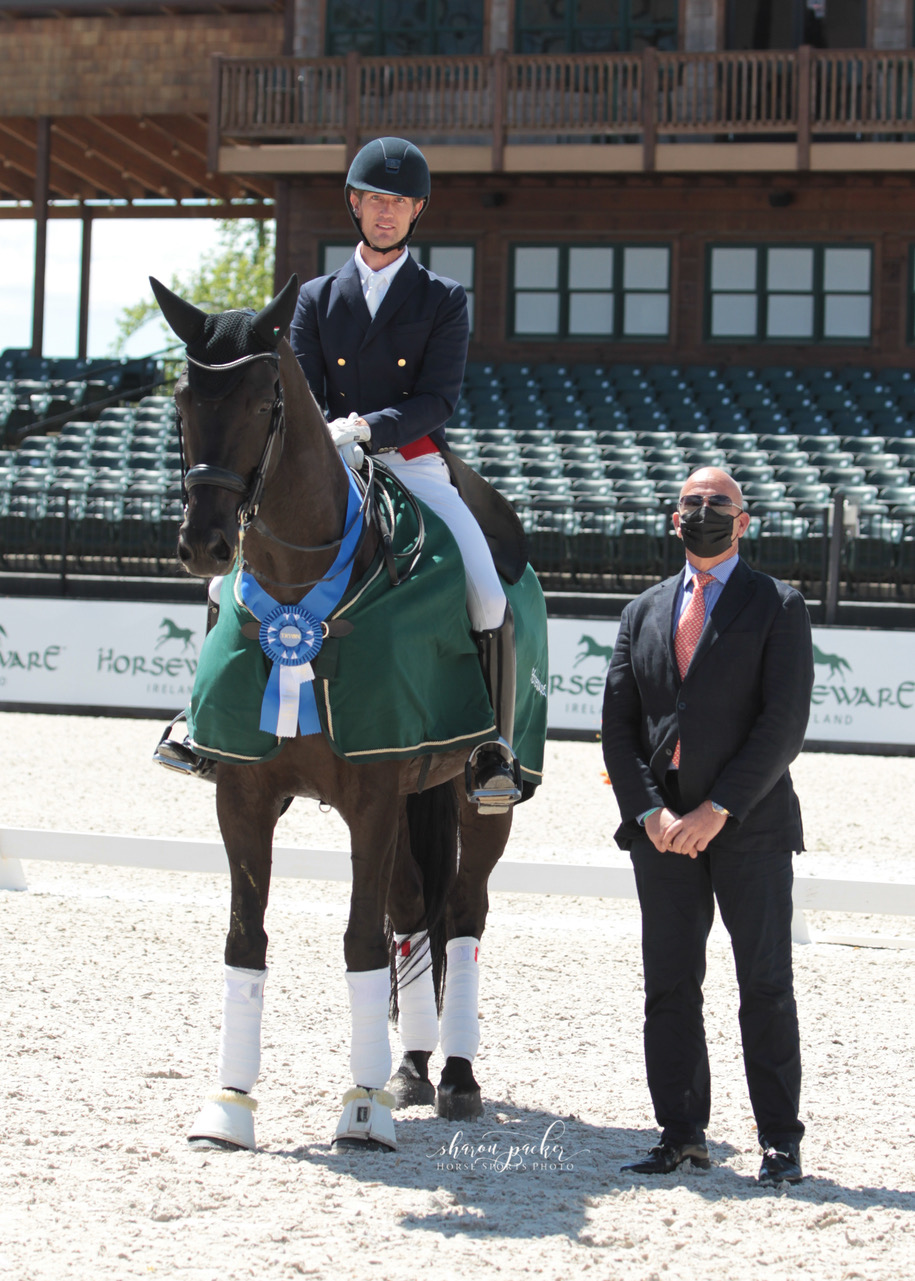 Chris von Martels and Eclips in their presentation ceremony with Judge at C, Peter Starr.
©Sharon Packer
From here, von Martels will go back to Wellington, FL for a few weeks and start making plans for training camp should he be selected to represent Canada in Tokyo later this summer. Though von Martels has competed at TIEC before, it's been a while, and returning has been a positive experience, he reiterated. "It's been a great week. Despite the weather yesterday, we have a beautiful sunny day today, and the horses are happy to be in this beautiful venue. The last time I showed here was right before the Rio Olympic Games, and I am always reminded of what a nice facility this is, and the show organizers are great. It's good to be here."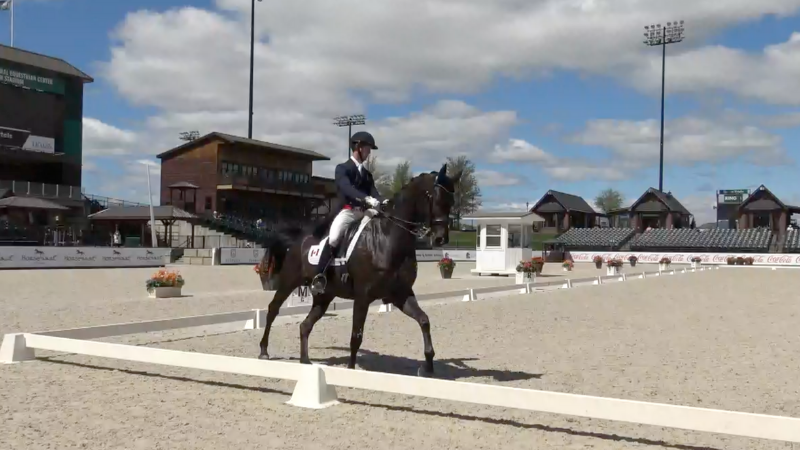 WATCH: Click to watch Chris von Martels and Eclips ride to a score of 79.095% in the FEI Grand prix Freestyle CDI 4* at TIEC, courtesy of Richard's Equine Videos!
Adrienne Lyle and Salvino Duplicate their Friday Score for FEI Grand Prix Special CDI 4* Win
April 25, 2021 – Adrienne Lyle (USA) and Salvino replicated their Friday score almost perfectly to claim the win in Sunday's FEI Grand Prix Special CDI 4*, earning a total score of 77.936% (after posting a score of 77.913% for their previous win). Olivia LaGoy-Weltz (USA) and Rassing's Lonoir, a 2004 Danish Warmblood gelding (De Noir x Lorani x Loran) owned in partnership with Mary Anne McPhail, once again claimed second place, this time on a score of 75.149%. In third, Katie Johnson (USA) and Quartett, the 2008 Brandenburger gelding (Quaterback x Donnerwunder x Dream of Glory) owned by Kylee Lourie, scored 71.553% for a personal best.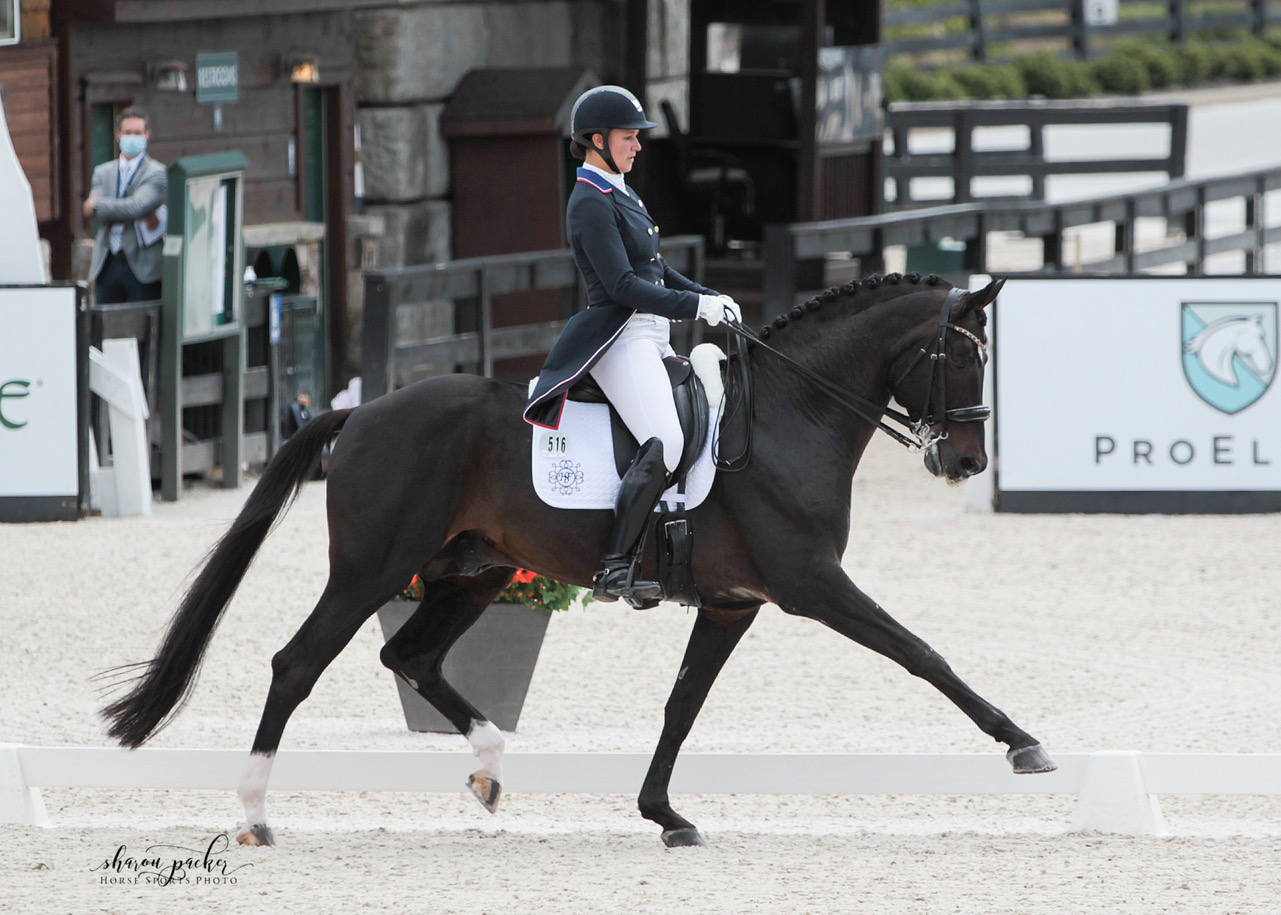 Adrienne Lyle and Salvino
©Sharon Packer
"We got almost the exact same score!" Lyle recapped of her second winning ride at the venue over two days with the 2007 Hanoverian stallion (Sandro Hit x Dynastie x Donnerhall) owned by Betsy Juliano LLC. "For me, that is a huge thing to be consistent, especially when you're vying for a team spot. He was able to go out and put in another solid test with no mistakes and that's huge for us. I feel like he tried really hard today.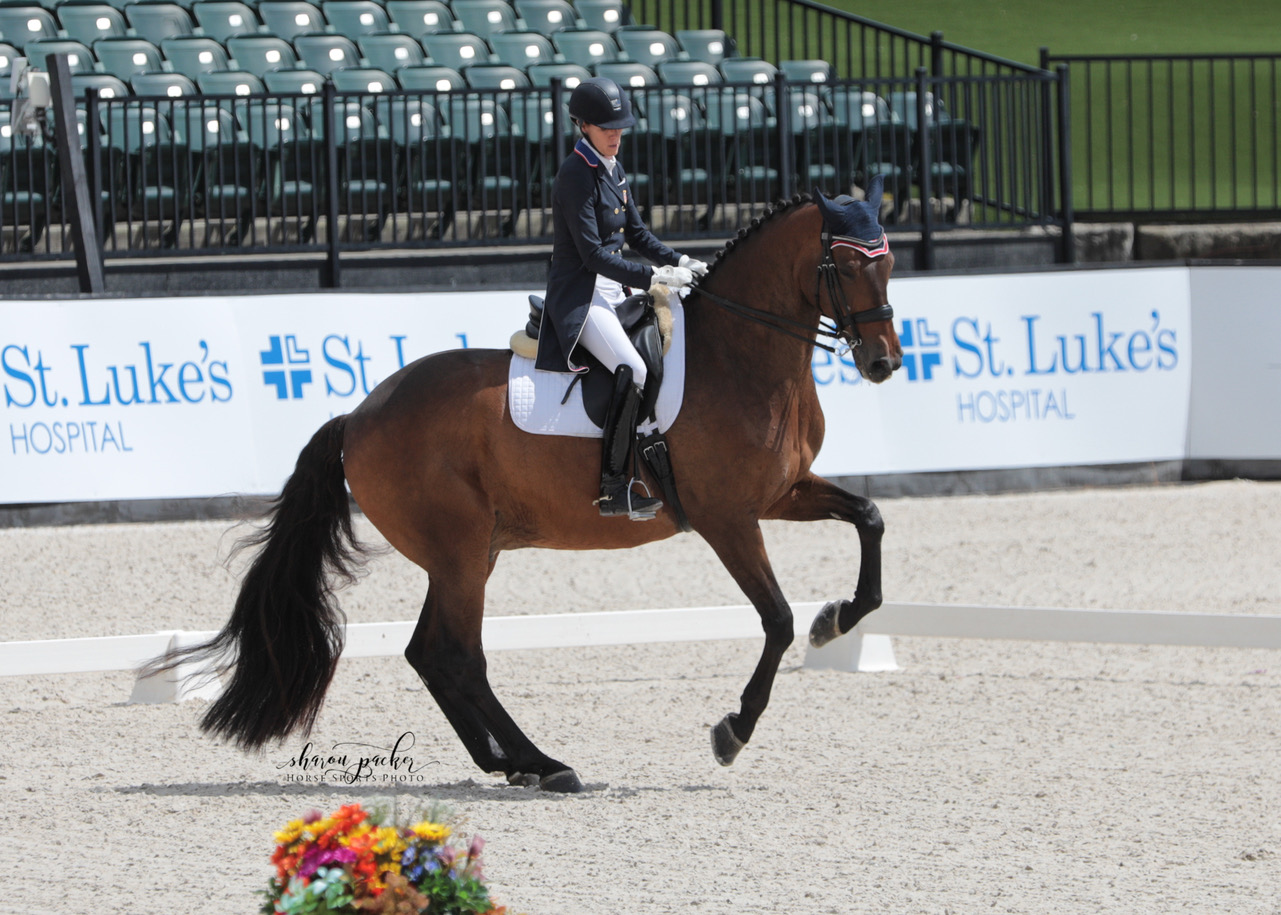 Oliva LaGoy-Weltz and Rassing's Lonoir
©Sharon Packer
"I think moving forward, this is the beginning of what will hopefully be a long summer," Lyle predicted. "We will start to work more on fitness now so that we have just a little more stamina, by the time you get to the last day of the show like this with all the travel and everything, but I couldn't have asked for more from him. He tries so hard, and he's so honest."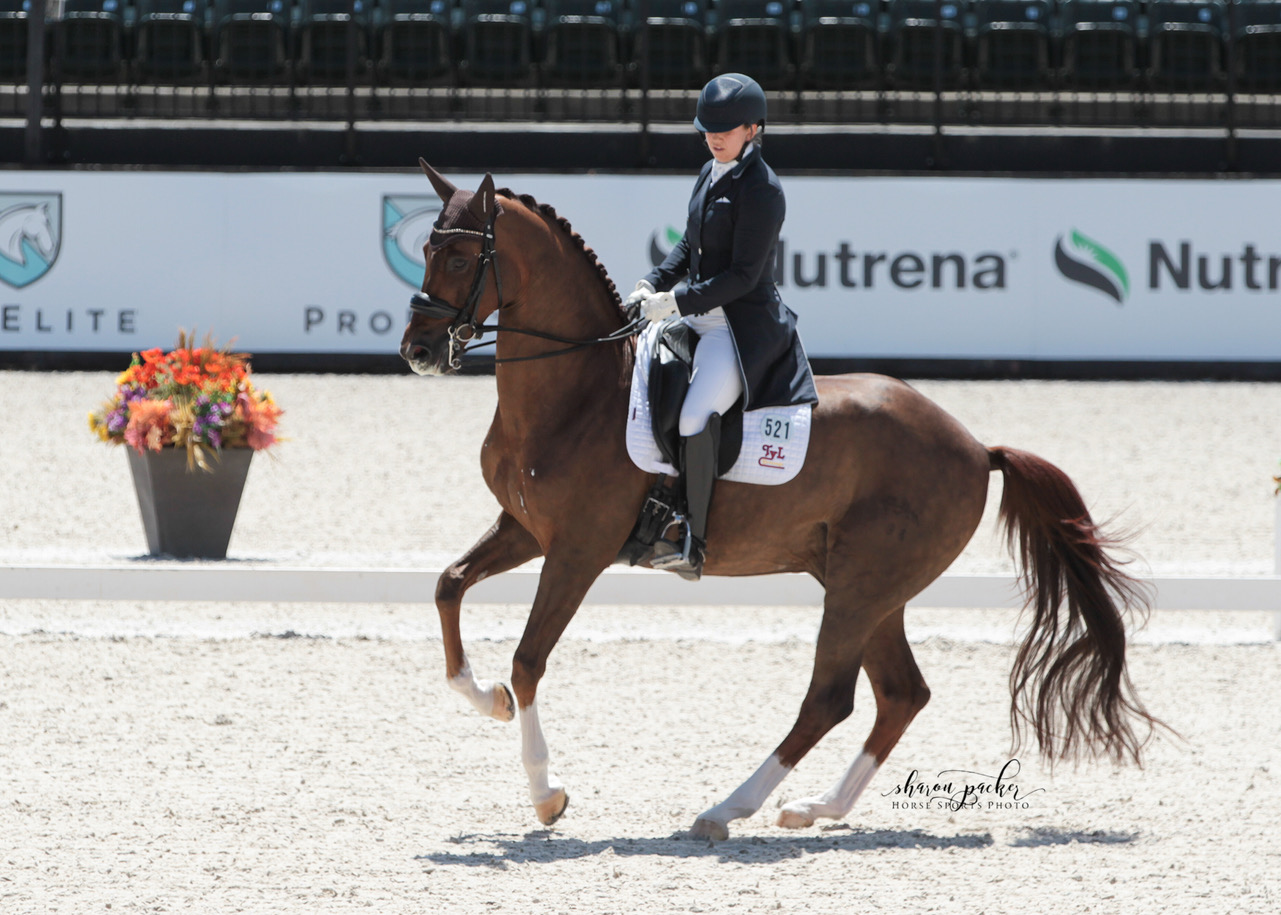 Katie Johnson and Quartett
©Sharon Packer
Building stamina for travel situations is one of the main reasons Lyle chose to compete at the Tryon Spring Dressage 1 CDI 4*, since this weekend marks "the first time we've shown outside of Wellington in a long time," Lyle revealed. "It's been a couple years, I think. It's great to be back on the road and remember all the stuff that goes into traveling… and competing away from home, so I'm thankful we came and could have this experience."
Adrienne Lyle and Salvino in their presentation ceremony with Judge at C, Christof Umbach.
©Sharon Packer
After a successful weekend extending her winning streak with Salvino to four CDI 4* victories in a row, Lyle had two people in particular to thank and one student to congratulate: I would like to thank my owner, Betsy Juliano, and my longtime coach, Debbie McDonald, who are always awesome." Lyle concluded, "I'm super excited for Katie Johnson who's been a student of mine for years, and this is her personal best. This is her first year doing the CDI Grand Prix and she just had the most beautiful and harmonious test today. I'm so excited for her."
Pablo Gómez Molina and Servus Ymas are Two for Two in Tryon Stadium After FEI Intermediate I* CDI 4* Win
Pablo "Pau" Gómez Molina (ESP) and Servus Ymas topped off their Friday FEI Prix St. Georges CDI 4* win with a victory in Saturday's FEI Intermediate I* CDI 4*, scoring a 74.676% with the 2013 Hanoverian gelding (San Amour x Romana x Depardieu) owned by Cristina Danguillecourt and Yeguada De Ymas S.L. In reserve, Emilee Spinelli (USA) earned a score of 65.029% with Don Huerico, her own 2008 Hanoverian gelding (Don Henrico x Wolke x Wolkenstein II).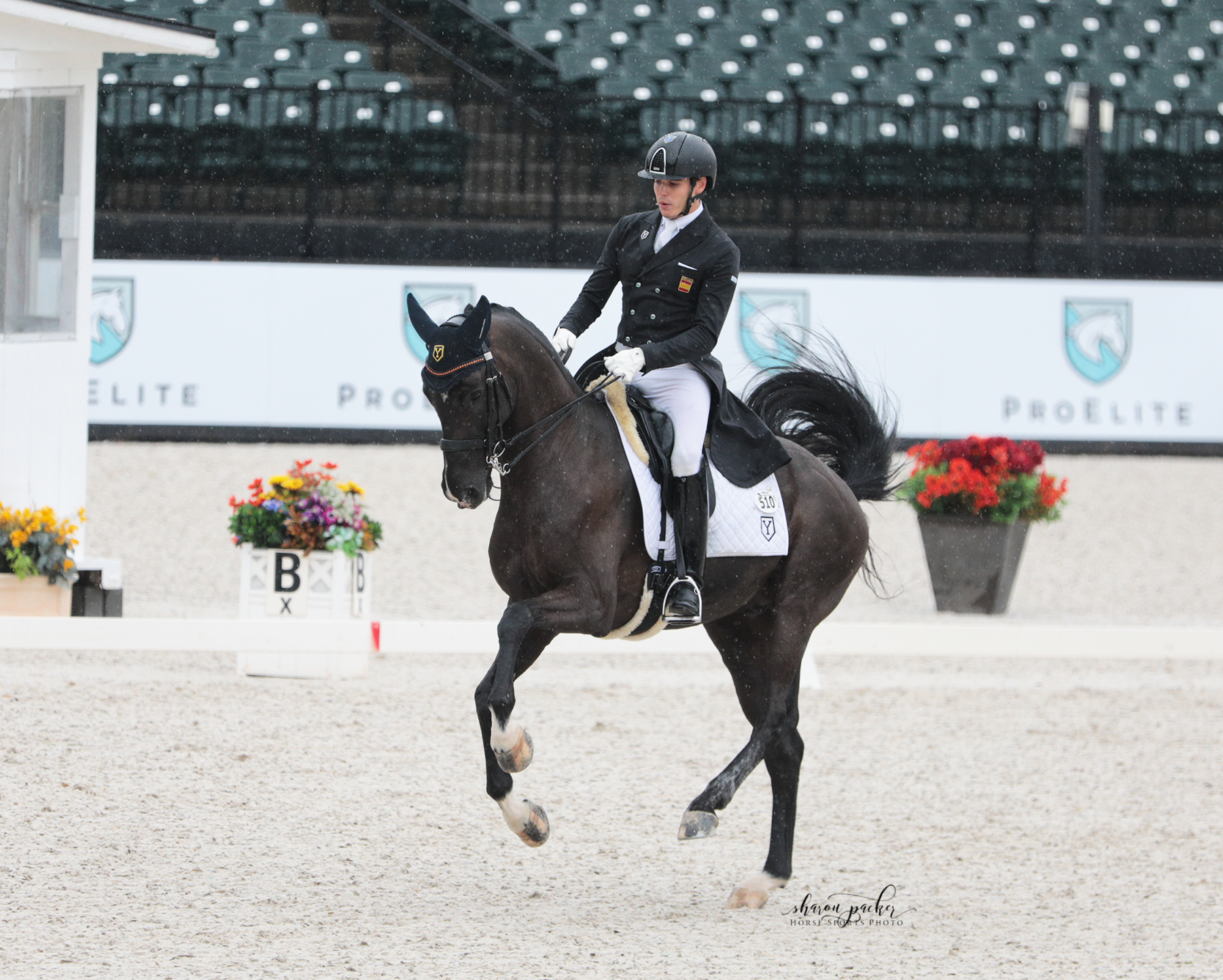 Pablo Gómez Molina and Servus Ymas
©Sharon Packer
Despite a rainy, abbreviated day of competition at TIEC, Gómez Molina met his goals from Friday's ride for another successful tour down centerline in Tryon Stadium. "The weather was not the best – it was raining a lot and it was kind of cold [when I rode] – but he let me ride the canter much better, and so we got higher scores compared to the first day, and we had highlights in the canter, [particularly] in the pirouettes and the two-tempis. He behaved so well, and was always with me. He didn't care about the weather."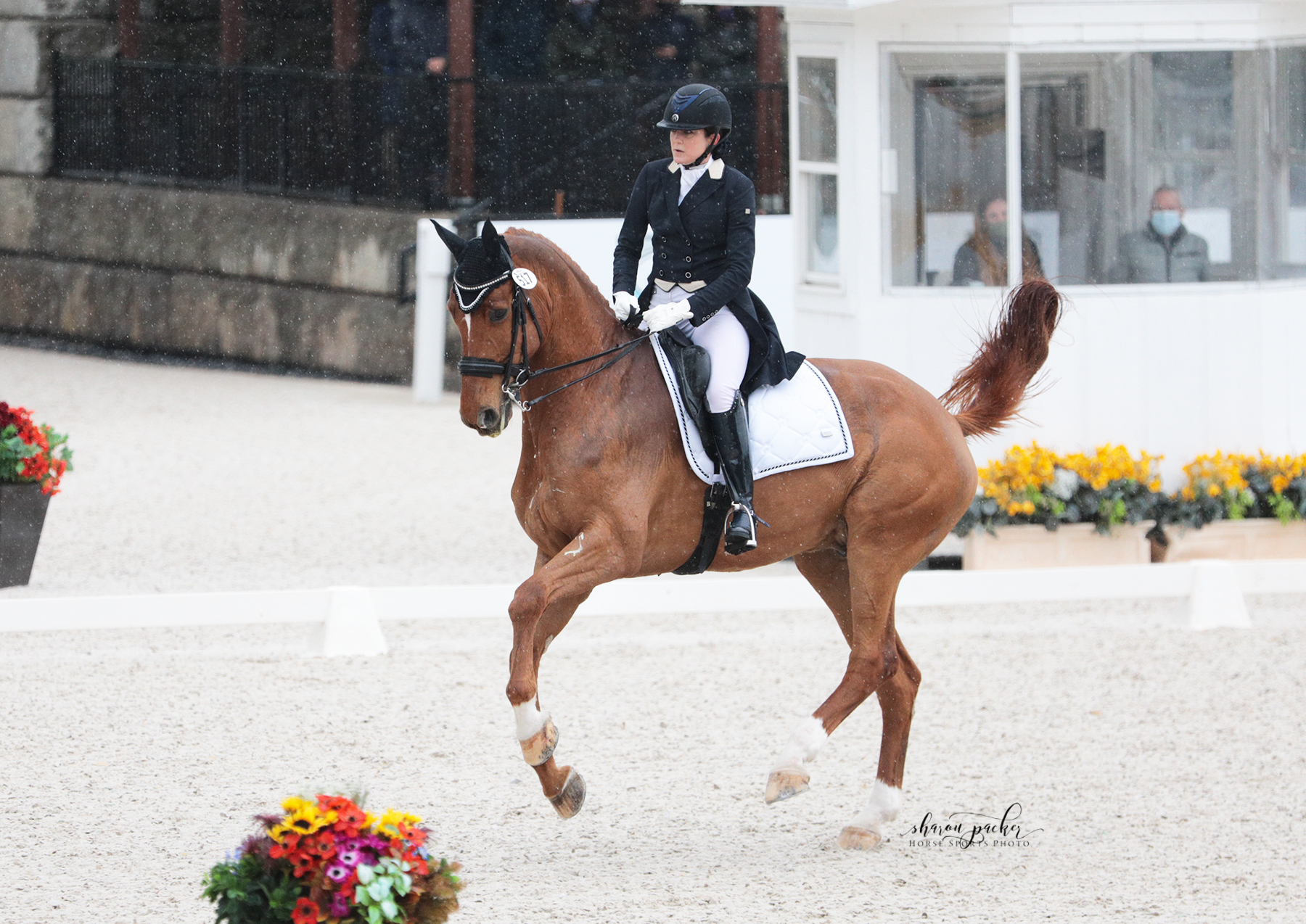 Emilee Spinelli and Don Huerico
©Sharon Packer
For a young horse coming up the ranks, that's all Gómez Molina will ask of him for a bit, he shared. Similarly, he piloted Ulises De Ymas, the 2010 PRE gelding (Seni Indio x Nirvana Ymas x Superior II) owned by Yeguada De Ymas S.L. and Cristina Danguillecourt, to a repeat sixth place in the FEI Grand Prix Special CDI 4* and earning an almost identical score from earlier in the weekend. "Servus Ymas will get some time off, and deserves a little rest. I was sixth again with Ulises De Ymas – almost the exact same score – and I'm really happy with him, too. He needs to get stronger, but we are on the right path with him," he concluded of the horse who contested only his third CDI Grand Prix to consistent results.
Going forward, Gómez Molina hopes to travel to Europe for competitions but is playing his plans by ear, he shared. "I would like to go to Europe, but we still don't know for sure. It's a little bit difficult to plan. We will see. I would like to thank Yeguada de Ymas for the opportunity to ride and compete with his horses. I'm really happy with the weekend and how both horses went," he concluded.
Lucy Tidd and Ellert HB Claim FEI Grand Prix CDIAm Win
April 25, 2021 – Lucy Tidd (USA) and Ellert HB claimed the win in the FEI Grand Prix CDIAm on Sunday, scoring 59.746% with the 2009 Dutch Warmblood gelding (Johnson x Alanda B x Sydney). Shelley van den Neste (USA) and Janet Simile's Fire Fly, the 2010 Dutch Warmblood gelding (Briar Junior x Arieka x Oo Seven), scored 52.536% to claim reserve.
Tidd and Ellert HB are both green to the CDI Grand Prix level, debuting in the Amateur division for successful results despite some bobbles, she noted. "Yesterday's test was a little bit better, actually. Today's warm-up was super good, but there were a few mistakes and some accuracy things in the actual test today that we didn't have yesterday. But, he's pretty green to the Grand Prix. This is the first time I've done a CDI with him… actually, for either of us at the Grand Prix level!" she revealed. "I was pretty excited that he handled the atmosphere. He took all of it in stride! I felt like his trot work felt pretty strong for the most part. There were just a few wobbles in the canter."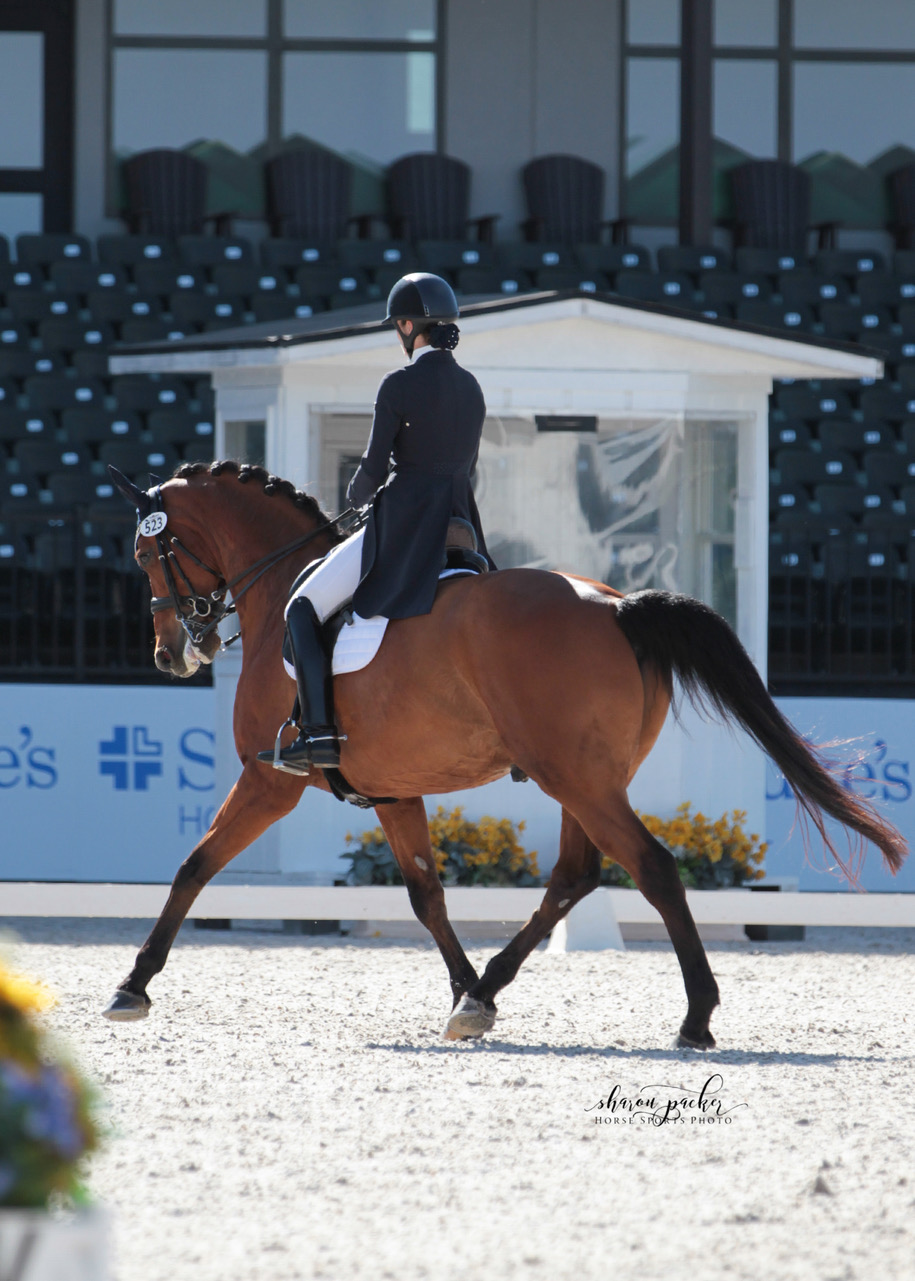 Lucy Tidd and Ellert HB
©Sharon Packer
Tidd has been working towards this debut all winter while training in Aiken, in the irons with Ellert HB, who is the first horse she's trained herself up the levels. "He's such a talented horse, so just really continuing to develop his strengths and confidence. He's improved a ton in the last year, so we are just continuing to work toward that for both of us since we're new at this level," Tidd elaborated. "I bought him as a three-year-old and I've trained him up to this point, so he's my first Grand Prix horse. He's just lovely! For both of us, it's a learning experience and trying to continue to develop his potential."
A first-time competitor at TIEC, Tidd and Ellert HB will likely be spotted in the sandboxes going forward as they continue to grow together, she concluded. "It was actually our first time at Tryon, so that was really fun. I have friends who've been down here and really love the facility and rave about it, so we were really looking forward to coming down and getting to see it firsthand. It was really wonderful! It's a really nice venue and I look forward to making more trips down this way."
Aileen Daly and Friedemeyer Win Saturday's FEI Intermediate I* CDIAm
April 24, 2021 – Aileen Daly (USA) and Friedemeyer scored a 69.250% in the FEI Intermediate I* CDIAm Saturday to claim a win with her own 2007 Westphalian gelding (Friedensritter x Welina x Weltmeyer), while reserve went to Shelley van den Neste (USA) and High Light DB, her own 2012 Dutch Warmblood gelding (Winningmood x Dolci-Vita x Oscar), scoring 64.042%.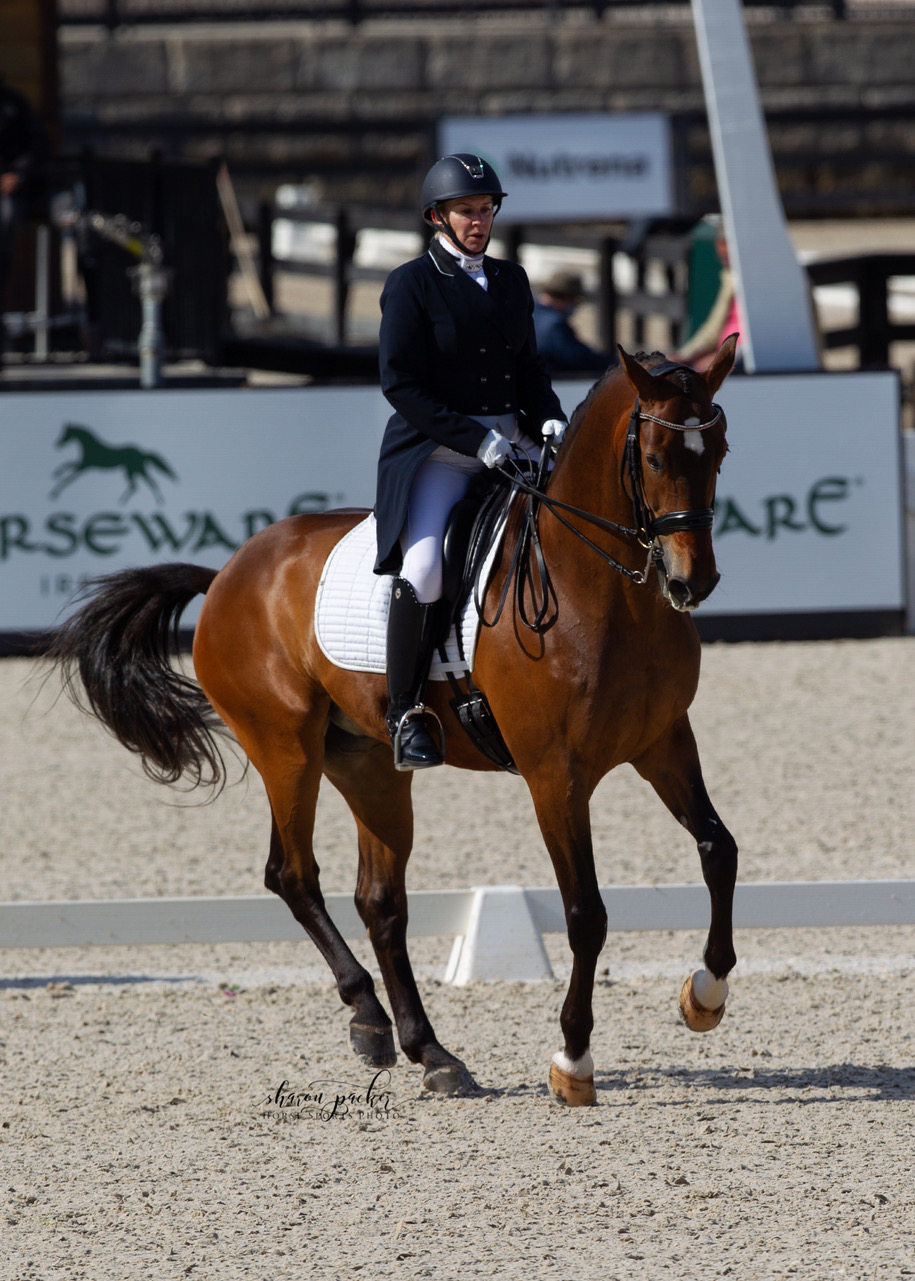 Aileen Daly and Friedemeyer
©Sharon Packer
Daly described all three of her rides with Friedemeyer this weekend as amazing, and was pleased with her pirouette scores in particular, she noted: "All three of my rides this weekend were amazing. Yesterday was especially, even with the rain. I was a little worried about it because I've never ridden my horse in the rain, but he was just amazing. It was one of those perfect rides.
"I spent the winter mostly trying to really firm up the I1 [Intermediate I*], especially the pirouettes. It's something we worked really hard on, and the scores were so much better. I was really pleased with our improvement from previous CDI [classes] and pirouette scores."
After achieving a phenomenal weekend with her first training project up to the Grand Prix levels, Daly will next work on some homework in order to hopeful move up to the Intermediate II*, she shared. "With this horse, I think we're ready to back off a little bit from showing. This is my fourth CDI since January. I'd like to concentrate on moving him up to the I2, and maybe a couple of national shows. The ultimate goal is to make it to the Grand Prix, and this will be the first horse I'm involved in training up to the Grand Prix."
TIEC is Daly's "home show" and she hopes to practice the Intermediate II level at the June national competition, Tryon Summer Dressage 1 & 2. "I'm hoping to come back to TIEC for the national show and try out I2. It's a great opportunity, it's close to home, and always a well-run show here.
"I really appreciate the chance to ride the small tour for an adult amateur. That's not an option down in Wellington, so this was my first opportunity to do the Prix St. Georges, the Intermediate I and the Intermediate I Freestyle all in one weekend," Daly recapped of her weekend. "I really appreciate that opportunity. I hope more adult amateurs will make the step up and give this a try. It's so much fun!"
View all CDI results from Tryon Spring Dressage 1 here. 
Replay Live Streaming of all CDI competition here.
View all National results from Tryon Spring Dressage 1 here.
Tryon Spring Dressage 2 will showcase national competition at TIEC May 8-9, continuing the six-event 2021 season calendar. Prize lists and more competition information are available at www.Tryon.com/Dressage.  
Photos ©Sharon Packer. These photos may only be used once in relation to this press release with proper credit. Contact media@tryon.com with questions.
Tags:
Adrienne Lyle
,
Aileen Daly
,
Chris von Martels
,
Don Huerico
,
Dressage
,
Eclips
,
Ellert HB
,
Emilee Spinelli
,
FEI Grand Prix CDI 4*
,
FEI Grand Prix Freestyle CDI 4*
,
FEI Grand Prix Special CDI 4*
,
Freestyle
,
Friedemeyer
,
Julio Mendoza
,
Katie Johnson
,
Lindsay Kellock
,
Lucy Tidd
,
Olivia LaGoy-Weltz
,
Pablo Gómez Molina
,
Quartett
,
Rassing's Lonoir
,
Rosali
,
Salvino
,
Sebastien
,
Servus Ymas
,
Shelley van de Neste
,
Tryon Spring Dressage 1