For Immediate Release
Tryon, NC – April 4, 2019 – Boyd Martin (USA) and Long Island T impressed the judges and put in a top score of 24.50 in Advanced Dressage, commencing The Fork at TIEC presented by Lucky Clays Farm at Tryon International Equestrian Center (TIEC).  Lynn Symnansky (USA) and Under Suspection rode into second with a score of 27.70, and Felix Vogg (SUI) moved into third aboard Archie Rocks with a score of 29.50.
Martin and Long Island T, a 2006 Oldenburg/Thoroughbred gelding (Ludwig Von Bayern x Heraldik XX) owned by The Long Island T Syndicate, executed a solid test, advancing to the top in the Tryon Stadium.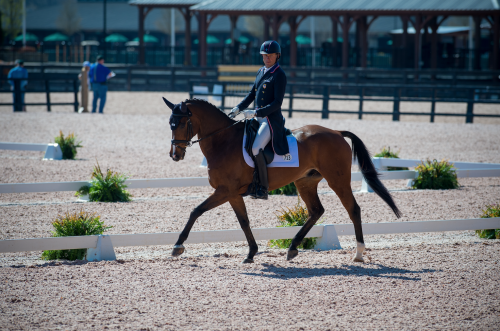 Boyd Martin and Long Island T
©Shannon Brinkman Photography
"He [Long Island T] went like a dream! He got in there and did a fantastic test," said Martin. "The event organizers were great at this event to let us school in the rings for both FEI and the Horse Trials, which promotes great tests.
He's a pretty seasoned horse in the Dressage now – it's his second year at this level, so he's starting to become very-well seasoned in all the movements. He's great fun to ride on the flat because he's got that natural extension the judges love."
Boyd Martin and Long Island T
©Shannon Brinkman Photography
On his strategy for the remaining phases, Martin stated, "My strategy is to jump really well and then ride really well in the Cross-Country. I think it's a brilliant track and I couldn't imagine a better place to prepare for a 5* event than this [TIEC]. It's got magnificent stadiums, beautiful rings and then obviously a world championship Cross-Country course. The horses should be well-prepared come Kentucky."
Martin mentioned a particular obstacle he's keeping in mind for Cross-Country, too: "There's a boat – I'm going to be riding hard to that one, and I'm going to be clucking and flapping my elbows about five strides out of that one – you watch! To me, it's just one of those brilliant events to come to with the restaurants and shops here and staying in the cabins on-site. Obviously, it's just a world-class facility and great exposure for the horses. I think it's going to help produce top performances in the future as well," he concluded.
Currently sitting in second, Symansky and Under Suspection, a 2004 Holsteiner mare (Contender x Exorbitant XX) owned by Mary Ann Ghadban is also preparing for Kentucky later this month.
"Our test was alright. She [Under Suspection] left a lot of points on the board, but I'm preparing for Kentucky, so I used the test to play around with a few things. I've ridden the horse for a year now, so I know her a bit better. She was my backup horse for WEG last year."
She continued, "She's such a lovely horse – to get that score when it wasn't the best you've ever done is great. I'm excited to go out on Saturday and ride her around the track I got to ride in September. She knows her job and she's such a lovely mare. So I'll use this as a final prep for Kentucky.
I think she's just a reliable horse all around. She can get a little hot in the ring – she's a relaxed competitor, but she's a fighter. She is such a beast Cross-Country. She really would love to just go Cross-Country and gallop forever."
Vogg, presently in third with Archie Rocks, a 2008 Thoroughbred gelding (Le Monde x Unbridled Jet) admitted to being on a learning curve in the new partnership, but is progressing well. "The test was pretty okay. I think he [Archie Rocks] is not the most talented one in Dressage, but he wants to do the test correctly and tries. Today, he was much more calm and focused," he said.
"He like Cross-Country and Jumping. Cross-Country is nothing for him – he's an old racehorse, so he's used to it, but Dressage is a new thing for him. I've only had him since January."
Commenting on his plan for Cross-Country, Vogg stated, "I make a plan when I get out of the start box and jump the first few jumps based on how he feels. I like that the course will have parts of the WEG course, and it is interesting to ride it once more, and maybe try to do it better than last time!"
For the CCI 3* division, Doug Payne and Starr Witness advanced to first with a Dressage score of 27.60, while Will Faudree and Caeleste sit in second with a score of 29.60. At present, Elisabeth Halliday-Sharp and Flash Cooley are in third with a score of 30.80.
The Fork at TIEC continues with CCI 4*-S, Modified, Novice, Training, and Beginner Novice Dressage phases, followed by Jumping and Cross-Country for all phases Saturday and Sunday.
Click here to follow along with live results from The Fork at TIEC.
Photo Credit ©ShannonBrinkman Photography. These photos may only be used once in relation to this press release.
CORRECTION: The initial version of this press release listed the owner of Long Island T incorrectly. Long Island T is owned by The Long Island T Syndicate.
About the Tryon International Equestrian Center at Tryon Resort
Tryon International Equestrian Center at Tryon Resort, host of the FEI World Equestrian Games™ Tryon 2018, is one of the world's ultimate equestrian lifestyle destinations with first-class facilities for all FEI disciplines and showcasing hunter/jumper, equitation, steeplechase, polo, and multidiscipline events in Mill Spring, NC. From carousel to competition, the mission of Tryon Resort is to celebrate the magic of the horse, grow equestrian sport, and increase access to this majestic animal. A haven for equestrian competitors and enthusiasts, Tryon Resort is an iconic, year-round destination for connoisseurs of diverse cuisine and shopping, lodging getaways, and family entertainment. Learn more at www.Tryon.com.