Roberto Teran Tafur and Dena Sienne Conquer $6,000 Speed Stake CSI 2*
For Immediate Release
Mill Spring, NC – June 28, 2020 – Alexandra Pielet (Highland Park, IL) and Helene Ve claimed their first national Grand Prix win together on Sunday, flying around the jump-off course in a time of 41.815 seconds to earn the win in the $25,000 Sunday Classic at Tryon International Equestrian Center (TIEC) to conclude Tryon Summer 3 competition. Gavin Harley (Wellington, FL) and the Wolfstone Stables & Sales Inc. entry Corbawido PS, a 2012 Oldenburg gelding (Cornet's Balou x Annette), sliced their way to second on a time of 42 seconds, while Taylor Land (Atlanta, GA) and Liroy 30, a 2009 Warmblood gelding (Levistano x King Kate) owned by Pinetree Farms Inc., earned third on a time of 42.133 seconds.
The course set by Peter Grant (Calgary, Alberta) saw 27 trips test the first round, with ten horse-and-rider pairs returning for the jump-off round. Pielet and the 2007 Belgian Warmblood mare (Diamant de Semilly x Tiffany) owned by Co-Pielet, LLC have been partnered for five years, "from the Children's Jumpers to this, which is actually my first Grand Prix win," she revealed. "She's like my pride and joy."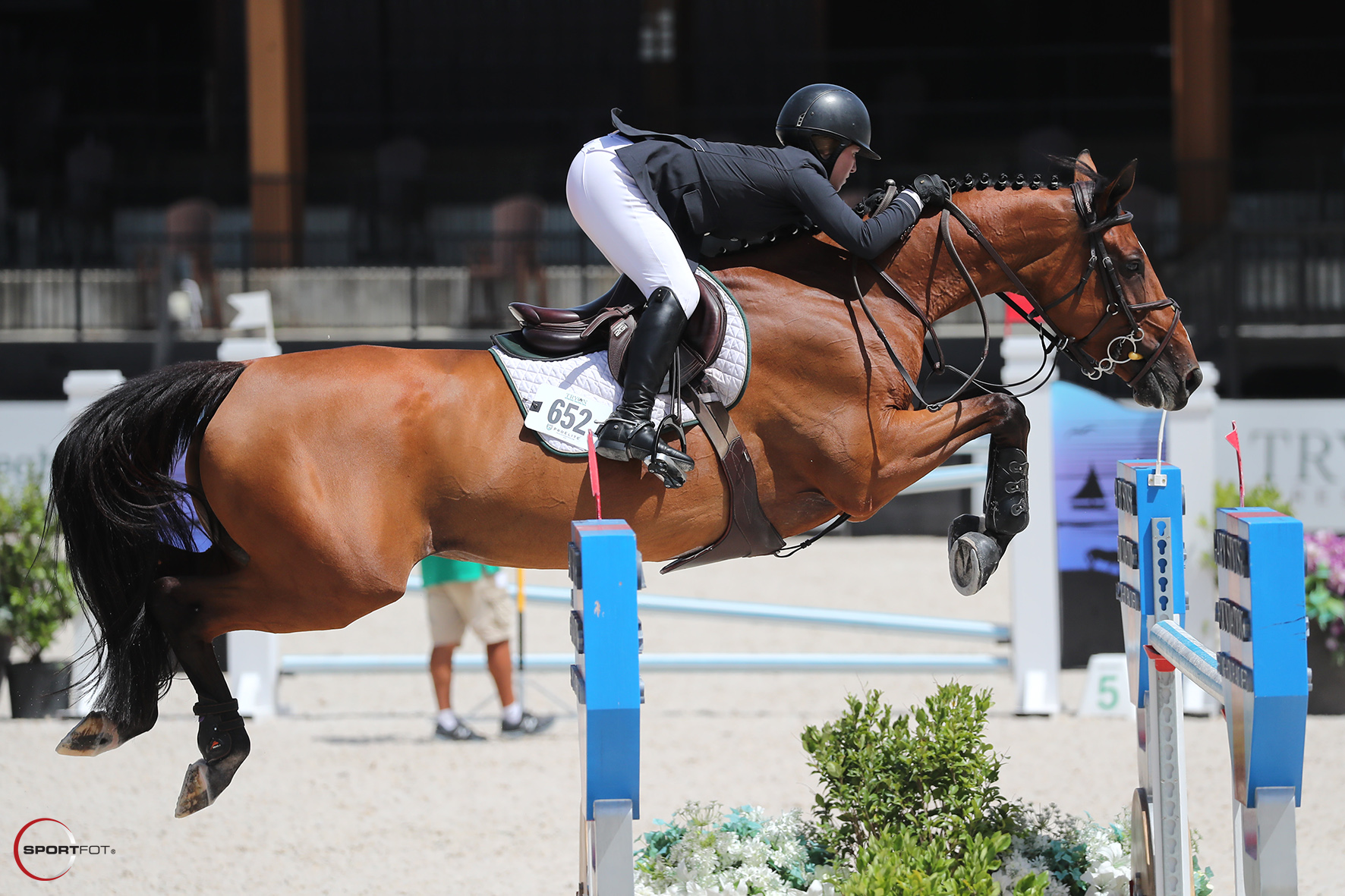 Alexandra Pielet and Helene Ve
©Sportfot
"The course was very nice for my horse because she naturally likes to shift a little bit to the left, so it was nice that most of the jumps were going right," Pielet detailed. "The triple out of the corner was kind of difficult because it was an oxer, vertical, vertical, right out of the turn, and she jumped through that awesome. I was really happy with how she went. She's quick across the ground, so time wasn't a factor."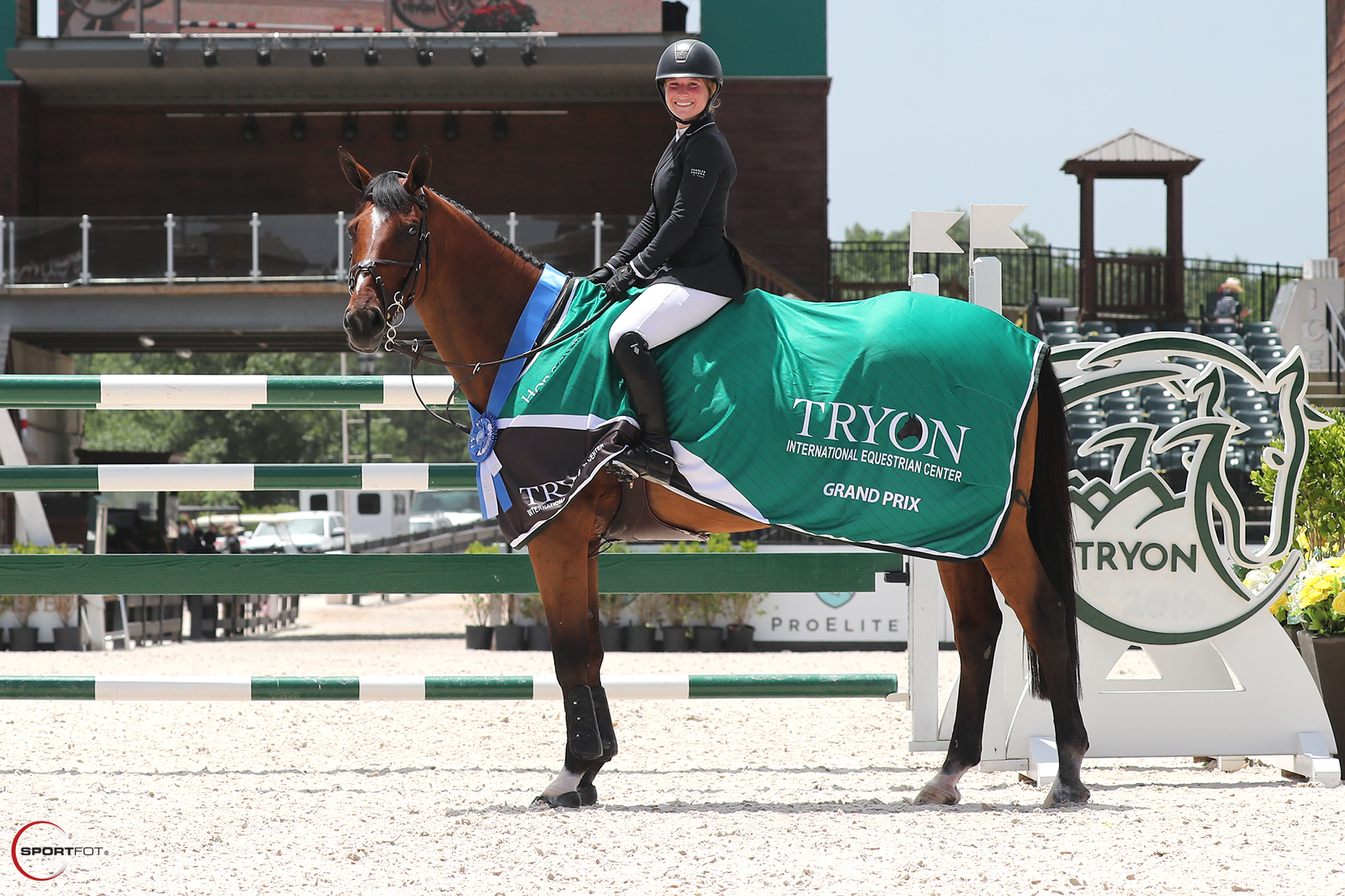 Alexandra Pielet and Helene Ve in their presentation ceremony.
©Sportfot
Taking an inside track that set her almost four seconds ahead of the existing leader with half the jump-off competitors behind her, Pielet explained that her plan was "to just kind of go for it – I had nothing to lose. There was the standard rollback to the vertical after jump two, and I didn't really know whether I was going to go inside or around it, but I showed it to her when I went in. After my first few jumps I thought she was feeling good, so I just went for it and went right inside."
Roberto Teran Tafur and Dena Sienne Conquer $6,000 Speed Stake CSI 2*
Roberto Teran Tafur (COL) and Dena Sienne, the 2008 Dutch Warmblood mare (Van Gogh x Animo) owned by Waldman Horses BV, sped to a 66.05 second win in the $6,000 Speed Stake CSI 2* Friday in Tryon Stadium. Fernando Cardenas Jr. (COL) and Calvados, the 2010 Danish Warmblood gelding (Chellys Z x Casir Ask) owned by Fernando Cardenas, claimed second place in 69.39 seconds, while Eduardo Menezes (BRA) piloted Caruschka 2 to third, in the irons for Tailormade Stallion ApS with the 2003 Oldenburger mare (Careful x Cento).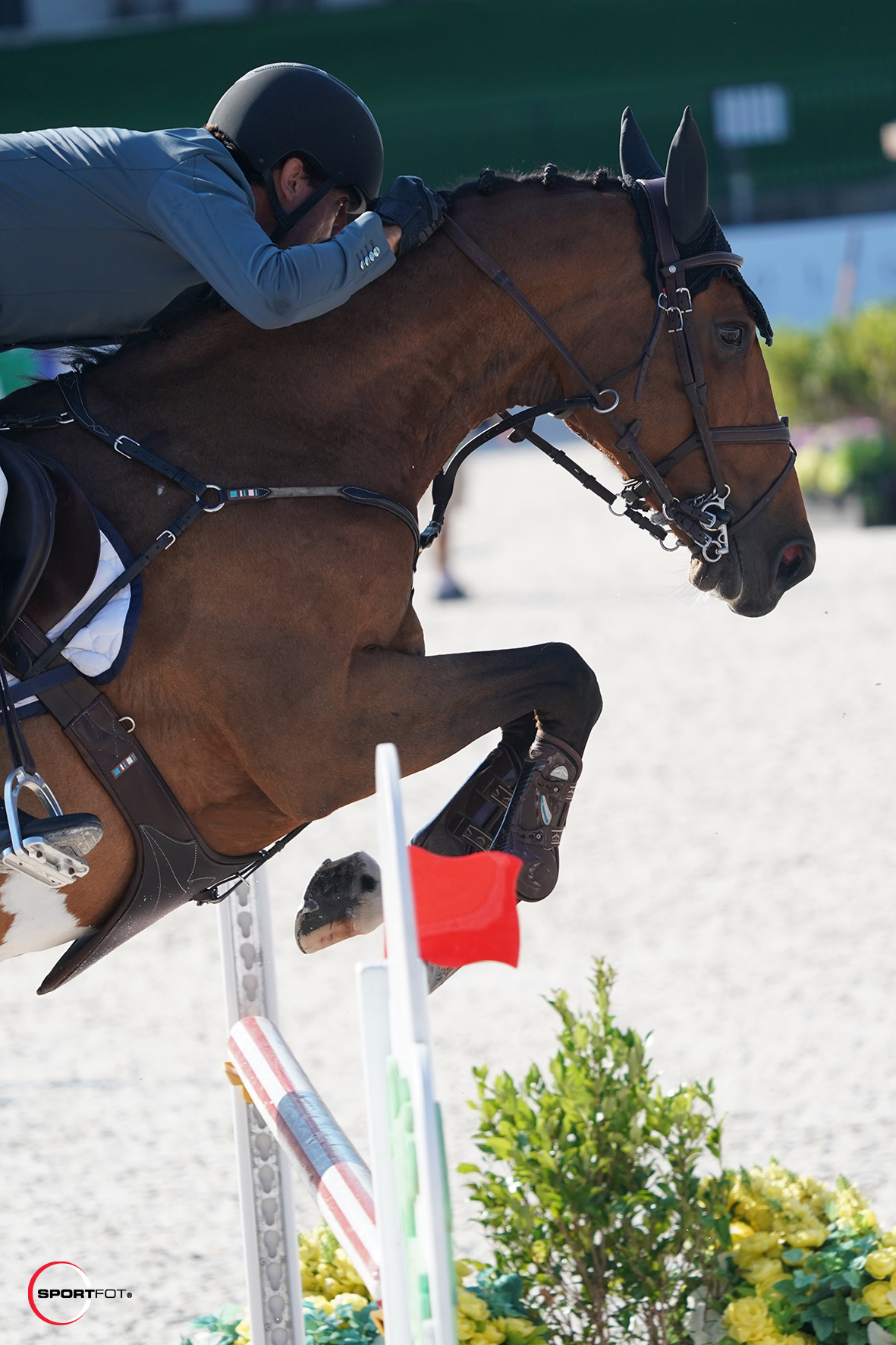 Roberto Teran Tafur and Dena Sienne
©Sportfot
Hunter Highlights:
The Children's Hunter 15-17 Division named Campbell Key (Atlanta, GA) as its champion riding her own Outside the Lines, while Caroline Maude Hedges (Columbus, NC) claimed reserve on the week with her own A Picobello Star Z.
Jimmy Torano (Wellington, FL) championed the Green Hunter 3' Division aboard Oh Yeah for Todd Minikus LTD, while Wellington resident Sandra Ferrell claimed reserve riding Amy Guth's Dan D'Angelo.
The Pre-Children's Hunter 2'6" Division awarded Kate Arnold's Retrospect and Marley Lubin (Colts Neck, NJ) the champion title, with reserve named to Jessica Gaby (Davidson, NC) riding her own Cape Town.
Jumper Highlights:
Aaron Vale (Williston, FL) and the Thinks Like a Horse entry Prescott claimed the Nutrena 1.40m Open Jumper Division, while Lorcan Gallagher (Wellington, FL) rode Copain Z to reserve for Heathman Farm LLC.
The MD BarnMasters Medium Junior/Amateur Jumper 1.30m Division congratulated Caroline Mawhinney (Woodside, CA) in the irons with her own Stella Levista as champion, with reserve going to Eva Fisherman (Brookline, MA) riding her own Rock Street.
Ericka Houlihan (Clarksville, MD) and her own Notorious took champion in the 1.15m Non-Pro Jumper Division, with Madison Kondracki (New Smyrna, FL) and her own Sweet Encore claiming reserve.
View all Division Results from Tryon Summer 3 here. 
The Tryon Summer Series continues with Tryon Summer 4, featuring the fourth annual Pony Spectacular week at TIEC. While the entire Summer Series is closed to spectators, highlight classes are available for free live streaming at www.Tryon.com/streaming. 
For full results from the $25,000 Sunday Classic, click here. 
For full results from the $6,000 Speed Stake CSI 2*, click here.
Photo credit ©Sportfot. Competitors can sign up for weekly packages at www.Sportfot.com. These photos may only be used once in relation to this press release with proper credit. Contact media@tryon.com with questions.