For Immediate Release
Mill Spring, NC – November 16, 2021 – The 2021 Young Horse Show Finals (YHS) presented by Spy Coast Farm at Tryon International Equestrian Center (TIEC) on November 9-13 celebrated another strong year of talented entries and passionate interest from riders across the country looking to raise up the next generation of sport horses across all disciplines. From in-hand and liberty classes to jump-chute, under saddle and over fences competition, the young equine athletes were evaluated over several days in a safe and educational environment with a focus on supporting and promoting American sport horse breeders across many breeds and disciplines. 
The Finals competition was hosted simultaneously with Tryon Resort's Tryon Fall Finale Hunter/Jumper competition as well as the Dutta Corp Tryon International Three-Day Event, which allowed athletes from numerous sports to compete in multiple events. The Young Horse Show Finals presented by Spy Coast Farm competition and schooling sessions were hosted entirely in the Indoor Complex at TIEC, providing a safe and educational atmosphere for young horses with limited experience in new environments.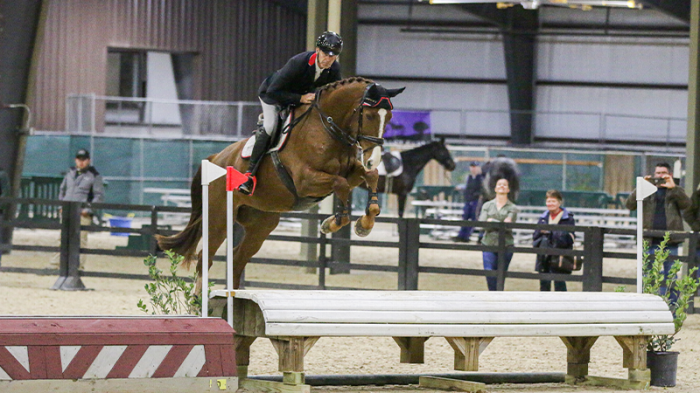 ©TIEC
Martin Douzant  of The Frame Sport Horses was one of many competitors who took advantage of multiple competitions hosted at once. Douzant and The Little Prince, a five-year-old ISR Oldenburg Gelding by Prado and out of a Rmani mare bred by Hannah Maloney and owned by Nancy Quarunto, could be seen competing in Friday night's $3,000 Tequestrian Farms Young Horse Derby and throughout the weekend. 
Douzant was pulling quadruple duty during his time at TIEC, both competing in and working the Young Horse Show Finals, while also competing in and coaching students in the Dutta Corp. Tryon International Three-Day Event. With numerous young horses qualifying for the finals and achieving strong results across all divisions, he was pleased with the experience his "very, very green horses" gained at the show. 
"In the qualifiers, they didn't do too well in terms of results, but gained a lot of experience, and that's why we've brought them anyway. They learn a lot and get a lot of mileage here. For the Final, the five-year-old jumper did really well and he won the Derby in the evening, so that's a very nice horse." 
©TIEC
For Douzant, the Young Horse Show Finals is a staple on his competition calendar.
"We come here every year. For us, it's definitely a must-go event and show, for sure. So we'll definitely come back. And I think if they keep the competition that way, it's really going to grow. It's going to help everybody."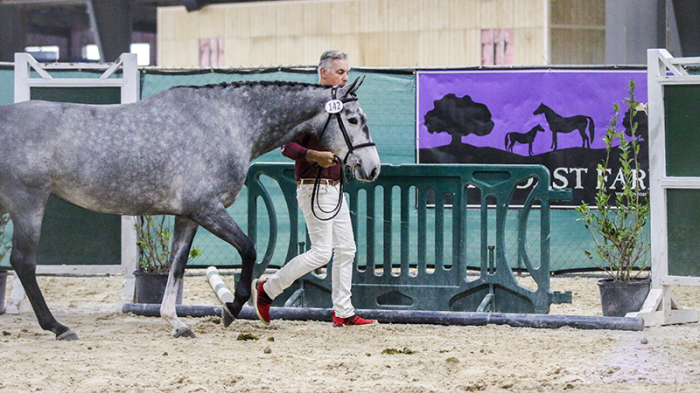 ©TIEC
Hosted annually at TIEC since 2015, the Young Horse Show series has grown significantly since moving to the venue. This year's edition was the first to be contained to the Indoor Complex, which was received positively by competitors, staff and spectators alike.  
"The overall quality keeps improving," explained Young Horse Show owner and operator John Yves Tola. "We could not be more pleased to witness how the U.S. breeders have embraced our show format and improved their programs year after year. The whole event took place indoors for the first time, allowing the participants, horses and YHS staff to enjoy a smooth and focused atmosphere to work in."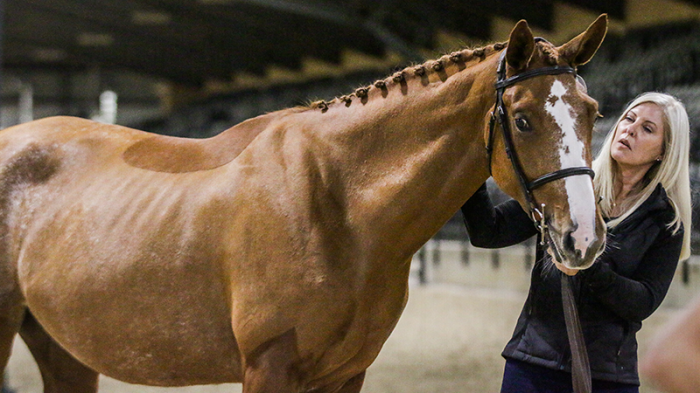 ©TIEC
The venue has fostered a growing interest in the development of young horses, and the Young Horse Show Finals is gaining momentum as a must-do opportunity for breeders and owners. Isothermal Community College joined as a partner of the show by providing volunteers from their equine programs, in turn providing additional experience for their students. Tola shared his appreciation for TIEC's shared passion for this show.
"I believe everybody really appreciated the convenience of this amazing facility and their dedicated staff."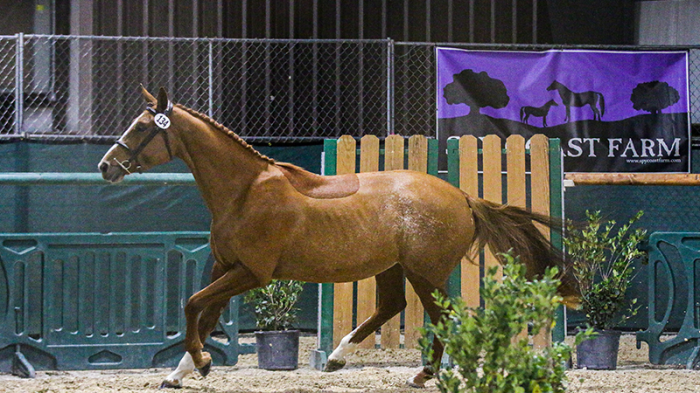 ©TIEC
Lisa Lourie, owner of Spy Coast Farm and partner with Tryon Equestrian Partners, has a longstanding passion for young horses as a breeder herself and emphasized the value these horses gain from this experience.
"It gives them experiences that they otherwise might not have. It takes them away from home and is a very relaxed environment. They're being asked to do things that they may have not been asked to do before, like the jump chute for instance. It's great for the horses, and it's also great for the breeders and people with young horses. They're able to see how their horses measure up with others. It's less competitive and more educational."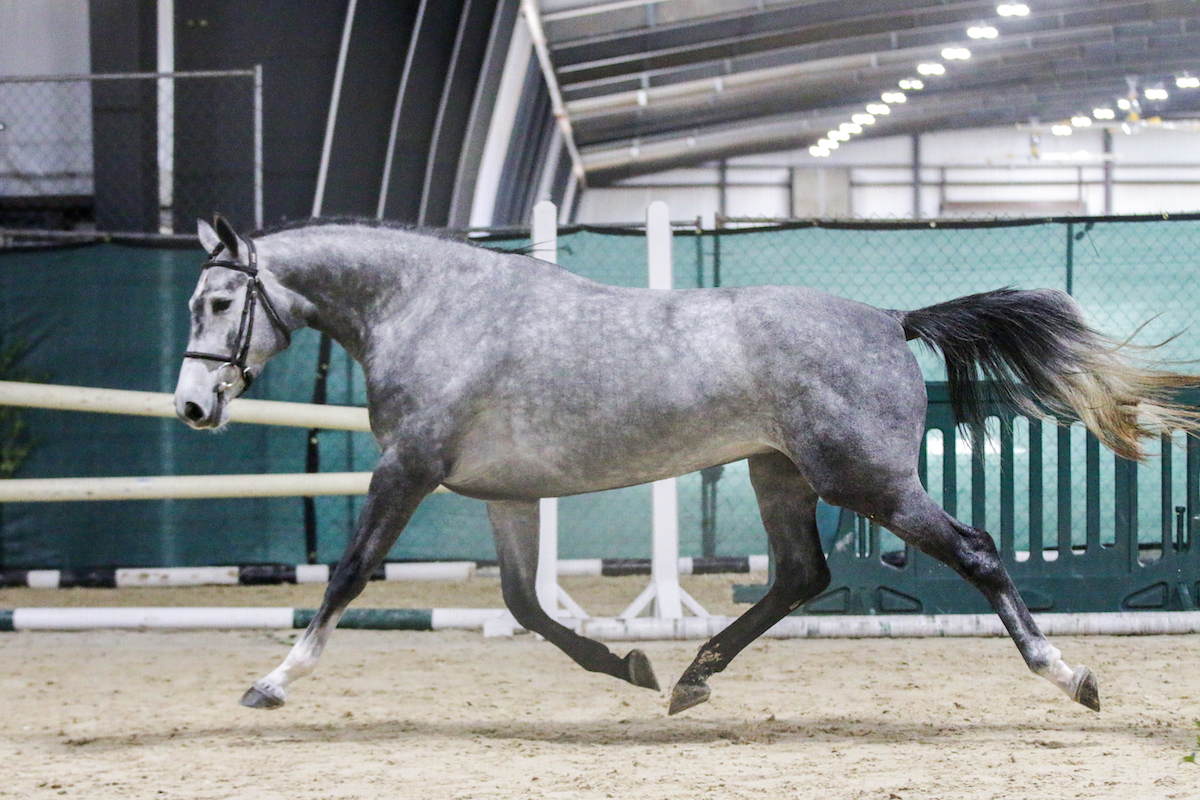 ©TIEC
John Brown, competing in both the Young Horse Show Finals and Tryon Fall Finale competition, emphasized the holistic opportunities available for young horse development at TIEC year-round, not just at the Young Horse Show Finals.
"It's been unbelievable. The horses have been on their game. I jumped my six-year-old stallion, Top Gear, this weekend. What I really like [about TIEC] is when they had the six-year-olds under the lights one night [as part of the Developing Jumper Series], and he was second in that and won the championship that week. TIEC is great for the young horses," Brown reiterated.
"They get so much experience, and even coming here with four four-year-olds, we had them stabled here and they've settled in really well. And [the Indoor Arena] just makes them settle down, so it's all really good."
Results, $3,000 Tequestrian Farms Derby:
Four & Five-Year-Old Division:
Martin Douzant and The Little Prince  – 5 yo ISR Oldenburg Gelding by Prado and out of a Rmani mare. Bred by Hannah Maloney and owned by Nancy Quarunto. 

Candace King and  Southern Takhi – 5 yo Westfallen Stallion by Southern Pride and out of a Cheer mare. Bred by Chris Rower and owned by Susan Novotny. Ridden by Candace King.

Kayla Benney and Laila, 5yo KWPN mare by Gaillard de Pomme and out of a Zaval VDL mare. Bred by Peter Strijker and owned by Sarah Clouden.

Joe DeSantis and Anglico – 4 yo TB by Archarchach and out of a Monarchos mare. Bred by Blackwood stable and owned by The Frame Sporthorses LLC.

Ciaran Thompson and Raggedy Ann SCF, 4yo BWP/NAD mare by Presley Boy and out Quite Easy mare. Bred and owned by Spy Coast Farm.

Joe DeSantis and Frame Severine  – 4 yo TB Gelding by Birdstone xx and out of an Itaka xx mare. Bred by Randy & Alyse Cohen. Owned by Martin Douzant.
Six-Year-Old and Above:
Glenn Hartigan and Just Fly, 6yo sBs gelding by Canabis Z and out of Lavaletto mare. Bred and owned by Glenn Hartigan.

Allister Russell and Play-Doh, 6yo sBs gelding by King de Coquerie and out a Godewind mare. Bred by Joanne Germaine. Owned by Jennifer Spratt.
Full Results:
To learn more about the Young Horse Show Series, visit www.younghorseshow.com.