Julio Mendoza Loor Stands out in FEI Grand Prix and Freestyles with Rosali
Karen Lipp and Flavius WCF Dominate FEI Prix St. Georges Competition
Hokan Thorn and Django Top Saturday's FEI Grand Prix
For Immediate Release
Mill Spring, NC – June 15, 2020 – Julio Mendoza Loor (ECU) and Rosali, a 2005 Danish Warmblood mare (Romanov x Mosegardens Ratina x Ragazzo) owned by Aileen Daly, put in scores to set them apart from the competition in the FEI Grand Prix and Freestyle competitions at Tryon Summer Dressage 1&2 at Tryon International Equestrian Center (TIEC). Rosali's victories were numerous throughout the weekend: scoring 80.326% in the FEI Grand Prix on Sunday after putting in a winning test of 74.891% for the same class Friday, and performing Saturday's FEI Freestyle Test of Choice to a score of 67.750%.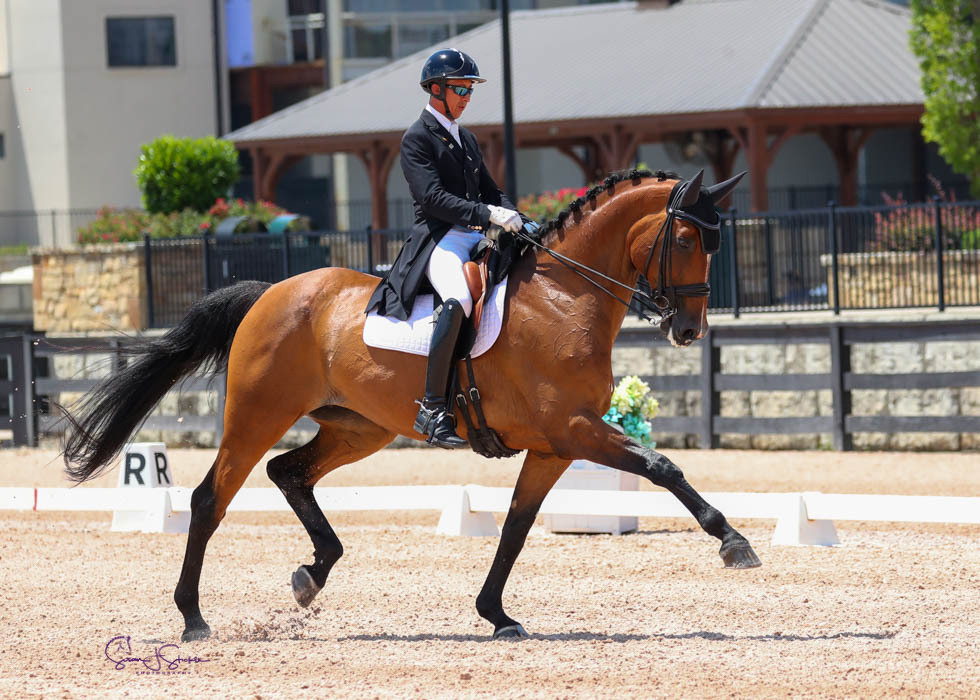 Julio Mendoza Loor and Rosali
©Susan J. Stickle Photography
Mendoza Loor and Rosali are aiming for Tokyo in 2021, Mendoza Loor explained, and was thrilled with his horse's first competitions since the winter circuit in Wellington. "Oh my gosh, that ride – I feel so privileged to ride that mare. My ride was unbelievable. She had great gaits, and the feel in the extended trot especially was there for me – I'm asking and she's giving to me – it's an honor to ride Rosali."
Throughout the pause in competition in early 2020, Mendoza Loor reported that he and Rosali have been utilizing virtual lessons with England's David Hunt to work on suppleness and relaxation as they work towards Olympic dreams: "I'm so thankful to my coach, David Hunt, who has been teaching me the past two years – and I'm finally understanding him! It's a learning process every day. We have been doing virtual lessons three to five times a week, and it's been a big help. It's important to find a coach who believes in you and will push you!
Julio Mendoza Loor and Rosali
©Susan J. Stickle Photography
"Right now we are looking forward to the Olympics in 2021. That's my goal – if God permits me to go there. Keeping Rosali healthy and sound is the most important thing in the meantime. With her, we'll keep working forward and go to Wellington in the winter and see if we can make it happen.
"I thank Aileen Daly, Rosali's owner, for the honor of riding Rosali," Mendoza Loor concluded. "I could keep going for the next hour about that mare. She is my baby – she is the queen of the barn, like all my horses are kings and queens of the barn. They rule the property!"
Karen Lipp and Flavius WCF Dominate FEI Prix St. Georges Competition
Karen Lipp (USA) and Flavius WCF scored a 69.559% to win Friday's FEI Prix St. Georges competition against eight other competitors, setting up for a strong showing all weekend for the 2010 Hanoverian gelding (Florencio x Rascanlina x Rascanlino) owned by Linda Van Rees. Laine Muir-French (USA) and her own Danish Crown, a 2004 Danish Warmblood gelding (De noir x Kgs. horgaard hattrick), danced their way to second on a score of 68.676%, while Julio Mendoza Loor (ECU) and Wanda of Black Pearl, Sherri Garner's 2007 Friesian mare by Wander 352, received a score of 66.676% to receive third. Flavius WCF would go on to put in a 75.147% using the same test Saturday in the FEI Prix St. Georges Test of Choice, and Lipp shared how excited she was for the gelding who had initially been marked as a horse not capable of FEI competition.
"I've had him just a little over a year, and when I got him he was barely a third-level horse," she detailed. "He just had some small training issues, so I feel like he's come a long way to be in the Prix St. Georges. This is only his second time doing it. I had a couple rider errors in the canter tour, but the trot tour was really good today.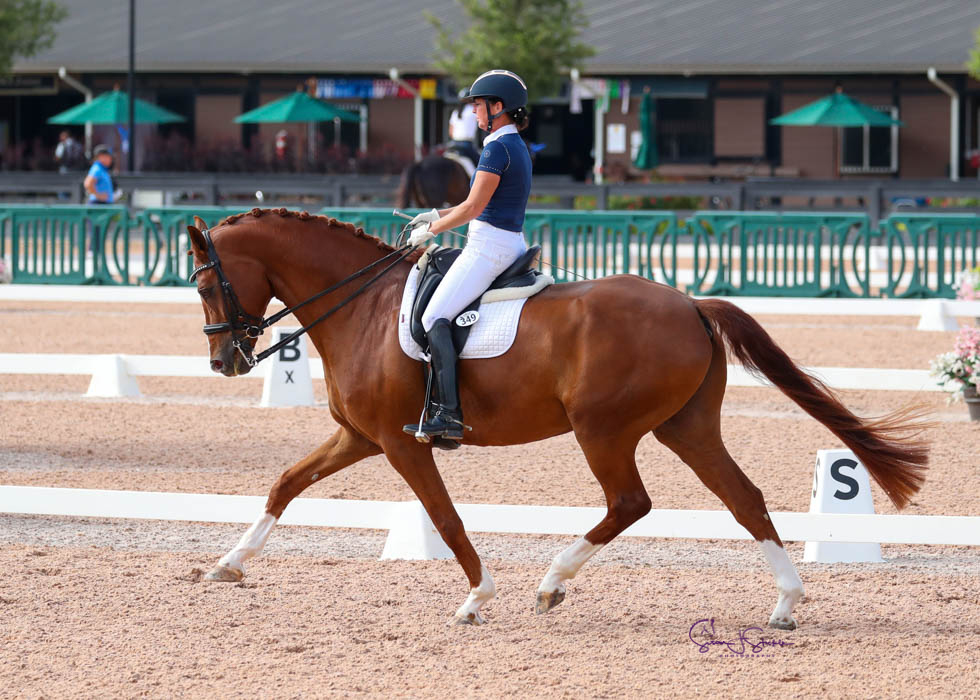 Karen Lipp and Flavius WCF
©Susan J. Stickle Photography
"He's an interesting horse, too – he's got a congenital birth defect in his neck, and has two vertebrae that are literally twisted," Lipp revealed. "As a young horse, the owner was told that he would never be an FEI horse. Not only is he now an FEI horse, but he's a good one! He's a cool horse with a huge heart, and he tries really hard. I'm fortunate to get to ride him."
Lipp and Flavius WCF showed once in Wellington "just before the world shut down," she recalled, and have spent the months since working from home. "We just built a barn at home, so I could live at home and ride and train, and it was kind of good to have a break and work on basics, getting everything a little more solid."
While Lipp hopes to take Flavius WCF to Nationals now that they've qualified for Regionals, she also spoke to the arc of his potential career as an FEI horse: "From here, we'll see how far he can go. He is slightly neurologic, so it just depends on what he can do – I don't want to push him beyond. At this point for sure he'll make an Intermediate 1 horse… whether he makes a Grand Prix horse I don't know, but the owner, Linda, is willing to let me try. Once he doesn't want to do FEI anymore, Linda will take the ride on him and retire him and have fun with him. I am thankful that Linda, who has been so supportive, has trusted me with this nice horse," she concluded.
Hokan Thorn and Django Top Saturday's FEI Grand Prix
Hokan Thorn (USA) and Django, his own 2008 Dutch Warmblood gelding, scored a 67.391% to claim top honors in Saturday's FEI Grand Prix at TIEC during Tryon Summer Dressage 1. Michael Pineo (USA) rode his own Geneva, the 2011 Dutch Warmblood mare (Sir Donnerhall x Olivi), to a score of 64.239% to take second place.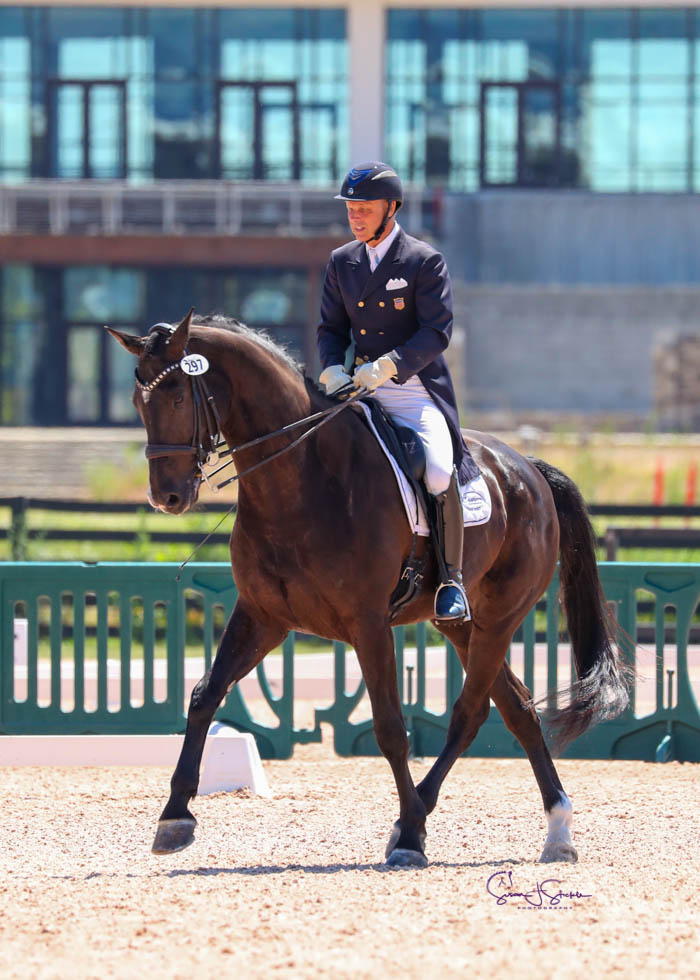 Hokan Thorn and Django
©Susan J. Stickle Photography
Click here to view full results from Sunday's FEI Grand Prix.
Click here to view full results from Friday's FEI Prix St. Georges. 
Click here to view full results from Tryon Summer Dressage 1. 
Click here to view full results from Tryon Summer Dressage 2.
Dressage returns again to TIEC for Tryon Summer Dressage 3&4, hosted August 8-9. Learn more about Dressage and Para-Dressage at TIEC by visiting www.Tryon.com/Dressage. 

Photo credit ©Susan J. Stickle Photography. These photos may only be used once in relation to this press release with proper credit. Contact media@tryon.com with questions.