Dear Competitors and Trainers, 
Welcome to TIEC!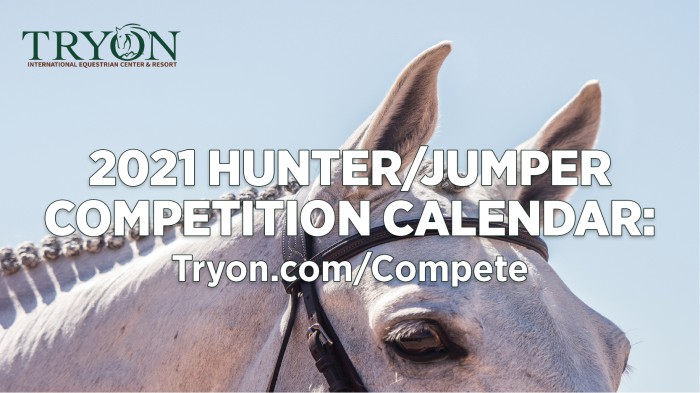 Welcome to Tryon International Equestrian Center at Tryon Resort! We are excited about our 2021 competition season.
Competing at TIEC:
Whether you are a TIEC regular or this is your first visit with us, here is a video to showcase what you can expect when you compete at TIEC.
For competition info, please visit Tryon.com/compete.
Course Maps are posted each night by arena to Tryon.com here for online viewing.
Visits to the TIEC show office are by appointment only and can be made by calling 828-863-1011. 
We have included some brief updates below, so please take a few minutes to review them so we can all safely enjoy this week together.
Registration for Onsite Access!!
All guests must register for onsite access to TIEC. To register, text "Tryon" to 828-248-0699, then follow the instructions accordingly. 
Click here for our registration FAQ.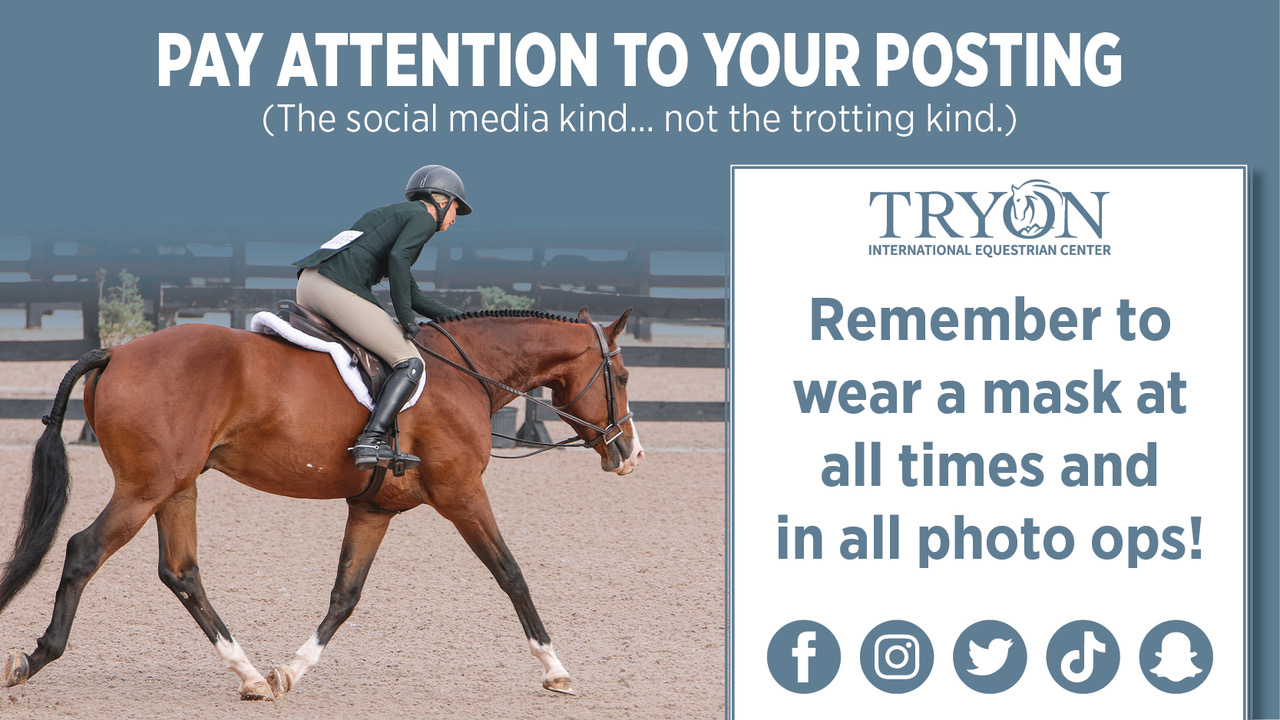 Sign Up for TIEC Competition Text Alerts!
For all TIEC competition news, text TIECNews to 40691.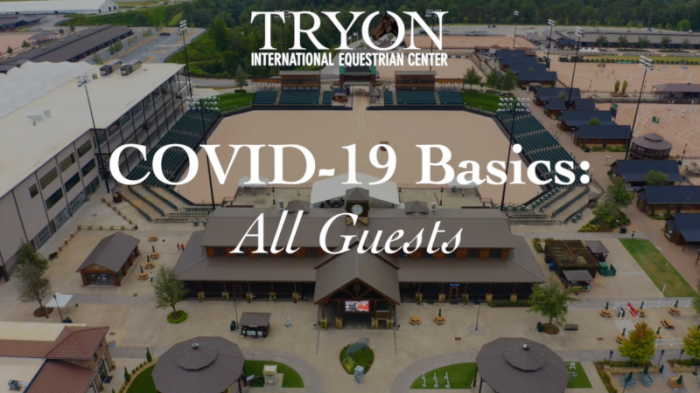 COVID-19 Protocols:
It is imperative that we all continue to practice our COVID-19 policies that are designed to keep us safe and enable our ability to continue participating in this sport we all love.
Here is a summary of our COVID-19 protocols:
A cloth mask must be worn at all times in public spaces including barns as now mandated by USEF.
Social distancing must be practiced at all times in all public spaces.
A temperature check is mandatory for admission into our venue and temperatures are taken at the main entrance.
TIEC Horse Show Office communication is limited to email and phone. If you must meet in person, you must designate 1 person to be your barn or group's main point of contact with the Horse Show Office. To make an appointment, please contact Sally Dunn at sdunn@tryon.com or 828-863-1011.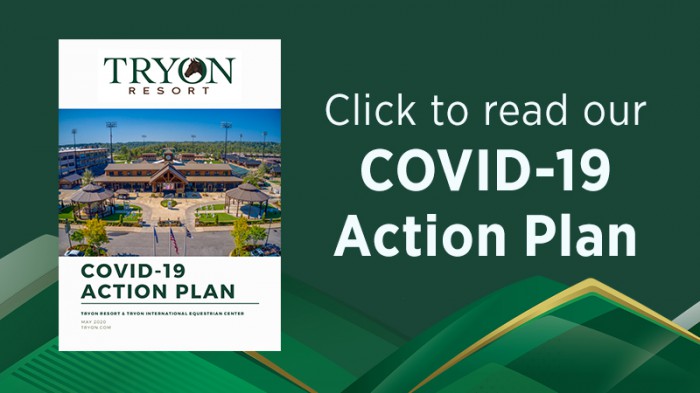 This Week at Tryon Resort:
For a quick way to find most everything you will need to know during your stay with us, please visit Tryon.com/ThisWeek. Here, learn about show schedules and orders of go, restaurants hours and menus, shopping and activities.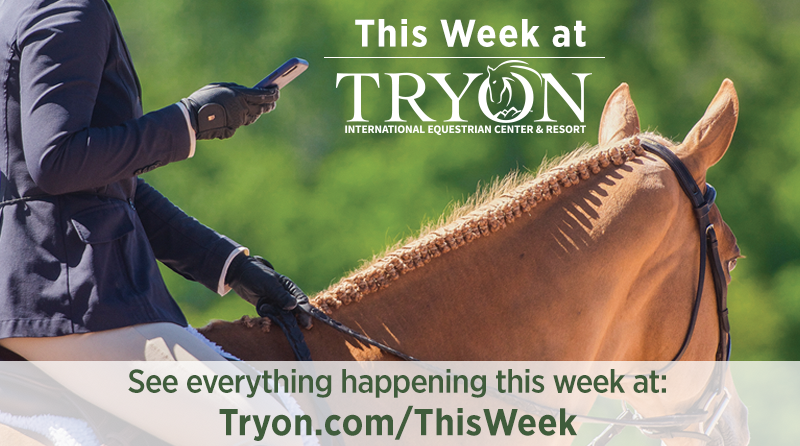 Adventure & Welcome Center:
Stop by our NEW Adventure & Welcome Center to pick up our visitor guide,  learn about things to do in the area, bicycle rentals, wine tastings, and more! The Adventure & Welcome Center located in Legends Plaza across from Campagna.
Restaurants & Dining:
Click here to order online and see restaurant hours and menus!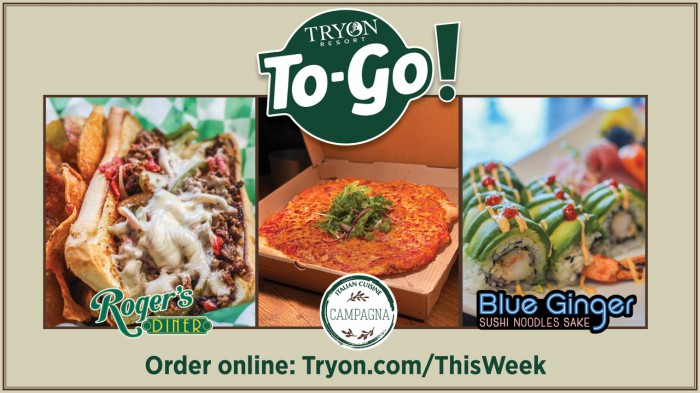 Live Streaming:
Watch feature classes, archives and more on the Tryon Live Stream at Tryon.com/Streaming.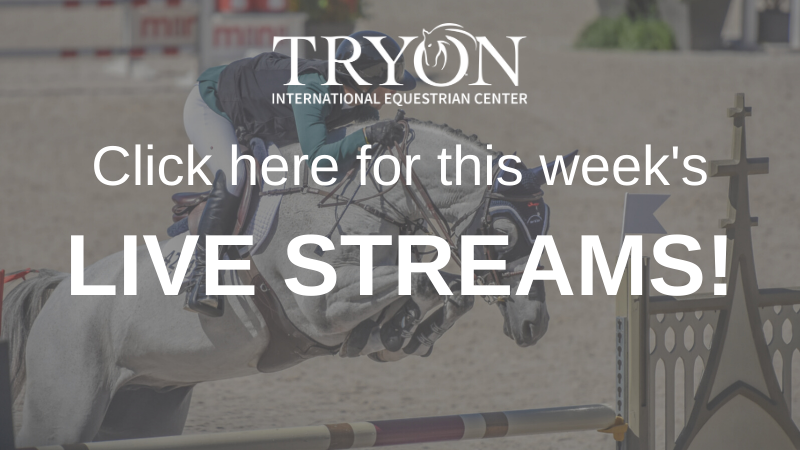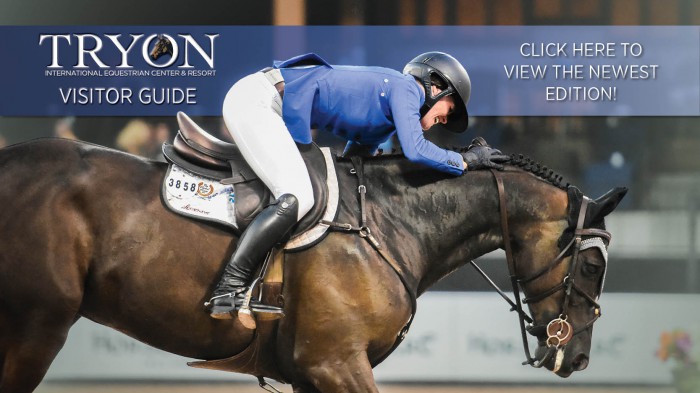 Thanks again for joining us this week and for your cooperation in keeping TIEC safe and enjoyable. Do not hesitate to contact us with any questions or concerns. Here is a list of helpful contacts:
Stabling: stabling@tryon.com or 828-863-1003
Lodging: lodging@tryon.com or 828-863-1015
Show Office: sdunn@tryon.com or 828-863-1011
Media & Marketing: media@tryon.com or 828-863-1144
Restaurant Directory: Restaurant Directory
Competition Info: Tryon.com/Competing 
We look forward to seeing you in the rings soon and wish you all the best!
The Team at TIEC & Tryon Resort