Dear Competitors & Trainers,
We are so excited to have you and your horses back at Tryon International Equestrian Center for the Tryon Welcome Hunter/Jumper Series, Tryon Spring Dressage, The Fork @ TIEC Eventing competition, and the Katydid CDE Driving event. We ask that you review all of the information below so you know what to expect when you arrive.
Sign Up for TIEC Text Alerts
For all TIEC competition news, text TIECNews to 40691.
COVID-19 Protocols
Per USEF the following rules are effective for all USEF licensed competitions:
MASKS

are mandatory for everyone on TIEC Showgrounds, unless you are mounted on a horse.  This includes all barns, parking lots, warm-up areas, in-gates, golf carts, and bathrooms. 
NO SPECTATORS

are allowed on Showgrounds.  The restaurants and Legends Plaza is open to the public, but only

 horse show competitors, horse show related staff are allowed around the rings and in the barn areas.
Everyone must have

SOCIAL DISTANCE

at all times. This includes the same household and family members.
We asked that you respect the USEF rules and follow these at all times or you will be asked to leave property.
A temperature check is mandatory for admission into our venue and temperatures are taken at the main entrance.
TIEC Horse Show Office communication is limited to email and phone. If you must meet in person, you must designate 1 person to be your barn or group's main point of contact with the Horse Show Office. To make an appointment, please contact Sally Dunn at sdunn@tryon.com or 828-863-1011.
Essential staff is limited to competitors, trainers, grooms and 2 immediate family members and staff. All essential personnel must be registered at TIEC.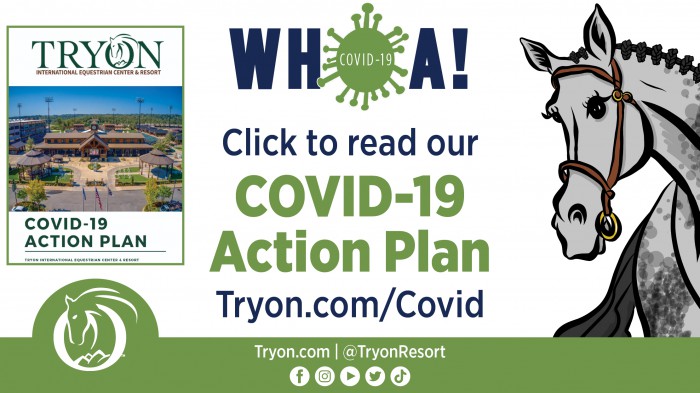 Competing at TIEC
A temperature check is mandatory for admission into our venue and temperatures are taken at the main entrance.
Course maps are posted each night by arena to Tryon.com here for online viewing.
Visits to the TIEC show office are by appointment only and can be made by calling 828-863-1011.
This Week at Tryon Resort
Visit Tryon.com/ThisWeek for a quick way to find most everything you will need to know during your stay with us including:

Live Stream
Watch feature classes, archives and more on the Tryon Live Stream at Tryon.com/Streaming.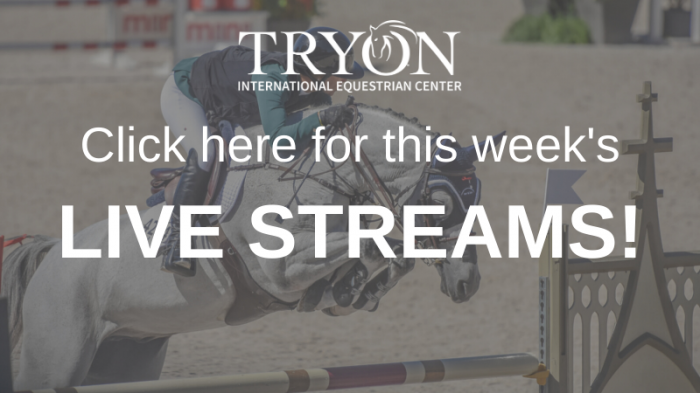 Key Contacts
Thanks again for joining us this week and for your cooperation in keeping TIEC safe and enjoyable. Do not hesitate to contact us with any questions or concerns. Here is a list of helpful contacts:

We look forward to seeing you in the rings soon and wish you all the best!
The Team at TIEC & Tryon Resort