Dear Competitors & Trainers,
We are thrilled to welcome you back to TIEC for Tryon Summer 2! Stay tuned for updates and news. For a complete schedule of events and activities, visit Tryon.com/allevents.
Click here to view Hunter/Jumper Prize lists, Schooling Schedules, Biosecurity Information, and more.
VENUE MAP:
 Click here to download our Self-Guided Walking Tour
PBR® Tryon Chute Out presented by Bear's Smokehouse BBQ Returns to TIEC this Friday and Saturday, June 24th and 25th!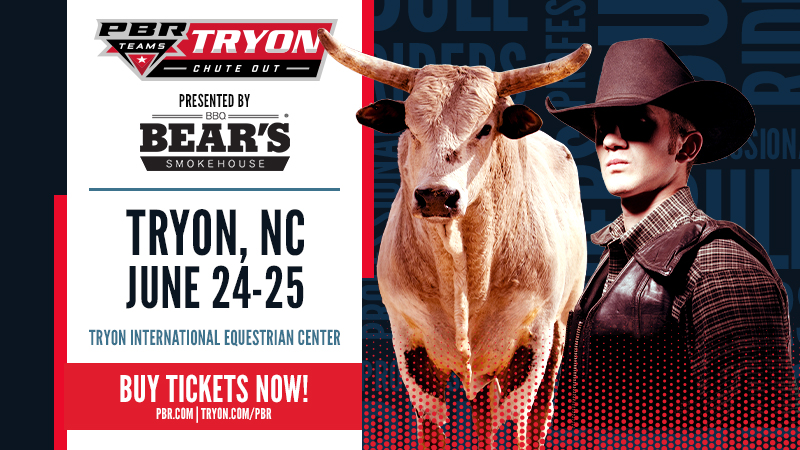 Get your tickets NOW before they're gone! The toughest sport on dirt returns to TIEC this Friday and Saturday, June 24th and 25th! Enjoy delicious dining, incredible shopping, and so much more, then cheer as riders and bulls battle to the 8-second buzzer under the lights of the International Stadium. Trust us, you don't want to miss this!
From general admission to elevated VIP experiences, there are so many ways to enjoy this electric event. Click here to learn more and purchase your tickets!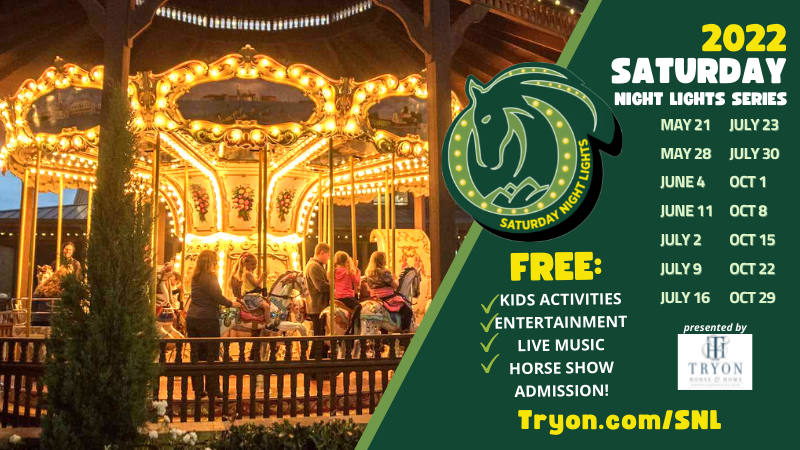 Saturday Night Lights presented by Tryon Horse & Home will be back on Saturday, July 2nd! Click here to learn more.
Live Streaming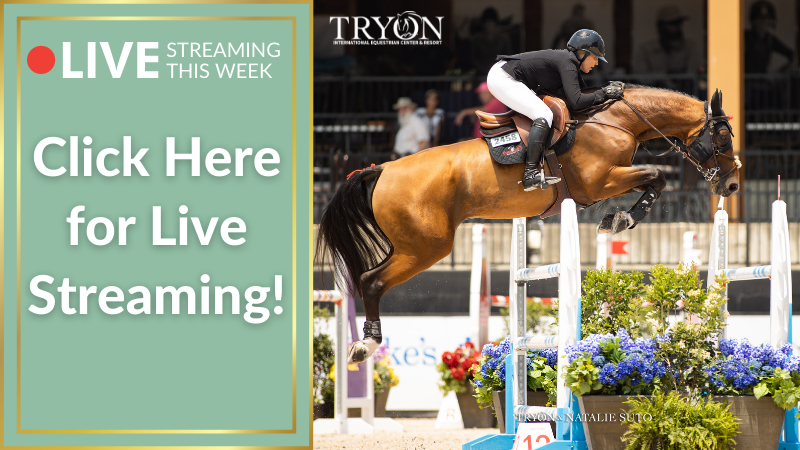 Click above to watch our archived live streams! 
CrossFit Wide Open at Tryon Resort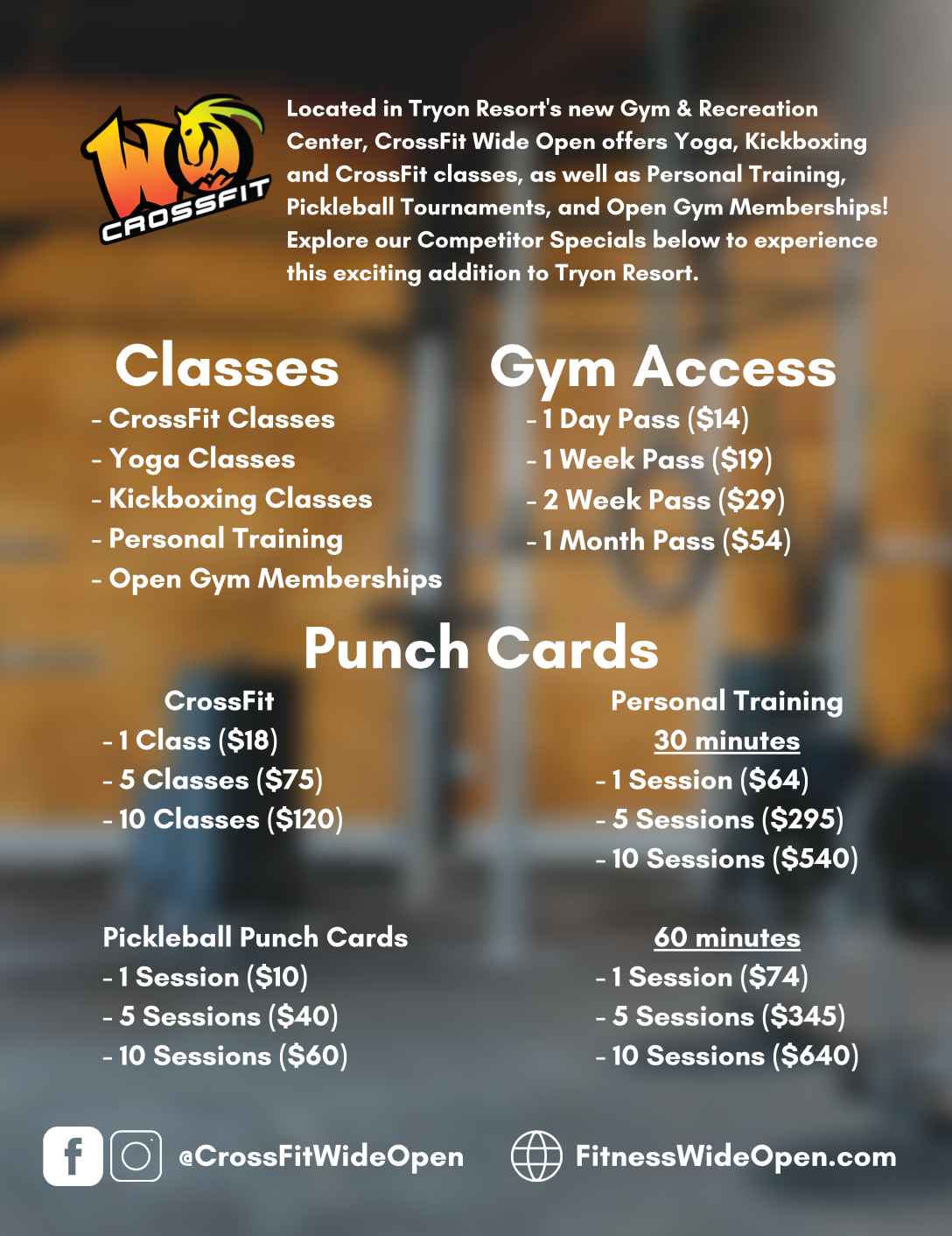 Check out our Competitor Specials at CrossFit Wide Open! Located in Tryon Resort's new Gym & Recreation Center, CrossFit Wide Open offers yoga,  kickboxing, personal training, and much more. Learn more at FitnessWideOpen.com.
Sign Up for TIEC Text Alerts
For all TIEC competition news, text TryonCompete to 40691.
For general TIEC news, text TryonNews to 40691.
Tryon Summer Series Photography
The Tryon Summer Series will be photographed by TIEC's official in-house photography team. Please visit Tryon.com/Photos to send in your photo requests ahead of each competition week. Photos can be viewed and purchased at Tryon.com/Photos.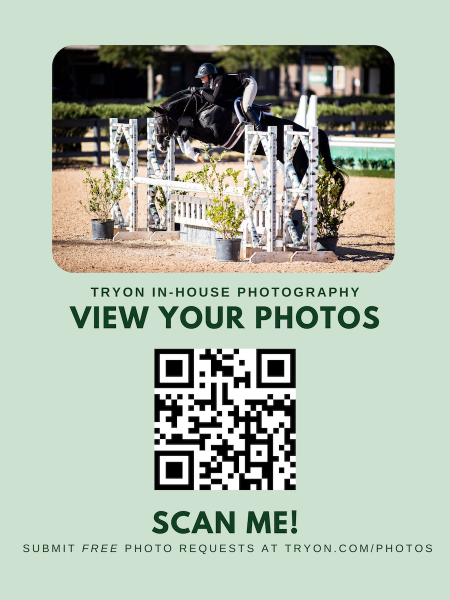 Competing at TIEC
Course maps are posted each night by arena to Tryon.com here for online viewing.
This Week at Tryon Resort
Visit Tryon.com/ThisWeek for a quick way to find most everything you will need to know during your stay with us including:

Amenities:
RV Park Rec Center: Open to all competitors and lodging guests, the RV Park Recreational Center includes coin laundry facilities, guest showers, a fitness center and recreational areas.
CrossFit Wide Open: Now open at Tryon Resort! Located in the first floor of the International Pavilion with discounts available to TIEC competitors, multiple family memberships, and more. Join yoga, kickboxing and Crossfit classes or work out on your own time. Personal training available. Click here for hours and class schedules!
Cleghorn Golf & Sports Club: it's more than 18 holes of golf; it is an experience you will not soon forget. The views, the George Cobb design (famous for Quail Hollow Club and Par 3 at Augusta National), and the pristine conditions will give you four hours of solid enjoyment. Open to the public, with memberships available. Book your tee time today! 
Shopping: Enjoy our selection of year-round and seasonal boutiques and specialty services at Tryon Resort. Shop for name-brand products for both horse and rider, designer apparel, fashionable accessories for you and your home, unique gifts, and more. We look forward to seeing you soon! Learn more here.
Dining Options: From elevated dining experiences to fresh and fast food, cater to everyone's cravings at Tryon Resort's onsite restaurants. Featuring authentic Italian cuisine, diner classics, premier dining experiences, and more, every craving can be satisfied. Discover a bit of everything in The General Store, such as travel essentials, light groceries, Starbucks Coffee, ice cream and pastries, and grab-and-go meals. Learn more here.
Key Contacts
Thanks again for joining us this week and for your cooperation in keeping TIEC safe and enjoyable. Do not hesitate to contact us with any questions or concerns. Here is a list of helpful contacts: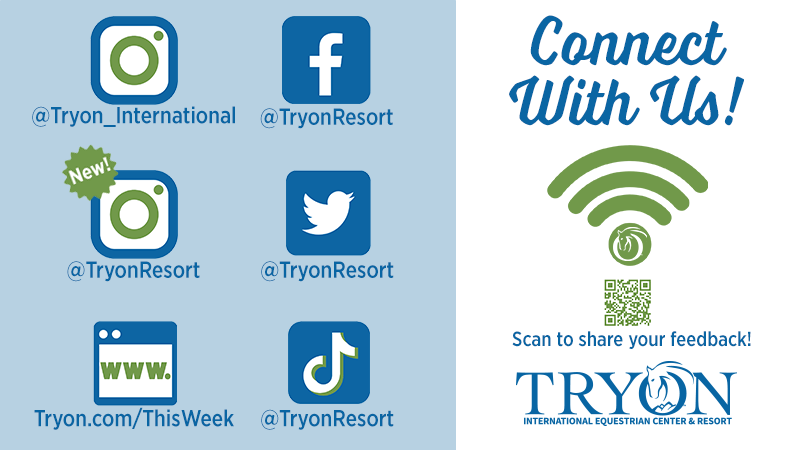 We look forward to seeing you in the rings soon and wish you all the best!
The Team at TIEC & Tryon Resort