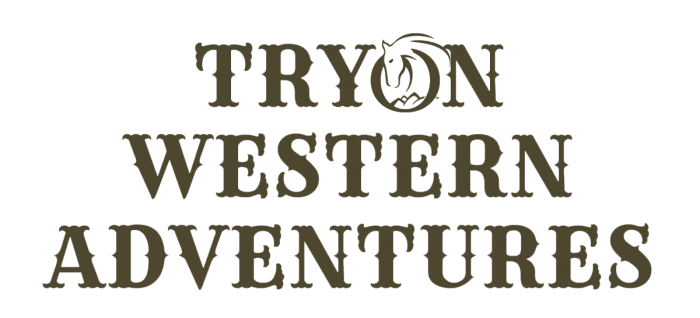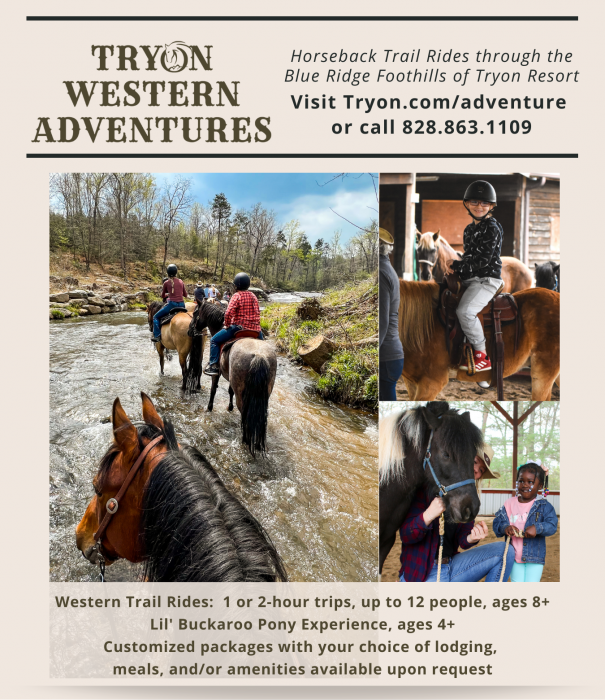 Thursdays, Fridays, & Saturdays:
Reservations required.
Pricing: $65/person for one-hour ride. $120/person for two-hour ride.
FAQ:
Are there different trails for more/less experienced riders?

There are numerous trails throughout the Tryon Resort's 1,600 acre property. For longer trail rides or for more advanced groups, our experienced guides are able to plan trail rides accordingly, and more advanced routes may be available. However, all group rides will accommodate the least experienced rider for safety. No rider is "left behind!"

How long will the trail ride last?

 We are currently offering 1-hour and 2-hour riding experiences.

Will we have a guide?

 Yes, one or more of our professional trail guides will lead and be available to assist throughout the entire duration of the ride. Unguided trail rides are not permitted.

Do I have to wear a helmet?

 A helmet must be worn at all times while on the horse, for your safety, regardless of age or experience. 

Can I bring my own helmet? If you have an ASTM/SEI certified helmet newer than two years old, you are welcome to bring your own equestrian riding helmet. Bike helmets are not permitted. If you bring your own helmet, it is subject to inspection.
Will I fall off?

 Horses are living, breathing prey animals and they react to the environment around them. Our trail horses are well trained and familiar with many of the situations that typically arise on the trail, but riding a horse involves risk. Carefully following the instructions of your trail guide and actively participating in the group ride can lessen the risk of falling off your horse.

Can I bring my personal belongings with me?

You are welcome to bring light snacks, sunscreen, and any other essential items with you on the shuttle ride, and these items may be left at the trailhead tack room for safekeeping or carried on your person. We recommend only carrying with you what is essential. Your trail guide is able to carry extra water bottles and small items for you as needed. 

What should I bring/wear?

 Wear close-toed shoes and weather appropriate clothes, with layers that can be removed or added throughout the ride as needed (jackets or vests with full zippers are easiest).

Shorts are not recommended

, particularly for longer rides. Apply sunscreen and/or bug spray before boarding the shuttle ride, and bring water with you to stay hydrated. You may want to have a change of clothes in your car available to you once you arrive back at Legends Plaza.

Can beginners ride?

 No equestrian experience is needed in order to ride our horses, as our horses are well trained and safe for all levels of riders. Inexperienced riders will be carefully paired with the appropriate horses, and guides will provide instruction for a successful ride before the group leaves the trailhead. Trail guides are dedicated to providing a safe and positive experience for horses and humans alike, and are the best resource for all riders who need assistance.

Where do I go when I arrive on property at TIEC?

 The General Store, located in the heart of Legends Plaza near the main TIEC parking lot, is where your shuttle will collect you for your Tryon Western Adventure to begin! You'll be shuttled to the trailhead and back again once your trail ride has completed. 

What size groups do you accommodate? Up to 10 riders can attend each trail ride session. Groups larger than 10 people are asked to book two separate sessions. 
Do I get to pick a horse?

 No. Based on your reservation details, our staff will select the appropriate horse for you in order to ensure the best possible pairing and to make sure all horses have an optimum work schedule (with plenty of time off!). You are welcome to request a favorite horse, particularly if returning to the trail ride program, however we cannot guarantee any requests. 

What is your inclement weather policy?

 Trail rides are subject to be canceled and rescheduled at a later date for the safety of all riders and horses. 

Weight limit?

 275 lbs. Each horse in our program is able to accommodate passengers of varying weights, and this information is important for our guides to have in advance in order to best match horse and rider. Weight limits are non-negotiable for the safety and well-being of horses and riders alike. 

Can I bring my service animal?

 We are unable to accommodate service animals on the trails themselves, and service animals may not be carried on the horses. For activities that take place at the trailhead center, such as buckaroo experiences, service animals for unmounted activities can accompany their handlers. With questions, please reach out to our team and we will do our best to accommodate the need.

Do you offer private rides?

For individuals booking a ride, your trail experience may be combined with other riders to best fill the schedule. Private rides are available by special request as capacity allows.

Can I bring my own horse?

No; due to insurance and facility logistics, at this time outside horses are not permitted on the Tryon Western Adventure trails. While this may become possible in the future, Tryon Resort property is currently limited to TIEC competitors' horses and the Tryon Western Adventures program horses. 
Proudly sponsored by: