The reigning USEF National Reserve Para-Dressage Champion and frequent competitor at TIEC, Syd Collier, has spent the last year preparing for this season's competitions and what she hopes will be a successful trip to Tokyo. In the meantime, you'll be able to catch her strutting her stuff in Tryon Stadium at Tryon Summer Dressage 1&2 CPEDI 3*, hosted June 17-20. Between her gym workouts and training rides with her horse All In One, better known as Alle, Syd took a few minutes to share what she's been up to lately and what she's most looking forward to when she competes at TIEC again in a few weeks!
How have you been preparing for the season?
I've been hitting it super hard. I've been in the gym a lot, doing home workouts when I'm not in the gym, riding every day, and really just getting in the zone going towards selection trials. I'm so looking forward to the competition, and it's almost surreal that it's coming up now after a year of delay. I really feel like it's such a neat opportunity to showcase all the hard work and my growth in this extra year that we've had.
What have you been working on with Alle?
I've been working on making my turns flow super well and working on my centerlines. You've always got to nail that first impression, so those have been what I'm especially focused on, not only when I'm riding him, but also incorporating exercises in the gym that help my body to understand the movement both on and off the horse. So that's been a really interesting and exciting experience, because I feel like I'm gaining a better overall understanding of all the movements and how they work together in my test. I'm just so excited to compete in Tryon again!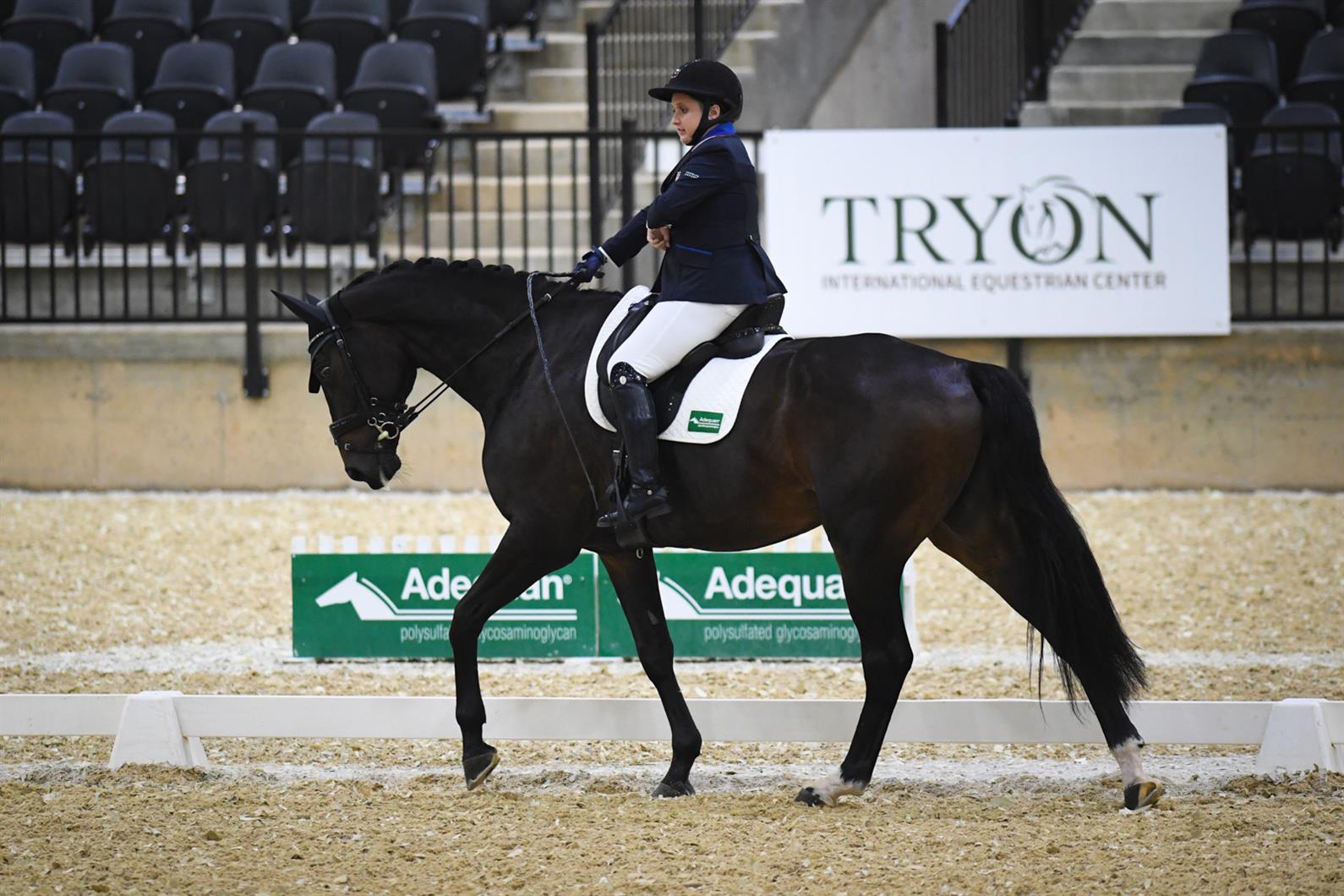 ©Leslie Potter, US Equestrian
What workouts have you been working on lately, and which is your favorite?
I feel like I've really gotten addicted to my gym time. Honestly I have a whole new respect for the gym and a whole new love for it, which has really grown and developed throughout the last year, and throughout [this process of] learning to love my left side and learning how to utilize it in a way that I'd never had a desire to do. My favorite exercise is anything on the turf, because it really makes me feel like a football player or something. And that's something that's just so powerful, because not only am I working on fine motor skills, but I'm also getting in my cardio, I'm also getting in my core, and every single workout I feel like I learn something new about my body. It's just a whole new relationship with myself which I'm really loving.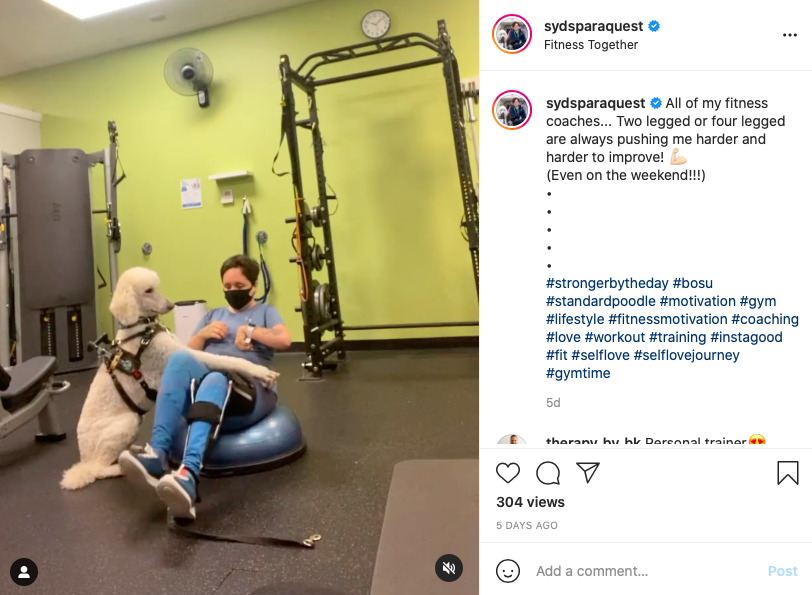 Syd documents her rides and workouts on social media and you can follow her here
How have you been using this delay in the Olympic cycle to grow outside of the gym?
Throughout the last year I've had a lot of time to self-reflect and take the time to mentally reflect on my past performances and what I would like to do differently to improve them, as well as how I want to improve my headspace, and my eating habits, and just my everyday life. It's been a year of growth and reflection. In the beginning, as with everyone, I think it was pretty dark with the amount of unknown. But, always having riding to come back to, and my love for it, and having such a big goal to train towards, is what kept me going and kept me so positive through this time. That, and my schoolwork have been keeping me busy. I'm actually doing my senior year online right now. So it will be really good to graduate college soon!
What is your major?
I am majoring in communications through DeVry University, and actually I'm on a paralympic scholarship through the Athlete Career and Education program through the USOPC. That really has kept me busy during the pandemic. And I feel like I was ahead of the curve, a bit, because I've been doing online school for so long. With all of the remote learning happening, I was like "Well, there's nothing new for me to adjust to," so that was definitely a bonus for me.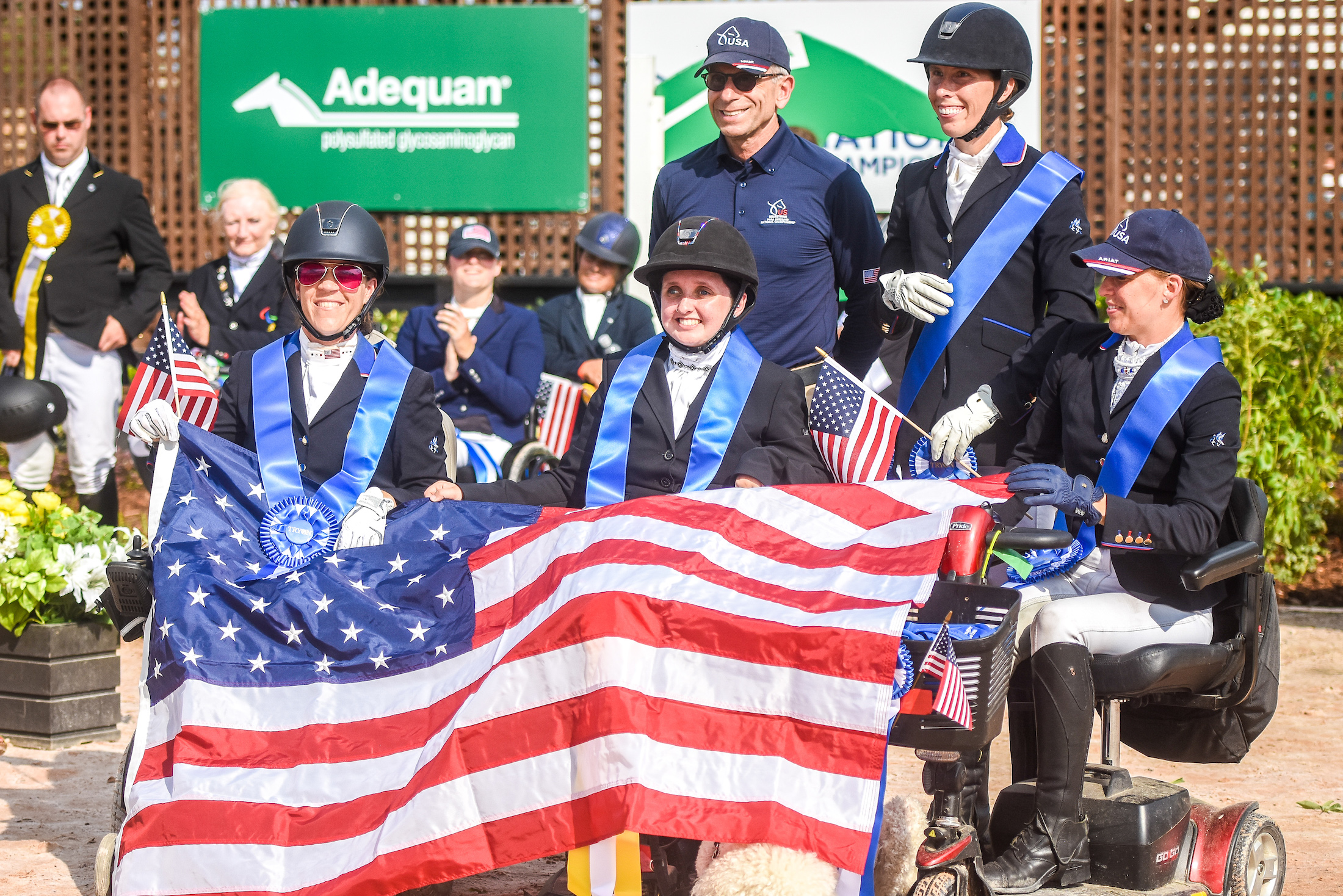 ©TIEC
How do you hope your story encourages people who want to follow in your footsteps?
The biggest takeaway that I want people to get from my story is that just because the world tells you that you don't fit into this stereotype of what your life "has to look like" to be a high-performance athlete, doesn't mean that you can't have these huge goals and accomplish them. No matter what you look like, or what limitations your body might be trying to place on you, I really want people to see that it is accomplishable as long as you're putting in that hard work and are driven enough to wake up every day and want it. I really want kids growing up to see that I'm only 23, and I've been doing Para-Dressage since I was 13, so for ten years. It definitely has taken time and patience and a lot of hard work. But I want them to see that the hard work really is worth it, and to never give up, no matter what the world or their peers might tell them.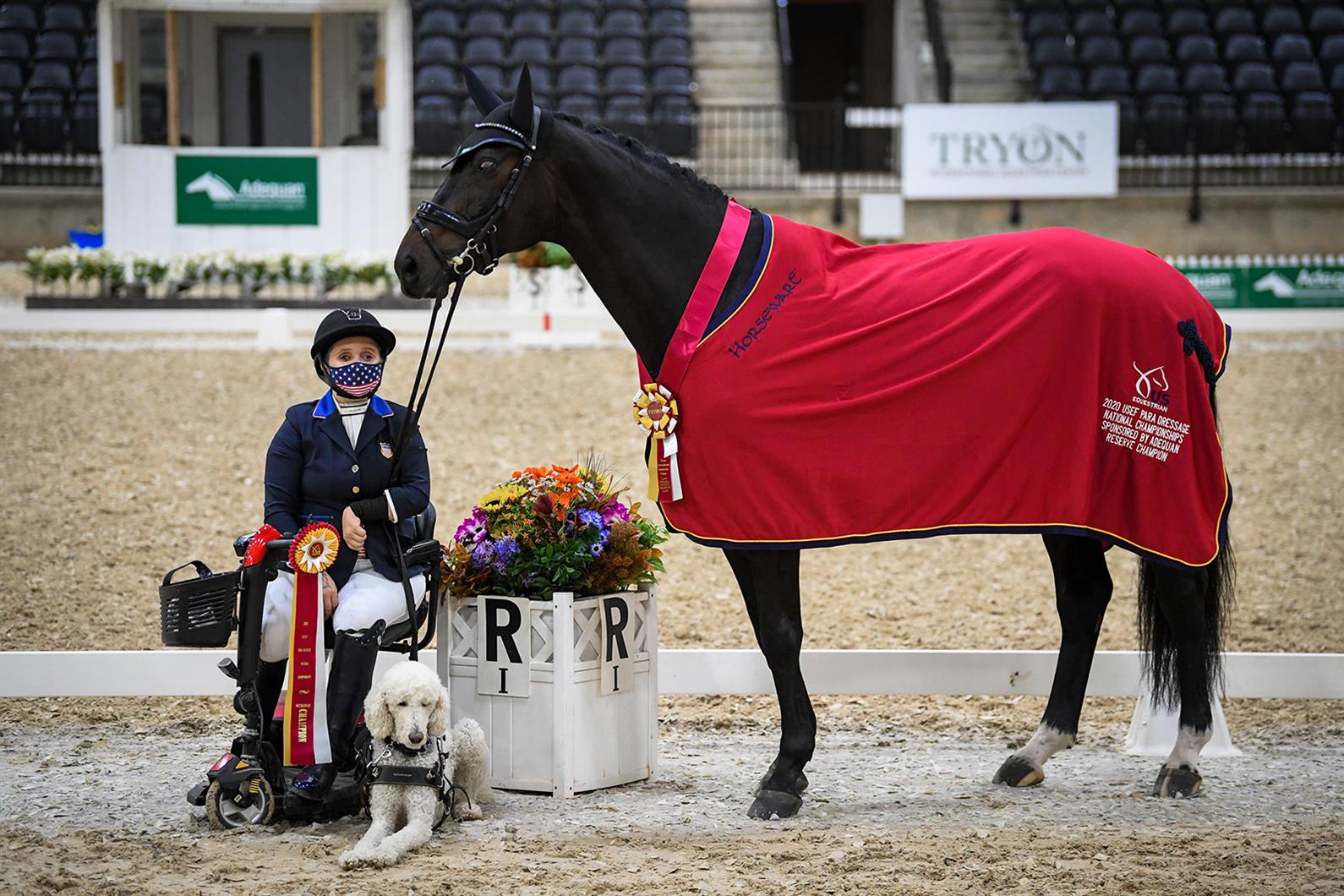 ©Taylor Pence, US Equestrian
What are you most looking forward to about returning to TIEC?
I really really love the show environment at TIEC. It's so top-notch, and it really makes you feel like that high-performance athlete. I feel like coming off of our last competition in Tryon, we have big shoes to fill, and I'm really excited to build on our success from our last competition there. I was so proud of Alle the [last time we were there], and I know that he's gonna step up again and do awesome this June as well. He really eats up the show ring, and really enjoys it. I'm so excited to come to Tryon and to show again. It feels like the days are going by so slowly, now, because I'm so looking forward to it!
What has your competition season been like since you were last here?
Obviously, 2020 was a little slow, but we did some national shows in the summer in New York. It was fun this winter because we were in Wellington and we were able to compete much more. It felt much more like a semblance of normalcy. And we're actually headed to a national competition this weekend, for just a little bit of practice leading up to Tryon. It's really neat, because it feels like life is slowly getting back to normal. Showing and riding has always been grounding to me, no matter what craziness has been going on in the world. I hope other people are able to find their passion that helps them stay positive through all of the craziness in life, because that's all you can really ask for.
Thanks so much for taking the time to chat with us, Syd! We will catch you and Alle strutting into Tryon Stadium soon. Best of luck!