The Tryon International Equestrian Center would like to introduce the newest members of our team, the minis:

Stay tuned for our "mini" adventures with these babies, as they grow up in Mill Spring, NC.
Please read below to learn all about these sweet little minis.
Follow us on social media for even more fun adventures!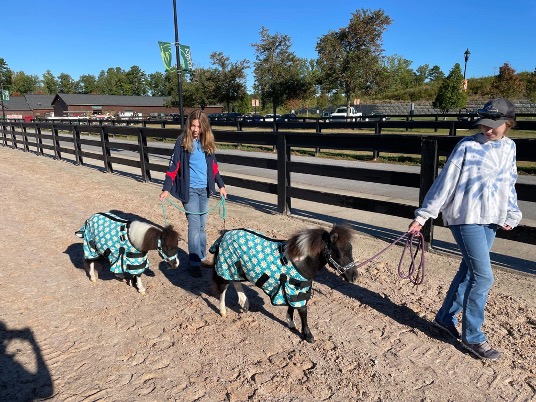 "Daisy" Mae was born "Bank's Little Angel" on March 8, 2021.
At birth, this sweet little angel had tight tendons that made her front legs touch at her knees.  Thanks to special care from our vet, Dr. Emily Setlakwe at Tryon Equine, and farrier, Knuter Berndsen we are using a series of corrective glued shoes to straighten her front legs.  We call them "Daisy's magic slippers" so do not be surprised if she becomes a children's literary character!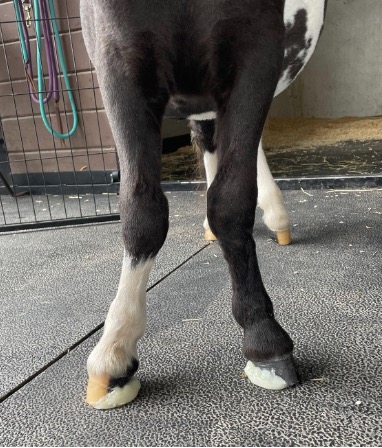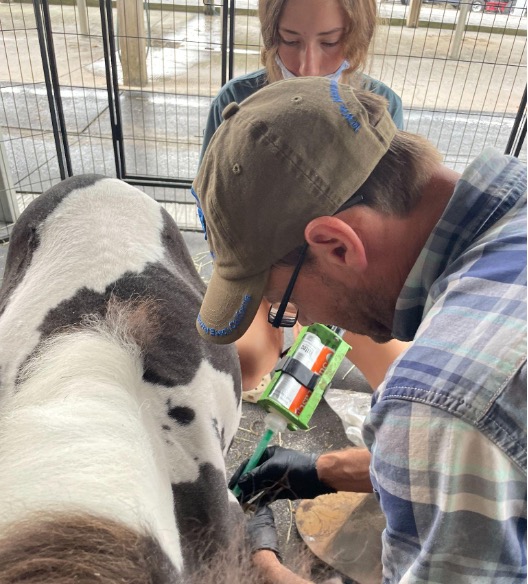 Daisy's favorite food is hay and grass-  "Mae loves hay! All day, everyday, Mae loves hay!"
Daisy is sweet and likes to have her curly locks brushed and braided.  She loves evening walks as long as grazing is included. She is good for the vet and farrier but is nervous getting on the horse trailer and makes Pumpkin always go first!.  Sometimes when Daisy Mae is pouting and gets tired she sits on her haunches!  Her favorite colors are teal and yellow to match her daisy halter and daisy blankets.
When Daisy grows up, she wants to be a Boston Terrier, just like her big brother, Dude!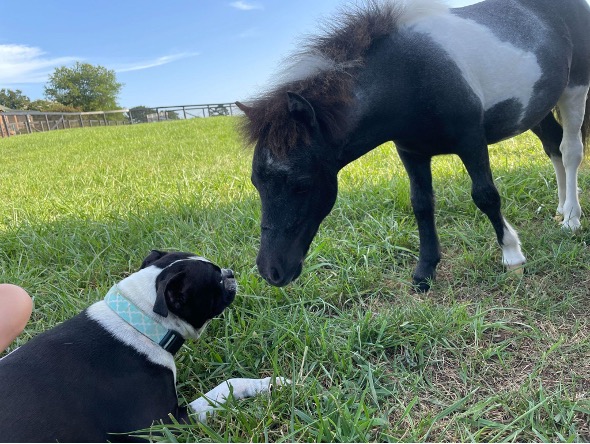 "Pumpkin" Spice was born "Bank's A Piece of Heaven" on March 21, 2021.
This little feisty filly was spunky and full of spice since the first day she arrived at TIEC.  Daisy had to be lifted off of the trailer and Pumpkin jumped over the ramp! Since that day she has managed to outrun dogs and kids and escaped from her play area on several occasions to explore the property.  She likes to run ahead on her evening walks and show us how high she can kick, but always runs back to be by Daisy's side.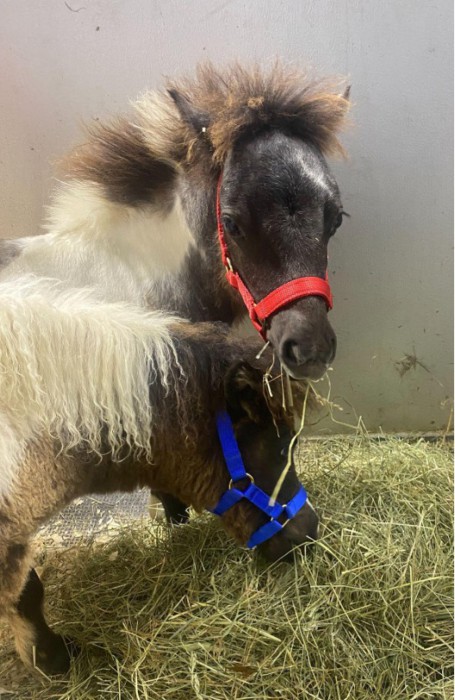 She is fierce, spirited, and loyal!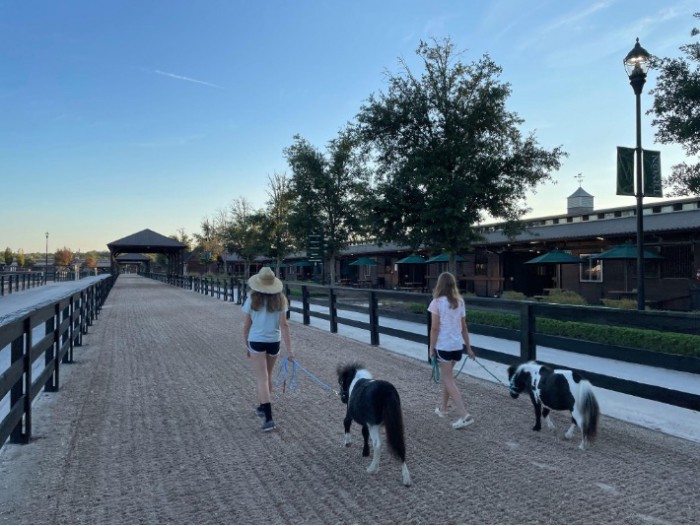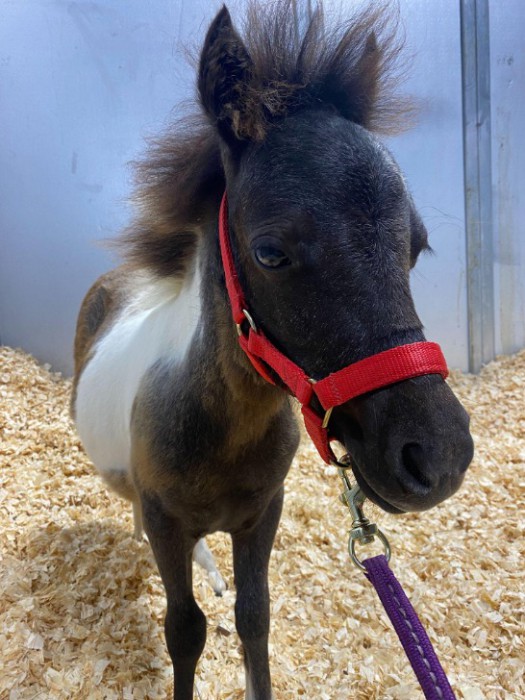 Her favorite month is October.  She loves purple, orange, converse tennis shoes, and fall decor.  Pumpkin aspires to be a 5* Eventer but struggles to focus on her Dressage skills!  For now she behaves just like a 2-year-old  toddler and cares most about being a good sister to Daisy.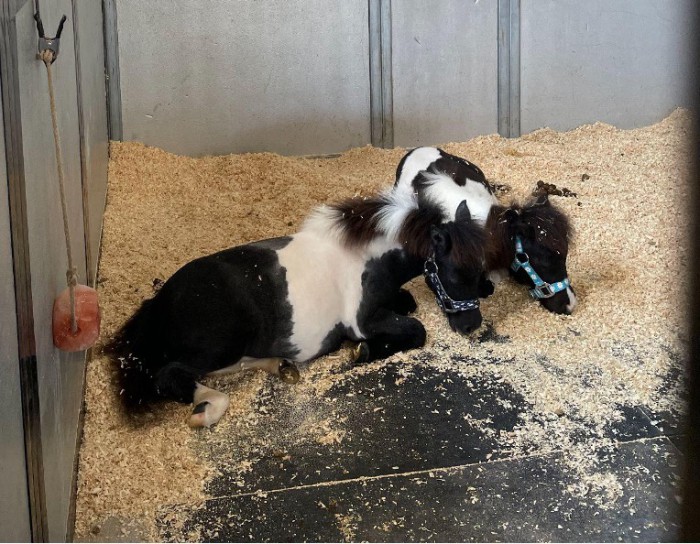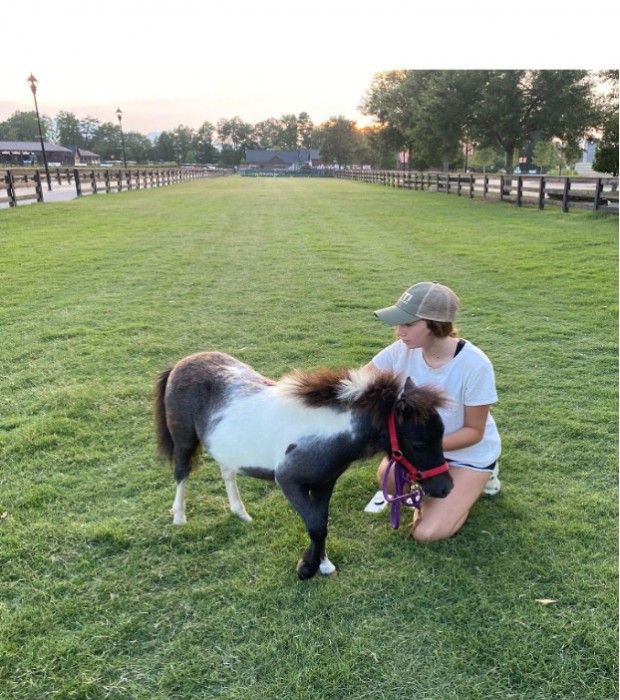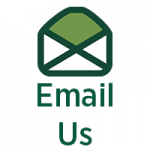 Get to Know Pumpkin & Daisy:
Q:  Do the minis live at TIEC?
A: Yes.  Pumpkin and Daisy live at TIEC.  They split their time between their suite (stall) in Barn 1 and their playground in front of the Tryon General Store.  They like to make surprise visits to their friends at Roger's Diner and occasionally swing by the porch at Campagna during their evening walks.
Q:  Where did the minis come from?
A: They are Tarheels born and Carolina girls for life!  They came from Bank's Miniature Horse Farm in Clayton, NC.
Q:  Are they sisters?
A:  Pumpkin and Daisy are not blood related but inseparable, just like twins.  They were born 13 days apart (Daisy is older) by different parents, but were whenned together, so they formed a bond. They share a stall and can often be seen curled up asleep together when they are not fighting over toys!
Q:  How much larger will they grow?
A:  Both girls will remain small, even for miniature horses.  We monitor their health and growth rate very closely to make sure they eat a healthy diet and get plenty of exercise.  We rely on guidance from their favorite vet Dr. Emily at Tryon Equine Hospital.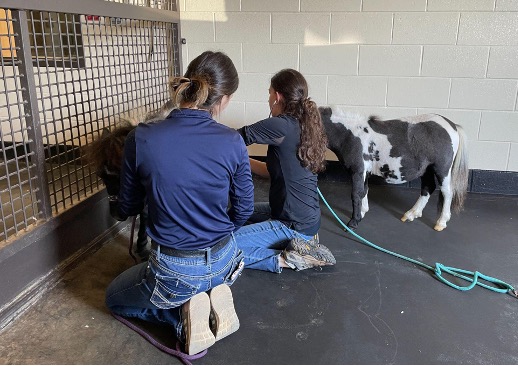 Q:  Who takes care of the minis? 
A:  They are owned, loved, and spoiled by the Oakman family.  The TIEC, Director of Equestrian Operations, Molly Oakman and her daughters Grady and Kelty, and "Super Nana," Mary Beth.  It takes a village to raise these minis, so many of the staff at TIEC volunteer their time to groom and exercise the minis.
Join the "Mini Friends of Tryon" to participate in activities to spend time with these special little ladies.
Q:  Are Pumpkin and Daisy ponies or miniature horses?
A: They are miniature horses, not ponies. While miniature horses fit a height-based definition to be considered a very small pony, many retain the physical appearance of the full sized horse and are thus considered "horses" by their respective registries.   Miniature horses remain under 34".
Q:  What do miniature horses do?  Do you ride them?
A:  Some miniature horses may be ridden, participate in driving, jumping, and halter classes.  Pumpkin and Daisy will not be large enough to ride or drive but they will go through training classes to be used for equine related activities such as visitations and youth programs.
Q:  Are Pumpkin and Daisy going to come to Saturday Night Lights (SNL) at TIEC?
A:  For the 2021 season, night time events are past their bedtime. Once Pumpkin and Daisy get a little older they will come to Saturday Night Lights and have meet and greet time with all of their friends.  Tryon.com/snl
Q:  What type of training program and skills will the minis be taught.
A:  Miniature horses are very smart and trainable.  They are used in a variety of therapy programs and equine assisted activities.  The Tryon minis will be trained to walk on a variety of surfaces, steps, inside buildings and outdoor venues. They will be trained to be approached and touched and young kids and safe to have around strollers, wheelchairs, and events.
Q: Who picked out their names?
A:  Pumpkin and Daisy were named after the Oakman girl's favorite band Acoustic Syndicate.  https://www.acousticsyndicate.com/