Mountain View Yoga at TIEC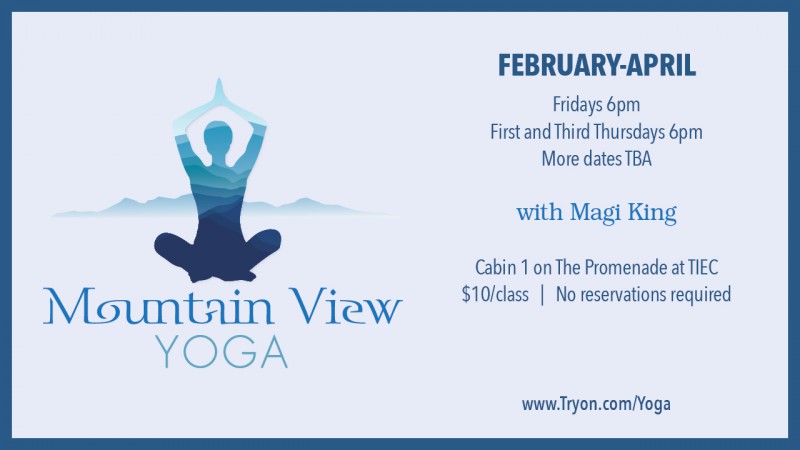 2020 Schedule:
NOTICE: All Yoga and Meditation classes are suspended through August. Stay tuned for additional dates!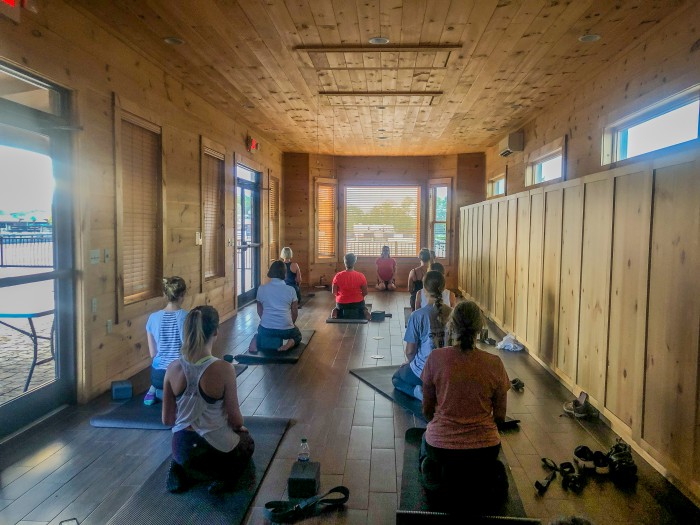 More Classes TBA!
Cost: $10/class. No registration required. Some mats provided – BYO encouraged!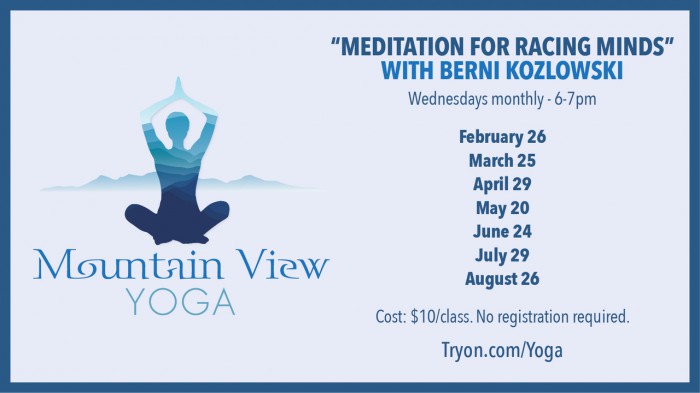 NEW: Meditation Sessions with Berni Kozlowski
Meditation for Racing Minds
Cost: $10/class. No registration required.
---
Meet the Instructor: Magi King, RYT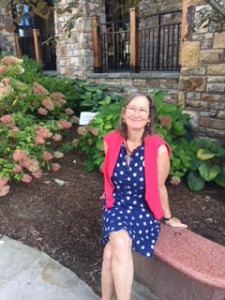 Magi has been a serious student of The Art of Yoga for nearly twenty years, becoming a certified instructor in 2003. She has a background in midwifery, massage and Tai Chi. It was at the FL School of Massage under the direction of Lee Joseph, where Magi came to formulate her approach to health and wellness. Her focus is Holistic- mind, body and soul must all be fed and strengthened to create a healthy individual.
Stemming from her interest in the human body and massage, Magi was lead to the Iyengar style of yoga. Lyengar yoga is designed to work for practitioners of all levels focusing on anatomical alignment and holding poses as a means to educate the body. Magi's primary teacher is Tias Little, and under his leadership she has learned to blend static poses along with flow yoga as the student develops. Magi has also worked to develop the more subtle aspects of teaching yoga that strive to guide students into a deeper sensory experience and a more holistic awareness both on and off the mat. Come join her, and experience the good things yoga can make in your life…
Here's what Magi has to say about Mountain View Yoga at TIEC!
"I think that it's very important to stay healthy, and not just physically, but mentally and emotionally, too. To me, yoga provides all three. It's just you and your mat, and you don't have to worry about anything. You just try to stay focused on your breath and your posture. I think it could help equestrian athletes because they're in the saddle most of the time focusing on their sport, and it's a repetitive posture. They have a great upright posture, but I'm thinking the front body is probably a bit tight, so I think focusing on more back-bendy type of movements would be beneficial for them. The setting is beautiful here. Come check it out!"
-Magi King
From Students: Hear what it's like to take a class with Magi!
"Magi King teaches to each person in her classes. If you're a beginner, great. If you're advanced, great. Overall, she creates a welcoming atmosphere where I felt very comfortable when I couldn't do things and encouraged when I could. If you haven't tried yoga, or if you're a pro, I'm confident that you'd benefit from this class. And, if you're lucky like me, you'll get to see the sunrise or sunset during class."
-Laura Brodie, Boulder, Colorado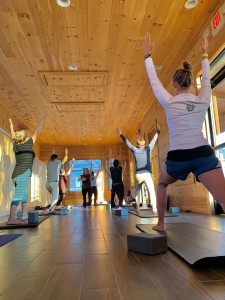 ---
Meet the Instructor: Berni Kozlowski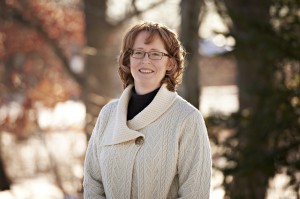 Bernadette (Berni) Kozlowski is a certified meditation coach who has taught across the US and in Ireland. Based in Asheville, North Carolina, Berni is the Founder of Berni K's Rest Revolution, a company she started to help others learn to skillfully access deep states of rest through a form of instinctive meditation that is easy, accessible, and doesn't require sitting cross-legged on cushions.
With a master's degree in Biology, Berni brings a research based approach to her teaching and specializes in helping people deal with racing minds.  A former, two sport D-1 athlete, Berni understands the need to balance a competitive nature with periods of deep rest.
Berni is highly skilled at helping people learn to meditate on their own during short spurts in their busy days. She has helped thousands of people to have great greater self-awareness and emotional resilience and to be more responsive and less reactive. This leads to improved relationships and the ability to remain calm in the face of urgency and to have a sense of more time in their days.
Can your horse tell when you are overwhelmed? Having racing thoughts? Set up the right conditions in meditation and your body will relax. And your horse will know it!
We'll be seated in chairs in a circle. Feel free to bring your own yoga mat if you prefer.   A typical class will include learning and practicing short skills and then being guided in a gentle meditation. You'll learn how to incorporate meditation into short spurts during your day. The SIMPLE practice of instinctive meditation will PROFOUNDLY shift your ability to be more present in your life and in the saddle.
Berni works with private clients, businesses, schools, equestrians, and groups.  You can reach her at:
w: www.berni-k.com
c:  828.702.2824
e: berni@berni-k.com