DIRECTIONS
Where is Shadrack's Christmas Wonderland light show located?
Shadrack's Christmas Light Show is located at Tryon Resort, 3580 Pea Ridge Road, Mill Spring NC 28756. USE EXIT 170 off of HIGHWAY 74. You will either turn LEFT or follow signs around the roundabout to ultimately turn LEFT and cross over the highway.
Winterfest Village is located at 25 International Blvd, Mill Spring NC 28756. Use Exit 170 off Highway 74 and turn/bear RIGHT.
TICKETS
How much are tickets for the Light Show?
Click here for ticket pricing.
Tickets are $30 per vehicle Monday-Wednesday and $35 per vehicle on Thursdays-Sundays and the week leading up to Christmas.
What does the Express ticket get me?
The Express ticket gets you into a separate line that moves significantly faster on our busy nights (like Friday and Saturday)!
Can I purchase tickets at the gate? 
Yes, you can! We take cash or card.
I can't attend tonight, am I able to switch my ticket to a different date?
Yes! Email tickets@tryon.com to switch your ticket.
Do I go to the Tryon Resort main entrance to get to the light show?
No. Follow the light show signs to the light show entrance. The signs will direct you to a different area of Tryon Resort. You'll use the main entrance as normal to access Winterfest Village, shops and dining.
How do I get to the Express Lane?
The entrance to the VIP Pass lane is also 3580 Pea Ridge Road, Mill Spring, NC 28756, however, VIP Pass holders will be emailed directions to an alternate path to access this entrance.
Anyone entering the light show through this alternate path must present a VIP Pass. VIP Passes are only available for purchase online.
How long is the wait?
The wait time varies depending on the day of the week you attend. Please note that FRIDAYS AND SATURDAYS are the busiest days of the week and wait times can be longer depending on attendance.
When  is the light show?
The light show is everyday from November 17, 2022 – January 1, 2023 from 6pm-10pm nightly. See the full Winterfest schedule on Tryon.com/Winterfest.
Can I use my ticket any day?
No, your ticket is good for the date you chose to attend when purchasing the ticket. If you need to change your ticket to another date, please contact tickets@tryon.com.
How many people can I squeeze into my vehicle?
A max of 8 people in one vehicle can use a regular vehicle ticket.
Larger vehicles can purchase a Passenger Van for up to 15 people or a Tour Bus for larger groups.
LIGHT SHOW
How long is the Christmas light show?
The drive-thru Christmas lights show is about 30 minutes long. It is meant to be enjoyed at a slow pace.
Does the light show have music?
Yes, once you enter the light show, you will tune your radio to the indicated station to hear the music that accompanies the light show.
Are bathrooms available along the light show route?
Portable bathrooms are only in the area prior to the show entrance where concessions will also be sold. Permanent bathrooms are also available at Tryon Resort.
WINTERFEST VILLAGE
How much are tickets?
Tickets are $5/adult,  $20/child 12 and under. Children 3 and under are FREE.
Do adults have to buy wristbands or just kids?
For your child's safety, we ask that adults of children 12 and under also purchase a wristband to be able to keep eyes on their child in the enclosed attractions.
Does my light show ticket cover my Winterfest Village?
It does not. However, Winterfest is free to attend unless you decide to purchase a wristband for the paid activities.
Do I have to pay to come to Winterfest?
No! Many of our performances are free to watch. If you decide you would like to purchase a ticket, they will be available the night of!
Where can I find a map of all activities? 
Maps will be posted on-site and can also be found here: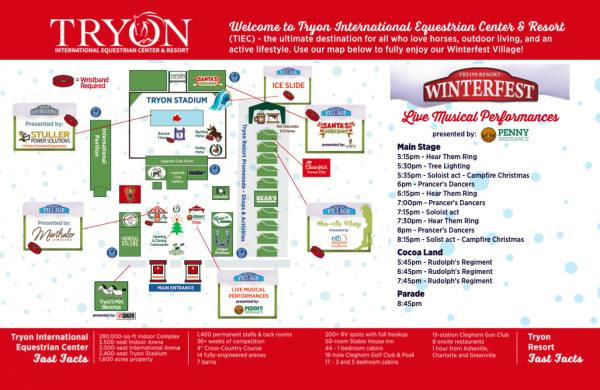 PHOTOS
Can we get our photo taken at Winterfest?
Yes! You can visit Santa in his North Pole Workshop in the Tryon Resort Winterfest Village.
Where can I see and purchase my photo with Santa?
Click here to view and purchase Santa photos.
FOOD 
Will food be available during the Christmas light show?
Concessions will be available for sale in the waiting line prior to the light show entrance. 
Can I get food at Tryon Resort?
Yes! You can  dine in one of the Tryon Resort restaurants after you finish the light show, peruse multiple concession stands, or order food to-go from a Tryon Resort restaurant. To see available Tryon Resort dining options, visit Tryon.com/ToGo.