74th Tryon Block House Races FAQ
When is the event? 
Saturday, April 16, 2022.
When do gates open?
Gates open at 10am.
What time are the races?
The first race is at 1:30pm, and every 35 minutes thereafter. There are five races – the last race is a flat race.
What time does the event end?
The event is estimated to end around 3:30pm/4pm, but it will end after the last race.
Where is the event held?
The steeplechase is held just minutes from TIEC at the Green Creek Race Course.
Green, Blue and Yellow Tailgate Entrance
6881 S. NC Hwy 9, Columbus, NC 28722
Orange, Purple and Pink Tailgate Entrance
650 Floyd Blackwell Road, Tryon, NC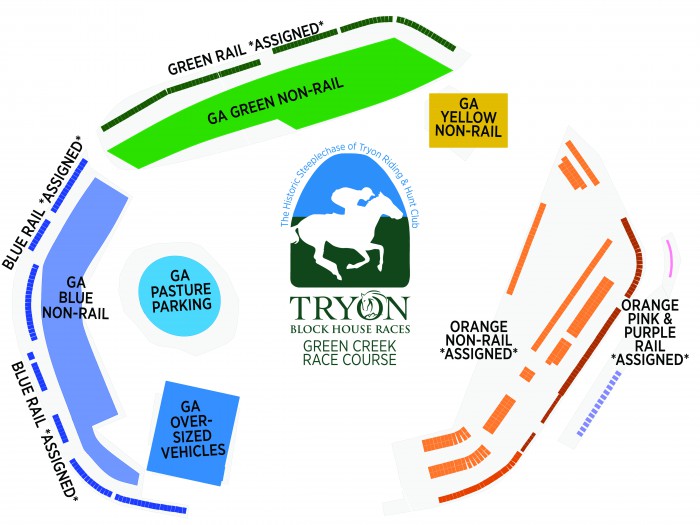 When do tickets go on sale? 
Tickets will be on sale to the public in January 25, 2022.
How many people can I bring in my vehicle?
Your tailgating ticket includes access for up to 6 passengers in your vehicle. Additional passenger tickets can be purchased.
Is there any entertainment, live music or kids' activities?
We will host a MASSIVE Easter egg hunt for kids during the event. We will also amplify the race and announcements throughout the day. You are welcome to bring entertainment for your tailgate space such as corn hole sets or games or non-amplified instruments/music. If you have questions on what you can bring, please contact tickets@tryon.com.
What cannot be brought to the Tryon Block House Races:
Pets
Open Flames
Grills
Large sound systems
Tents larger than 10×10'
Glass containers
ATVs, Golf Carts or other motorized vehicles
Generators
Can I re-enter the property once I leave?
No, there is absolutely no re-admission to The Tryon Block House Races once you leave.
Can I bring my own pop-up tent?
Yes! You can bring up to a 10×10' tent. For the safety of the horses and guests, all tents must be installed weighted and staked properly and will be subject to inspection. If they are unstable, you will be asked to take it down. All spaces on the rail must place their tents behind the vehicle or at least fifteen feet from the rail.
What does my parking space purchase include?
A tailgating space ticket includes one 12×20' parking space and admission for up to 6 people in the vehicle. Additional passenger passes can be purchased.
Does my car count as an oversized vehicle?
Any vehicles exceeding 20′ in length, 7′ in height, and 12′ in width will be counted as an oversized vehicle. All vehicles with a non-oversized ticket that arrive exceeding these measurements will be relocated to the oversize parking area and incur the difference in price.
Can I be dropped off for the races?
No, walk-up tickets will not be available for purchase.
Can I buy food or drink at the event?
Yes, we will have a food truck with limited items, so we encourage you to bring food and drink for your tailgate if you have specific preferences.
What is your refund policy?
The races will run rain or shine. There are no refunds for purchases.
I am interested in Handicapped Parking. Where should I select a space?
The Yellow section is designated for Handicap Access and handicap restrooms will be located there. Since the Tryon Block House Races are in a field with driving accessibility, you are welcome to choose a space closest to where you would like to be.
I did not see my tickets in my email. How do I receive them and what do I need to do once I receive them?
Tickets are attached to your confirmation email with your receipt. If you did not receive this email or have any further questions, please email tickets@tryon.com. This ticket will need to be printed out in order to display on the dash of your car.
Have other questions? Email tickets@tryon.com.